Mailing content layouts (also called "mailing content areas") are the areas that eventually contain the content that you'll share with your subscribers.
NOTE: Your template must have at least one mailing content layout. Without one, you won't be able to add content to your mailing.
Adding Mailing Content Layouts
As with all Template Designer layouts, you can drag and drop mailing content layouts onto the canvas. Click-and-hold the layout you want to add, drag your cursor to a location, and release. Your layout becomes part of the template and is ready for editing.

Mailing Content Properties
Maximum Number of Stories - Click the dropdown list to select a maximum number of stories for your mailing content layout. By default, this is unlimited, but can be restricted to a number (1-9) if necessary.
Maximum Number of Columns - Click the dropdown list to select the maximum number of columns (1-5) that you can add to the content layout in the mailing designer.
Select Allowed Story Types
There are several different story types that users can add to a mailing content layout in the mailing designer. By default, these are unrestricted, and users can add any of the available story types. However, if you need to restrict story types (such as only allowing Text stories in a particular mailing content area), all you need to do is click the desired story type(s) before you save your template. Your allowed story types are highlighted in green.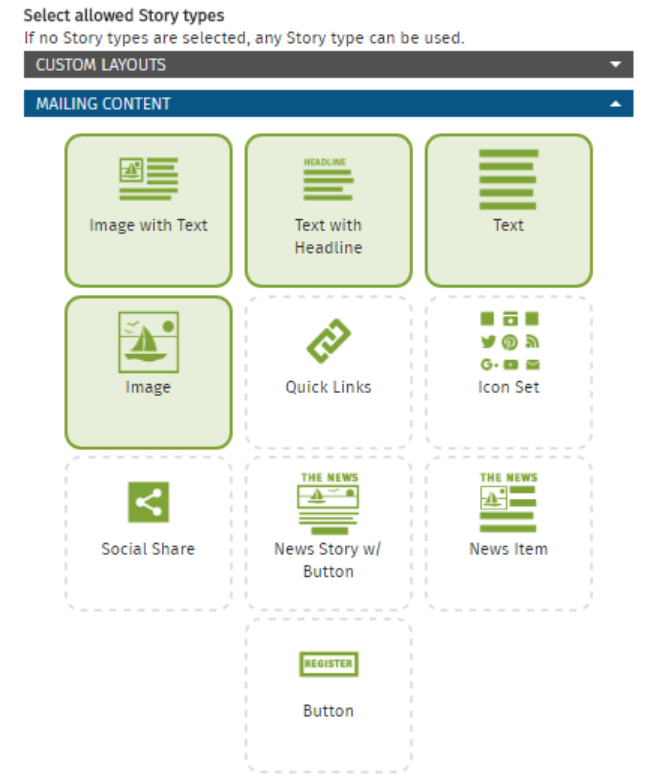 Note that you can also add to your mailing content layouts any Custom Layouts that you have designed.