Message Content layouts (also called "Message Content areas") are the areas that eventually contain the content that you'll share with your contacts.
NOTE: Your template must have at least one Message Content layout. Without one, you won't be able to add content to a message using the template.
Adding Message Content layouts
On the Design > Build tab, you'll find the Message Content layout in the Structure category.
Drag and drop this layout onto the canvas.

Message Content properties
After adding a Message Content layout, click to select it on the canvas to access its properties. These properties are divided into two categories:
Message Content Properties
Select allowed Story types
Message Content Properties
Name - If you decide to enter a name for a Message Content layout, it'll display on the canvas (top left). If your template will have a lot of Message Content layouts, this is a great way to distinguish between them, making their purpose clear.
Content Type - A Message Content layout can be used in two ways:
Select Standard to use it for message-based content, like images, text, etc.
Select Advertisement to use it as a placeholder for ads, which can be inserted when using this template during message creation. See Advertisements to learn more.
Maximum Number of Stories - Click the dropdown to select a maximum number of stories for this Message Content layout when used in Message Designer 2. By default, this is unlimited, but can be restricted to a number (1-9) if necessary.
Maximum Number of Columns - Click the dropdown to select the maximum number of columns (1-5) that you can add to the layout in Message Designer 2.

Select Allowed Story Types
There are several different story types that users can add to a Message Content layout in Message Designer 2. By default, these are unrestricted, and users can add any of the available story types.
However, if you want to restrict story types (such as only allowing Text stories in a particular Message Content area):
Expand the Message Content section in the Select allowed Story types area.
Select the desired story type(s). Only the story types that are highlighted green can be used for this Message Content layout during message creation.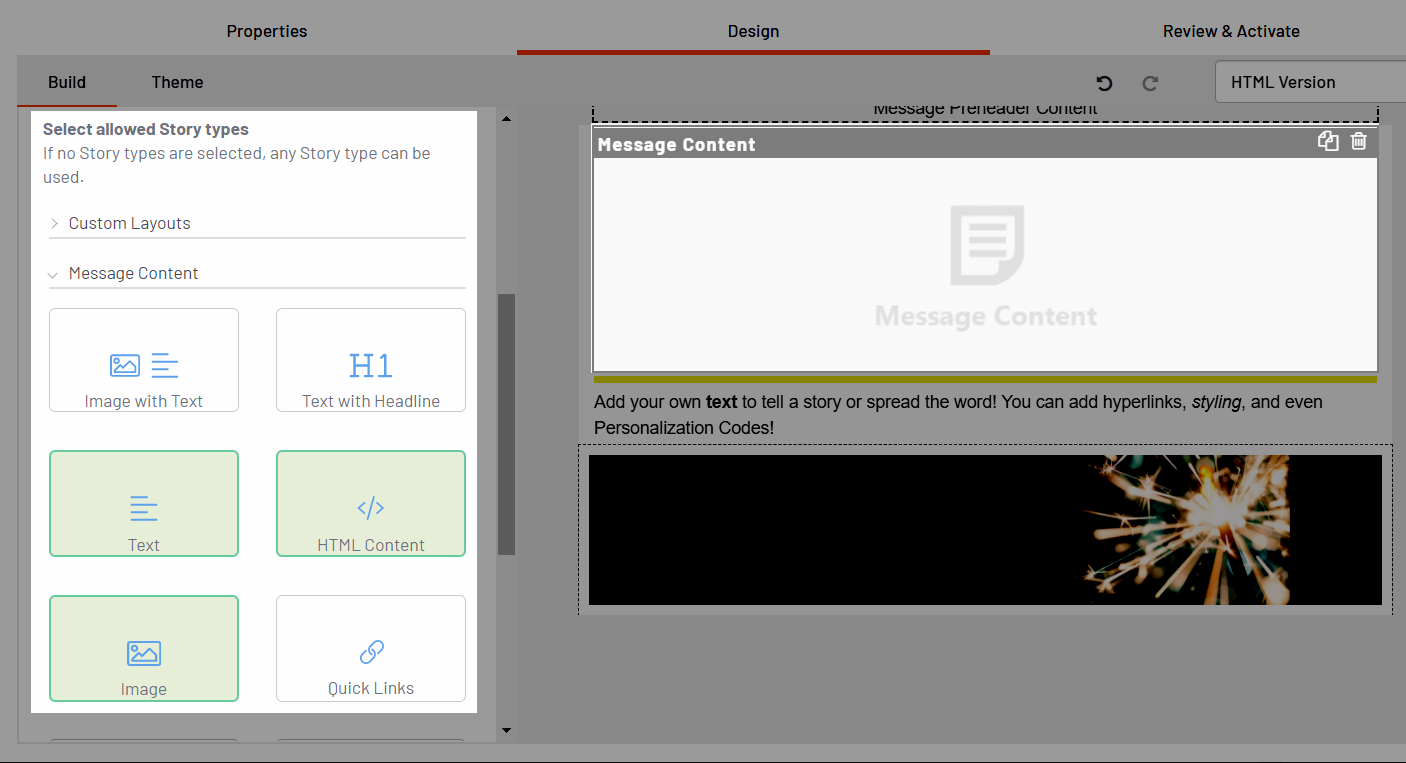 NOTE: You can also add any Custom Layouts in your account to your Message Content layouts.