This article includes poll-management information for Super Admins and Community Admins. Refer to the appropriate section below to learn more.
NOTE: There are two versions of polls.

The "core" version of polls, included with ALL Higher Logic sites, is limited to Super Admins creating and adding polls to their Home page and other interior pages; this version of polls does not allow you to have unique polls on a community-by-community basis.

Licensing the optional product, Group Manager, however, enables Community Admins (and Super Admins) to do just that; it gives Community Admins the ability to add polls Super Admins have created to their specific community. In addition, Community Admins can remove polls from their community and view poll results. Remember, even with Group Manager, only Super Admins can create polls.
Super Admin
The easiest way to view and manage all of your polls is from the Polls List.
To access the Polls List:
In the Admin Toolbar, click Admin.

Navigate to Feedback > Polls.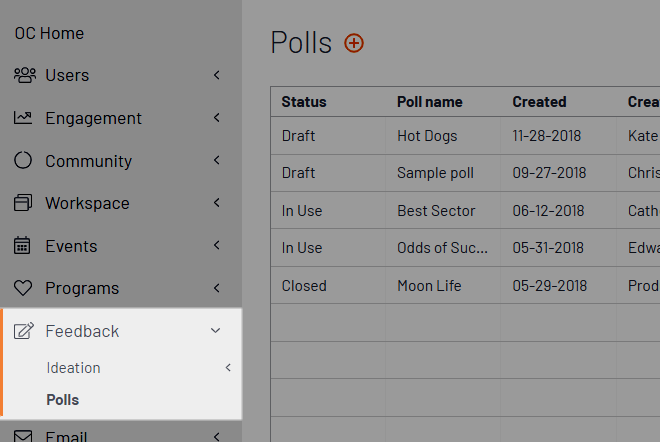 Management Options
Select a poll in the list to expand the Preview Panel, from which you can:

NOTE: Keep in mind the available options are dependent upon a poll's status. All possible options are described below.
Edit - Update the settings, question, or answers of any existing poll that's not currently active.
Activate - Activate polls with a Draft status. Only activated polls can be added to your site so users can participate (see Add a Poll to a Page for more information about this process).
Close poll - Manually close any currently active poll. Poll results will then be available for viewing by those who participated. Other than manually closing a poll, a poll will automatically close if its scheduled closing date or maximum participation limit is reached (if set).
Preview - Preview any existing poll that's not currently active or closed. This is a great way to ensure the desired question and answers are provided, shown in the format participants will see, and that no typos are present.
Copy - Make an exact copy of any existing poll, including its settings, question, and answers. No two polls can have the same name, so that's technically the only detail you need to update. This feature enables you to easily create polls that reoccur on a weekly or monthly basis.
Delete - Delete any existing poll that's not currently active.
Community Admin
The easiest way to view and manage all of your community polls is from the Poll Dashboard, located in your community's Settings menu.
To access it:
From your community, click Settings.
Click Manage Polls in the Poll section.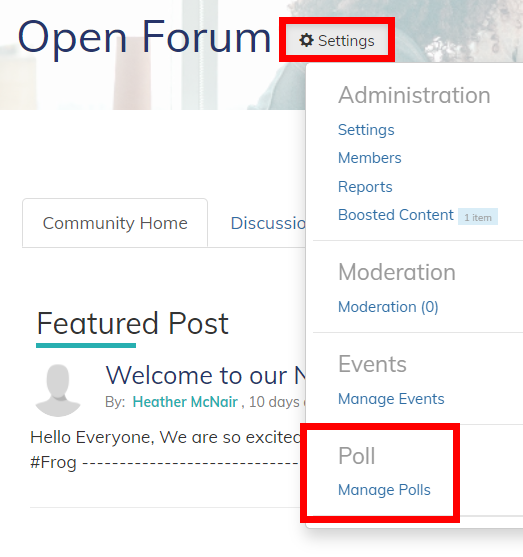 Management Options
Only Super Admins can create, activate, close, delete, and edit polls. However, the Poll Dashboard enables you and other Community Admins to track of all your community's currently active polls, as well as those that have been closed.
As a Community Admin, the primary reason you'll use the Poll Dashboard is to track poll results. To do so, click a poll in the list to expand a sidebar menu, from which you can see an overview of the poll. Click the View Report button to view the poll's results.