The easiest way to find any of your existing polls is via the Poll Dashboard's search and filter functionality.
(Super Admins) Access the Poll Dashboard
In the Admin Toolbar, click Admin.

Navigate to Feedback > Polls.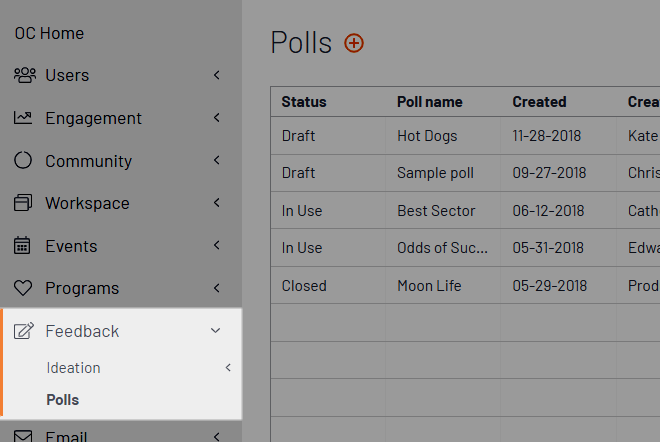 (Community Admins) Access your Community Poll Dashboard
If your organization licenses the optional Group Manager product, you can search and filter your community specific polls by clicking Settings > Manage Polls, as shown below.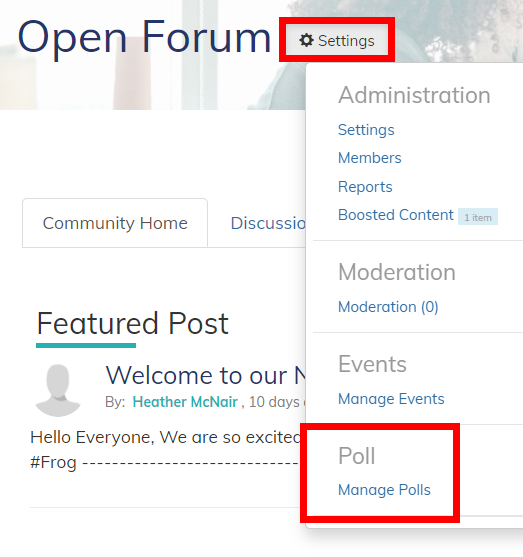 Search for Polls
On the Polls page, you can see details about each poll, such as the status, creation and modified information, and when each poll is scheduled to close.
Click the magnifying glass icon in the upper-right corner to expand the search box. Type a search term to filter the polls listed. The search queries the Poll name field; it won't return results based on user names.

Filter a List of Polls
Click the filter icon in the upper-right corner to display the filter menu. You can filter by:

Status,
poll type, and
whether it's a public or private poll.