Poll results are displayed in an easy-to-understand manner, including the poll's:
question,
answer breakdown,
number of responses,
number of days left to vote (if active), and
each respondent's details (name, email address, completed date, and answer).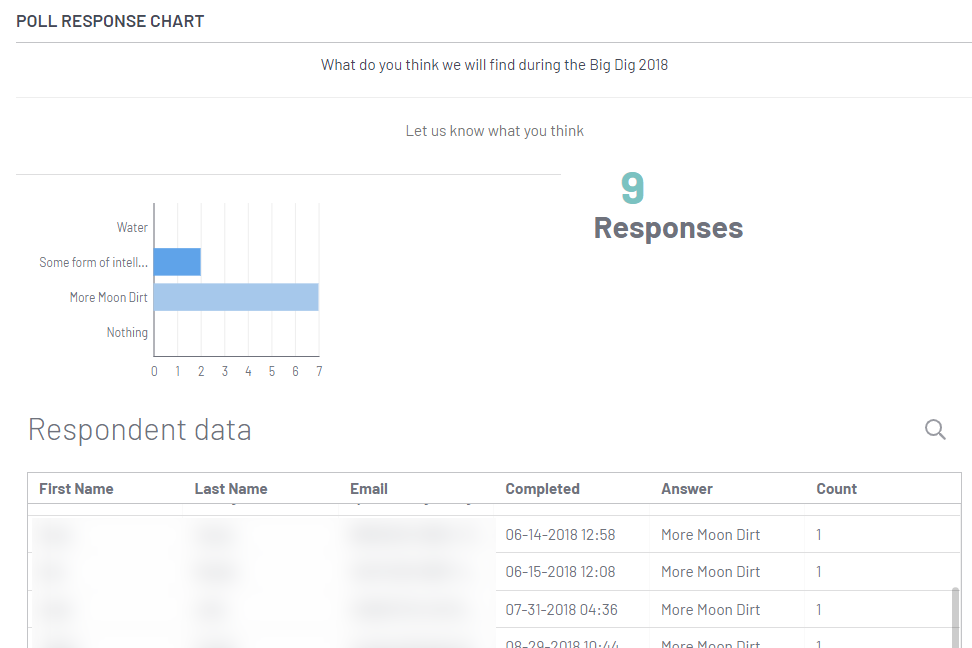 View poll results
There are a few ways poll results can be viewed:
After it closes. There are three ways a poll can close: (1) Once its scheduled closing date/time is reached, (2) its maximum participation limit is reached (if set), or (3) an admin manually closes it.
After an answer is submitted. This only occurs if the poll is configured to display results after a participant submits their answer.
By a Super Admin from the Poll widget. At any time, these admins can click the View Report button available above the widget control on the page where it's placed.
By a Super Admin from the Poll Dashboard. At any time, Super Admins can view any poll's current results from the Poll Dashboard, located in the Admin interface (Feedback > Polls). Simply click the poll in the list to view a summary of its results in the resulting preview panel. From there, you can click View report to view even more granular details about the results, including the name and email of each participant, as well as their answer and submission date.
Additional Group Manager functionality for Polls. If your organization licenses the optional Group Manager product, Community Admins can also view poll results from the Poll widget (see 3 above), as long as a Super Admin has added it to their community's Home page. In addition, Community Admins can access the Poll Dashboard for their Community via Settings > Manage Polls (see 4 above).
Download poll results
All of a poll's result and participant data can be downloaded into an Excel spreadsheet for organizational use. This is especially useful data for Super Admins, who can use it to create a target group to further market to these individuals based on how they responded to a poll.
EXAMPLE: Let's say your organization recently finished an event; you then created a poll asking the attendees whether the event met their expectations. You can then reach out to the respondents who said "no" to request additional information (e.g., why wasn't the event useful for you?). This type of feedback can help your organization improve upon the next event.
To download poll result and respondent data:
From the Poll Dashboard, click to select a poll and display the Preview Panel.
Click the View Report button.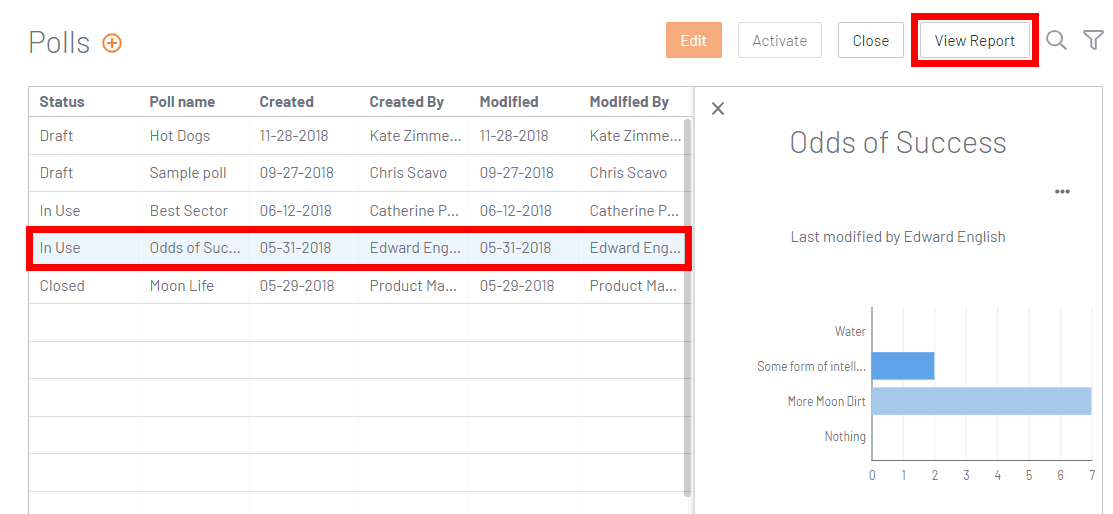 Click the Download button. An Excel file should download, indicated at the bottom of your browser, where you can click to open it.