The Volunteer Pool is a collection of Higher Logic community site users who have essentially raised their hands and said, "Yes, I am interested in volunteering AND in hearing about future opportunities within your organization." Once opted-in, admins can invite these users via email and community messages to specific opportunities depending on the volunteer's preferences, as well as the desired qualifications for the volunteer.
How do people opt-in?
Opting-in to the Volunteer Pool is virtually a seamless process for your users. Volunteers get into the pool in one of two ways:
Signing up/applying for an opportunity.
Clicking an opt-in link embedded in an email, CMS page, or Discussion post.
Additionally, you can rename the default "Become a Volunteer" page to "Opt-In to the Volunteer Pool" and make it visible in your site's navigation (it's hidden, by default).
Learn how
The Volunteer Manager module is configured with the Become a Volunteer page in the CMS, which contains the Volunteer Opt-In widget. When users click this page, they'll be opted-in to the pool.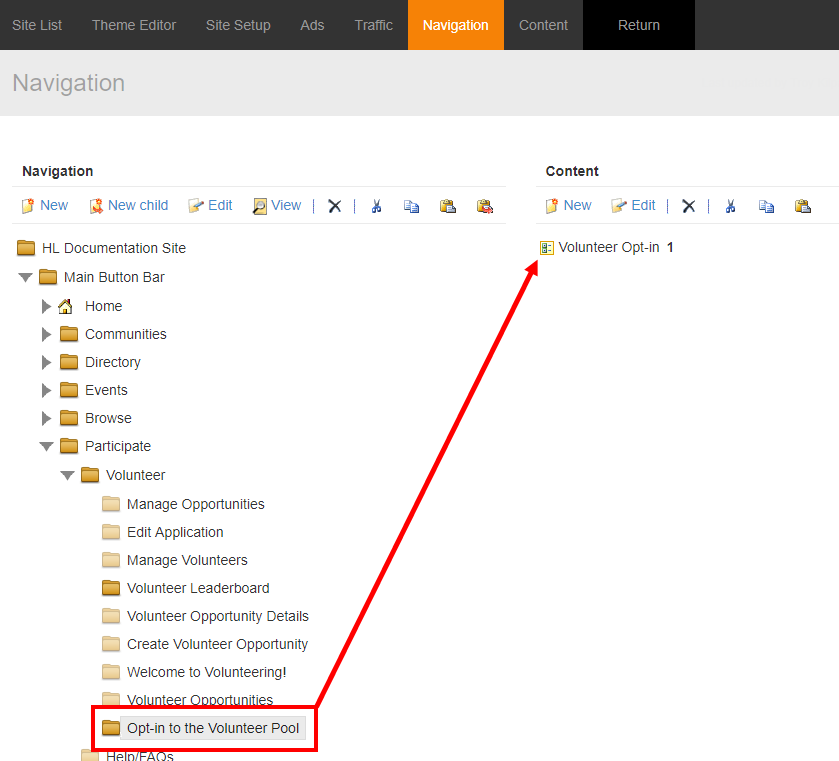 By making this page visible on your site's Navigation Bar, users will easily be able to opt-in. You can also create hyperlinks that members can click to opt-in to the pool using this page's full URL or page code (the default code and URL are shown below).
Page code
https://[yoursite].connectedcommunity.org/become-a-volunteer
Full URL
https://[yoursite].connectedcommunity.org/volunteer-pool-join
Upon accessing this page, volunteers will be directed to complete their volunteer profiles and view currently open opportunities. Of course, this page is completely customizable to fit your exact needs.

How do people opt-out?
If a volunteer doesn't want to opt-in to the pool, they can opt-out (or unsubscribe) from their Volunteer profile.
All they need to do is toggle the Invite me to volunteer when opportunities match my expertise? option to NO. At this point, they'll no longer receive invites about future opportunities sent from the system.

Can members be opted-in automatically?
Members cannot be opted-in to the Volunteer Pool automatically by Super Admins at this time. However, you can provide an Excel spreadsheet to Higher Logic via a Support Ticket containing the User ID and email address of the users to be added.