You can configure a few important Volunteer program settings, like the baseline number of points volunteers will earn per hour of service, your Volunteer Manager's email address, and the default nomenclature for various volunteer wording, like Time Commitment, Qualifications, Points.
Manage Volunteer program settings
To manage these settings:
In the Admin Toolbar, click Admin.

Navigate to Programs > Volunteer > Settings.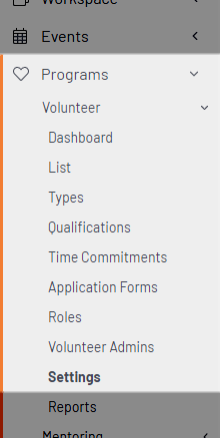 On the resulting page, you can manage the following settings: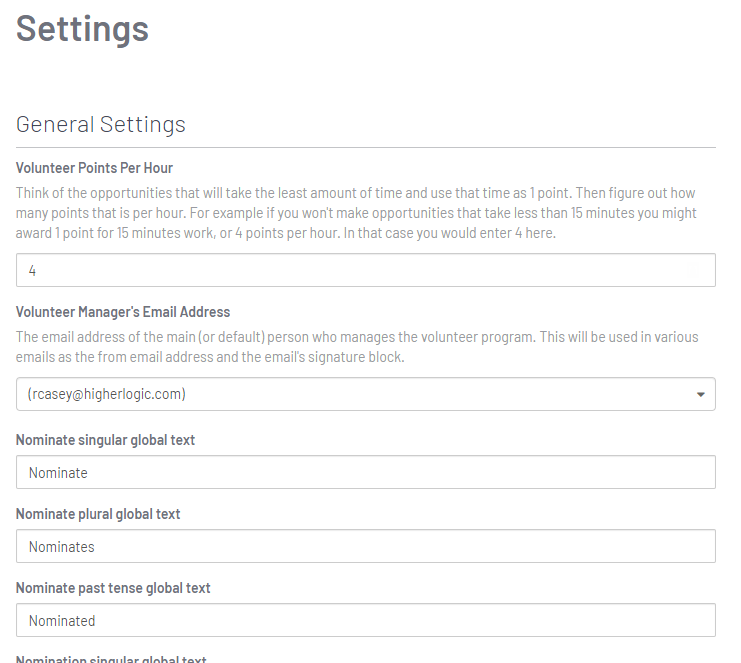 Field
Description
General Settings
Volunteer Points Per Hour

This is the baseline number of points that volunteers will earn per hour of service. Admins can assign points based on the time commitment. The points per hour and an Experience Level's Skill Multiplier are factored into the Volunteer Engagement statistics and Leaderboard placement.

To help determine what this number should be, assign 1 point to the span of time required for your shortest opportunities, and then figure out how many points that is per hour.

EXAMPLE: If your shortest opportunity is 15 minutes, that would be 1 point for 15 minutes work (4 points per hour).

NOTE: If you don't want to award points for your volunteer opportunities, set the Skills Multiplier to 0 on the Manage Volunteer Qualifications page.

Volunteer Manager's Email Address
Enter the email address for whomever manages your Volunteer Program; this individual will receive various volunteer-related emails, helping them keep your Volunteer Program running smoothly and efficiently.

This address is automatically selected as the From Email and signature block in various emails sent by Automation Rules (template emails, volunteer Automation Rules, etc.).
Various Nomination Text
The default global text used for conjugations of the word "Nominate." You can update any of them.

Volunteer Dashboard Chart Configuration

You can define the Caution and Jeopardy thresholds for the Opportunities Health chart on the Dashboard page. Use these thresholds to control when opportunities are tagged with "Caution" or "Jeopardy" warnings, which help you understand which opportunities are lacking the necessary number of volunteers X days before their start date.

Volunteer Evaluation

A volunteer's performance can be "rated" (with 1–5 stars) by an Admin after the volunteer has completed an opportunity. This is a good way for others to see how the volunteer performed. Use one of the four options to set which Admins (or none) can rate volunteers:

Community Admins, Volunteer Admins, and Super Admins
Volunteer Admins and Super Admins
Super Admins
No One

NOTE: If none of your Admins are able to rate volunteers, this might be set to No One; change this to enable volunteer evaluation.

Volunteer Titles

You can edit the default nomenclature for various volunteer wording (e.g., Time Commitment, Qualifications, and Points) so that it is consistent with your organization.
Click Save to apply your changes.
Volunteer Evaluation ratings
Volunteer Evaluation is what marks a volunteer opportunity as "complete" and gives credit to a volunteer for having completed the opportunity. If a volunteer does not receive a rating, the opportunity will not show up in that volunteer's history and the metrics of completed applicants for the opportunity will be incorrect.
NOTE: Higher Logic staff can change the default rating system (1–5 stars) to a two-option rating ("Did attend/Did not attend"). To request this change, create a case.