You can create as many folders as you need to keep your various documents organized by type or subject matter.
Create a Folder
To do so, navigate to the Documents tab and:
Click the Actions menu.
Select Add Folder.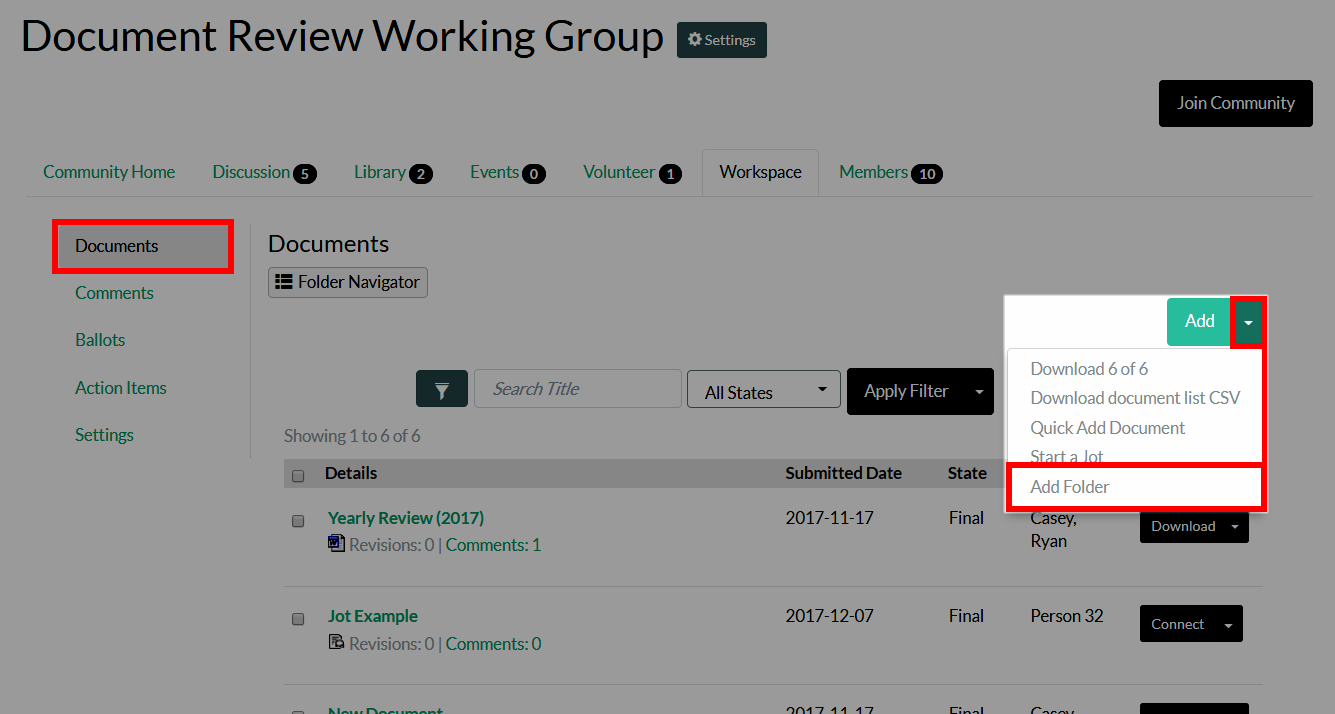 Complete the form to configure your new folder.
Options
Field
Description
Details
Folder Name
Give your folder a descriptive name that makes sense for the types of documents it will contain (e.g., Meeting Notes).
Default Folder?
Check this box to make this the default folder for all new documents (i.e., whenever someone adds a document, this will be the selected folder, by default).
Folder Description
An optional description providing guidance as to why this folder exists and when it should be used.
Folder Placement
Use the first menu to make this a top-level folder or place it within an existing folder.

Use the second menu to determine this folder's hierarchical placement (only applicable if a top-level folder or placed within an existing folder that has sub-folders).
Upload Permissions
Set the folder's upload permissions to allow:


ALL members to add documents to this folder.
Only Admins and users with Document Manager permissions to add documents to this folder.

Comment Permissions

Here, you can set the folder's default comment permissions for who can ADD and VIEW comments on documents added to this folder.

Set the default for who is allowed to ADD comments to:

No one
Document Viewers
Comment Managers

Set the default for who is allowed to VIEW comments to:


Admins Only
Document Viewers
Comment Managers

Auto Naming
Auto Naming

Enabled - users won't be able to edit the name of documents they upload and the configured naming scheme will be used instead. Use this setting when you want all documents in a folder to follow a strict naming scheme.
Disabled - users can name their documents during upload.
Click Add New Folder at the bottom of the page to create your new folder.