On your site, Discussions, Library Entries, and Blogs can be recommended by your members so that other members can see that these posts and/or their replies are of particular value.
Super Admins can enable/disable the recommend option (the button in the image below) and the number of recommends the content has received. When the option is enabled, it displays with the content, making it easy to recommend and to see what's been recommended.

IMPORTANT: The default term that is set by Higher Logic is "Recommend" but this can be customized and might be different on your site. Refer to Customize the Recommend terminology for more information.
The Recommend option
Below are a few examples of the Recommend option in a site.
Discussion
In the example below, the original Discussion post has been recommended, as indicated by the 1 on the Recommend button. The Discussion's replies can also be recommended.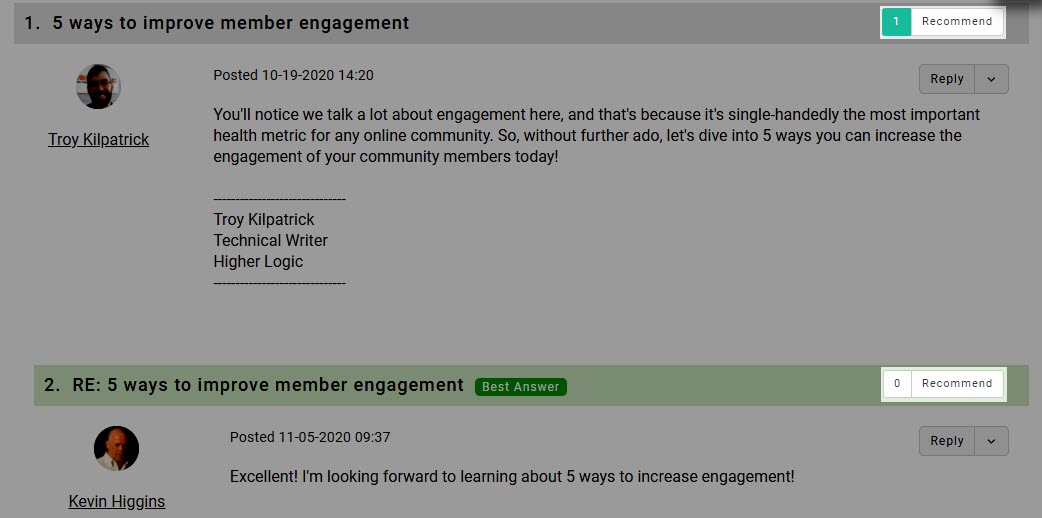 Library Entry
In this example, the Library Entry has been recommended by one person.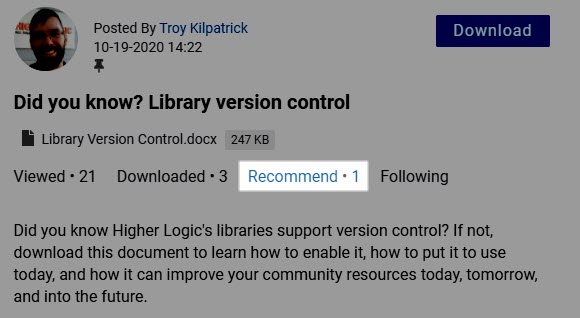 NOTE: This image is from the redesigned Library Entries page; your page might look different.
Blog
In this example, the Blog is yet to be recommended.

Enable and disable the Recommend option
By default, the Recommend option is enabled for Discussions, Library Entries, and Blogs in every site.
Super Admins can manage the option and its settings for Discussions only.
NOTE: Create a case to request any of these changes for Library Entries and Blogs.
To manage the option for Discussions:
Navigate to any Discussion page.
In the Admin Toolbar, click (or right click for a new tab) Edit Page.

In Page Designer, click to edit the Discussion Thread View widget, as shown.

Scroll down the resulting dialog to the Show Recommends? option.

If set to Yes, the option is enabled.
To disable the option, slide the toggle to No.
If the Show List of Recommenders? option is set to Yes, an overlay window that displays the "recommenders" will pop up when someone clicks the Recommends count (as shown).
To disable the pop-up, slide the toggle to No.

Customize the Recommend terminology
"Recommend" is the default (i.e., "out-of-the-box") terminology for this option.
This terminology and its hover-over text ("Recommend this item" is the default) can be customized to better suit your site.

For example, you might prefer "Like" or "Thumbs Up" as the button label and "Like this content" as the hover-over text.
NOTE: Only Higher Logic can update this text. Create a case to request these customizations.
Related articles
Super Admins can also manage the Recommend option for Daily Digest and Real Time messages.