Higher Logic sites can have advertising campaigns (called "ads") in several strategic locations across their communities. Where the ads display is based on the type of ad: Discussion Ad or Website Ad.
NOTE: If you license the Group Manager module, your Community Admins can manage ads in their communities via the Community Ad Builder widget (after a Site Admin or Super Admin adds it to a page).
Discussion Ads
These ads appear on the Discussions thread pages and in discussions' associated (subscription and digest) email messages. There are two sub-types of Discussion Ads.
Banner ads are singular and display only at the top of the Discussion thread.
Post ads display next to each post in a Discussion thread (e.g., if there are six posts, the ad displays six times) and at the bottom of discussions-related email messages.
Discussion Ads are managed by Super Admins in the Community > Discussions > Discussion Ads area of the Admin interface.
To learn more, see Discussion Ads.
Website Ads
These ads appear on the web pages of your community (and microsites, if that module is licensed). There are two sub-types of Website Ads.
Site Ads are unique to and display on only the site they're added to.
Cross-site Ads display on your main community site and all microsites.
NOTE: Cross-site ads are available only if your organization licenses the Microsites module.
Website Ads are managed by Super Admins and Site Admins on the Ads page of the Site Admin interface.
To learn more, see Website Ads.
Watch the video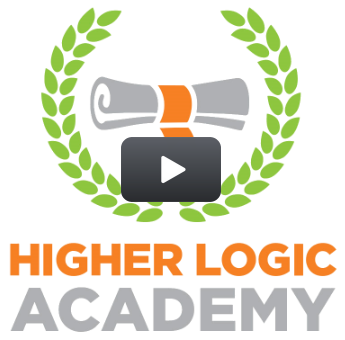 Image Dimensions
As you might expect, ad images have maximum sizes based on where the ad displays. The following table lists the recommended maximum dimensions of ad images, based on type and location.
Ad Type / Location
Recommended Maximum Dimensions (in pixels)
Discussions Ads
Banner
728w x 90h
Post
200w x 200h
Website Ads
HomeTop
964w x 125h
HomeRight
160w x 1000h
HomeBottom
962w x 125h
InteriorTop
640w x 125h
InteriorRight
160w x 1000h
InteriorBottom
962w x 125h
HomeTopOfPage
962w x 125h
InteriorTopOfPage
962w x 125h
HomeWideRight
300w x 250h
InteriorWideRight
300w x 250h
InteriorCrossSiteWideRight
300w x 250h
Integration write-backs
If your Higher Logic site is associated with a third-party integrated database, some advertising activities in your Community can be written to that database during the standard activity-sync process.
Navigate to Settings > External Content > Activity Sync in the Admin interface in order to manage writeback activities on the Subscriptions tab.
To learn about the activity-sync process, see Member Activity Sync.
Related articles