The Events list page is the jumping off point to create events and manage your existing ones. To access it:
Access the Admin interface.
Navigate to Events > List.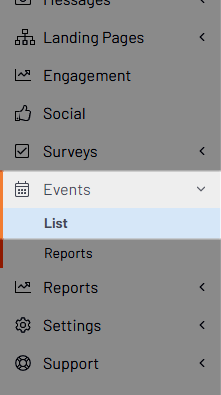 Create an event
Enter a name in the Create New Eventfield and click Go. If there's more than one folder, first select which folder to add the event to, and then click Go. You'll then be prompted to move on to the next step: select an event template.
See Create an Event to learn more about the event-creation process.
Manage events
Select an event to enable the following management options (discussed from left to right):
click Edit to make updates in the Event Builder;
click the paper icon (Save As) to make a copy of the event with another name;
click the X to delete the event (deleted events cannot be recovered);
click the list icon (Details) to view the event's details in a pop-up. From here, you can also preview the event in a new browser window and view its tracking report.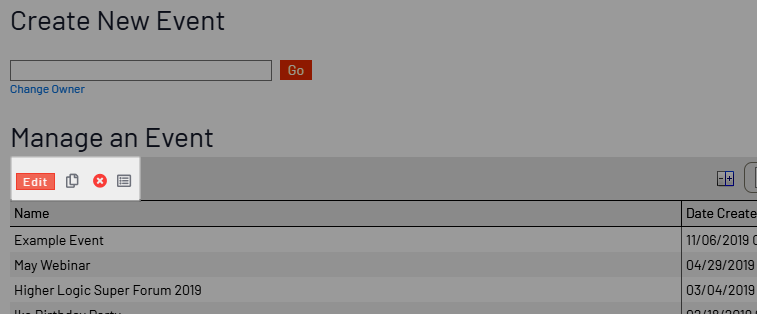 Manage folders
Click the folder icon on the upper right to display the available folders; select a folder to view its assets (groups, messages, surveys, and events).

Click Manage Folders to create, rename, or delete folders (you can't delete the Main Folder, only sub-folders); click Move Assets and follow the steps to move assets to a different folder; click Close to hide the folder view.
NOTE: Assets with like purpose must be stored in the same folder. For example, if you're sending an event to a group of recipients, the message, group, and event must ALL exist in the same folder.
Find events
Don't see the event you're looking for? Search for one via the Search bar and/or make sure you're viewing the correct folder; the current folder is indicated at the upper right. To change folders, click the folder icon, select a folder, and click Close.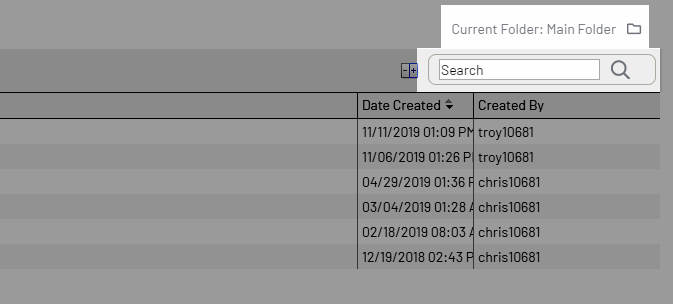 NOTE: You may have to enable folder view first.
TIP: Click a column header to sort by on column; click again to reverse the sort order.
At the bottom of the page, you can also change how many events are displayed per page, and click the page-selection buttons to navigate to any additional pages.