The Confirmation page is the page respondents see after completing your survey. Default text is provided but you're free to create a customized page using the WYSIWYG editor.
Access the Confirmation page
On the Create/Edit Survey Content page (and a few other survey pages), select Confirmation Page from the More menu at the upper right.

Manage the Confirmation page
On the Create/Edit Confirmation page, you can use the WYSIWYG editor to update the default text. As you're working, be sure to:
Click Preview to view the page in a pop-up window.
Click Save to apply any changes made.

TIP: If you create a Confirmation page you'd like to use for future surveys, check the Defaults checkbox below the editor.
Confirmation page templates
When you create a survey or when editing an existing survey's properties, you have the option to use a survey template. When selecting a template, you can choose to use it for:
the survey pages and the Confirmation page,
the survey pages only, or
the Confirmation page only.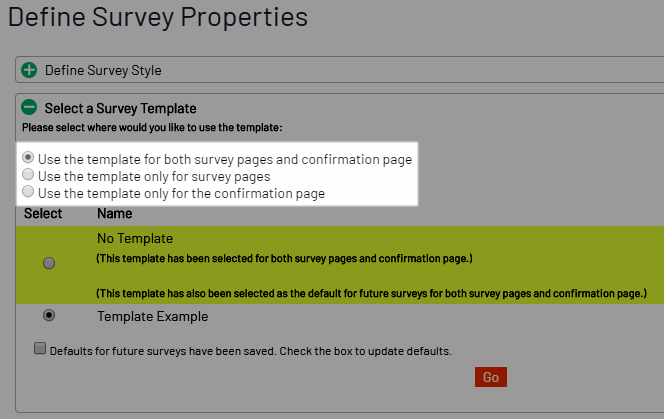 This then means you can create survey templates to be used for all of your survey pages, including the Confirmation page, for consistency across the pages, or you can create templates specifically for your Confirmation pages. Just be sure to select the proper radio button (see above) when applying a survey template.
Real Time results
As respondents answer the survey questions, the results are tracked via the Real Time Results feature, which automatically generates a web page presenting the results in charts and/or graphs.
You can embed these results directly on your Confirmation page. To do so, click the location on the page you want the results displayed and click the Real Time Results button [
] in the WYSIWYG editor. An image placeholder appears in the editor where the results will display.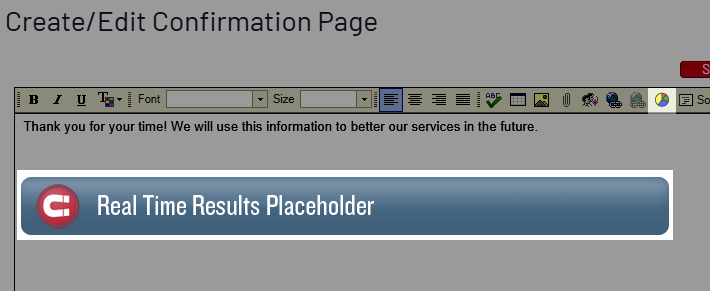 NOTE: You won't be able to embed Real Time Results on your Confirmation page if this feature is disabled for your survey. To check:

1. Select Survey Properties from the More menu at the upper right.
2. Expand the Define Other Properties category and make sure Include Real Time Results? is set to Yes.