You can manage the discussion subscriptions for any user on the Community Subscriptions page, located in the Admin interface.
To do so:
In the Admin Toolbar, click Admin.

Navigate to Users > Community Subscriptions.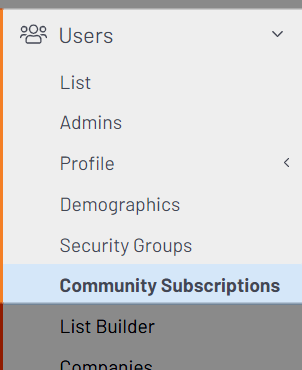 NOTE: Changes made here are reflected on the My Account > Community Notifications page of the user's profile.
To manage a user's discussion subscription settings:
Search for a user using their primary email address (or AMS ID if the user is managed in an AMS).
In the resulting interface, you can:
Change the email address where the user's Daily and Weekly digest emails are delivered.
Change the day their Weekly digest is delivered.
Set override email addresses for specific communities to have a user's Discussion emails delivered to an address other than their primary or digest-specific addresses.
If enabled, the delivery of a Discussion's emails automatically stops if a user adds it to a Daily or Weekly digest. This prevents users from receiving multiple emails containing the same content.
Down here, you can manage the delivery setting for each Discussion (Real Time, Daily Digest, Plain Text, No Email) and add Discussions to a Daily or Weekly digest.