The Message Queue page lists your organization's unsent (canceled, scheduled, and queued for approval) messages. You can edit messages and send jobs, and review and cancel unsent messages.
To access the Message Queue list page:
Access the Admin interface.
Navigate to Messages > Queue.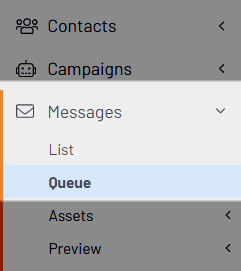 TIP: Click a column header to sort on that column. Click the columns count below the grid to add and remove columns, and use the page-navigation options below the grid to access additional pages.
| Option | Description |
| --- | --- |
| Batch Date | Date the message was created |
| Scheduled Time | When the message is expected to be sent |
| Account | Account name of the message creator |
| Type | Type of message |
| Login | Login ID of the message creator |
| Job Status | Current status of the message-send job; values are Scheduled, Cancelled, Queued for Approval |
| Message Name | Name of the message as stored in the database (e.g., 2020-Spring_Welcome); this was specified by the creator |
| Groups | Number of groups that are targeted to receive the message |
| From Address | Email address of the creator; will be the target for replies |
| Subject | The text that will display to recipients in the Subject line/field (e.g., Welcoming You in Spring 2020) |
To search for messages:
Type in the

Search

field to refine the list.
The field is immediately responsive and refreshes the list as you type. You can search on letters, numerals, and special characters.
TIP: Clear the field to restore the original list.
To filter the list:
Above the grid, click

Filter Grid

to select which messages (by status) to display.
The list immediately refreshes and the page title updates to reflect the filtering.
To manage your messages:
Select a message to enable the options above the grid and:
Click Cancel to cancel the message.
Click Review to see its details and preview options.
Click Edit Job to change the scheduling and recipient group settings.
Click Edit Message to edit the contents of the message.
NOTE: Cancel, Edit Job, and Edit Message have no effect on cancelled messages.