Your account comes with a default Data Input Form (subscription form). This form can be embedded on your organization's website, linked to in a message, and/or shared via social media to allow your audience to subscribe to your organization's messages. Once subscribed, the email address is placed in a Target Group and can later be applied to a message.
Your account can have multiple Data Input Forms; you can easily create new forms by copying existing ones or creating them from scratch.
To manage your Data Input Forms:
Navigate to Contacts > Forms > List.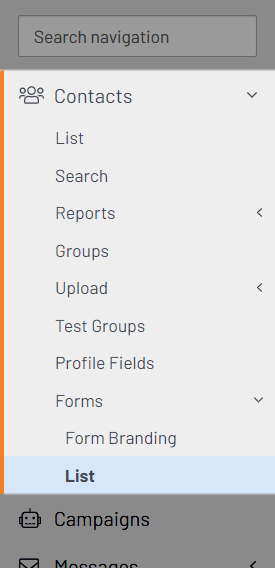 On the resulting page, you'll see your account's default Data Input Form, and any others your organization has created.
Data Input Form overview
Let's learn more about Data Input Forms by examining each of their options (from left to right) in more detail.

Branding
Form Branding is applied to a Data Input Form to change its appearance and can include custom HTML, colors, and logos.
Your account includes a customized, default Form Branding that was designed specifically for your organization. This default branding is likely all you'll need; however, your account can have multiple form branding options.
NOTE: Some Form Branding options can only be updated by Higher Logic staff, such as header colors, font, font size, and some of the default language that appears on the form. If there are elements or updates you'd like to see to your Form Branding, create a case to see if the updates you want are possible.
Apply a Form Branding
If you have a custom Form Branding you want to apply, click the Modify icon.

On the resulting page, make your selection from the Form Branding menu. Then, click Update at the bottom of the page to finalize the change.

Where to create Form Branding
While applied to a form here, Form Branding is managed separately on the Contacts > Forms > Form Branding page. There, click Add Form Branding and complete the form.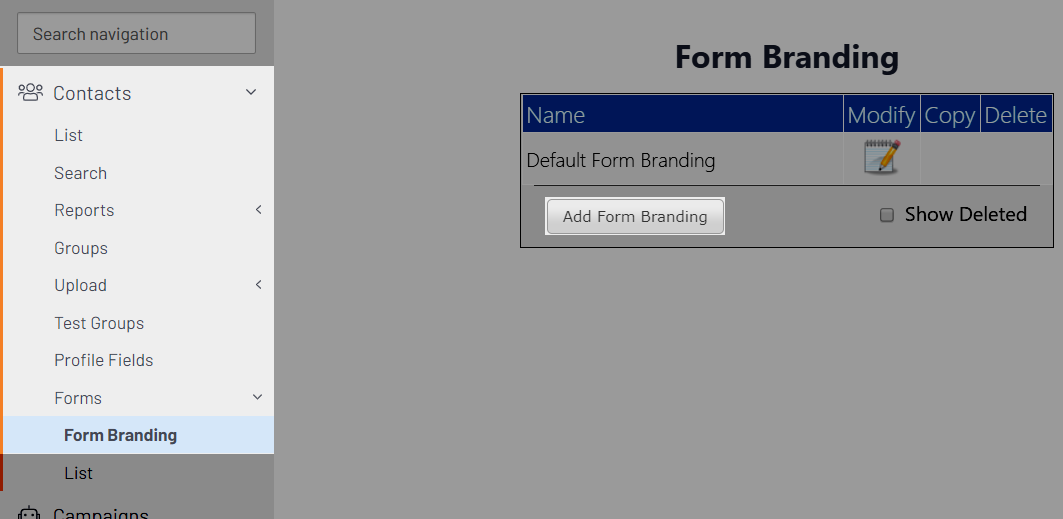 NOTE: Creating a custom Form Branding is recommended only for individuals with web design/CSS experience.
Modify
Click the Modify icon to define the Data Input Form's properties.

The available options are grouped into the following categories:
Modify Input Form
Form Branding - This is where you select which Form Branding to use for the input form. Refer to the Branding section above to learn more about brands.
Formats Supported - Check the box(es) to set which email delivery formats contacts will be able to select from on the input form (HTML, Text, or both).

Personal Info/Demographic Options
Alignment of Labels - Assign the alignment of the text for Personal Info and Demographic Options fields on the form.
Location of *Required - Choose the location of the *Required asterisk on the form, either above or below these fields.

Interest Options
Auto-subscribe Interests - If applicable, contacts can be automatically subscribed to an Informz Interest just by filling out the form. The Auto-Subscribe option is useful for general subscriptions forms.
Require Interests? - Check this box if you want to ensure each contact is associated with at least one of your Interests when they subscribe. This is generally a best practice, as having contacts associated with at least one Interest makes it easier to craft targeted messages.
Interest Layout -Set how you want Interests displayed on the form: in one column, two columns, or as options in a list box.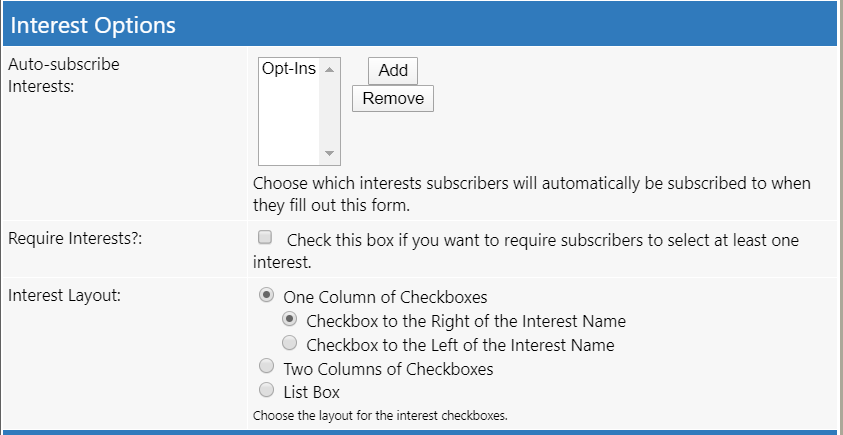 Email Notifications
You can send email notifications to someone when any or all of the following actions occur:
when someone new subscribes,
when anyone fills out this form,
when someone modifies their profile,
and when someone unsubscribes.

NOTE: If you don't want notifications sent each time these actions occur, leave the Email Address field blank.
Confirmation message
Confirmation messages can be set to publish upon submitting a form. Additional steps are required to implement these messages.
Profile Info
Profile Info refers to the information that will be captured from contacts (e.g., first name, last name, company, etc.) when they fill out your Data Input Form.
NOTE: Email address will automatically be added to the form as the first field.
There are four main types of profile information fields you can add.
Personal Information
Demographics
Interests
Opt-Outs
You can mange these four field types on the Contacts > Profile Fields page. Any fields created there can then be added to your form. See Profile Fields Overview to learn more about these Profile Fields.
NOTE: A fifth type, Statements, can also be added; these are created specifically for each form using a WYSIWYG editor, and can include formatted text, images, links, and other standard formatting features.
Click the Profile Info icon to add/remove these fields to/from the form.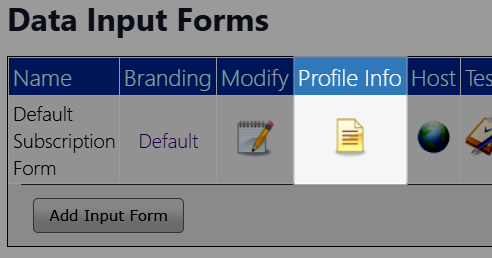 On the next page, any personal information fields previously added to the form are listed.
To remove one, just click it's Delete button.
To update a field, click its Modify button.
To add a field, click its associated Add button. On the resulting page, select it from the available menu, configure any optional settings, and click Update.
Host
Once a Data Input Form is created, it can be hosted on a website. To do so, click the Host icon.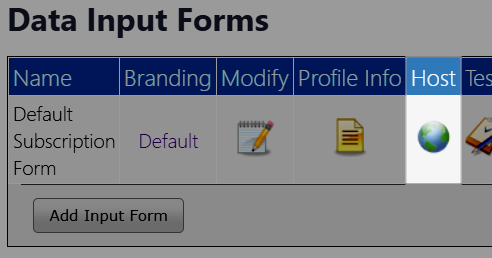 On the resulting page, enter a return URL (where a contact will be upon completing the form). Then, click Create HTML. This will generate the HTML code needed to host the form internally on an organization/association website.

TIP: Always make sure to test that your hosted form works correctly. You can test this by using the hosted form to opt in to an Interest via your website, and then accessing the associated Interest Target Group in your account. You should see the opt-in email address that you entered associated to that group.
Test
Click the Test icon to preview what the form will look like to contacts, combining the form's branding and configured properties.

Copy
Click the Copy icon to make additional copies of existing Data Input Forms, which is a time-saving method of creating new forms that may only need minor adjustments.

Delete
Click the Delete icon to remove Data Input Forms that are no longer needed.

NOTE: You cannot delete your account's default form.
TIP: To view previously deleted forms, check the Show Deleted Input Forms box.
URLs for website
The system automatically generates two URLs for each Data Input Form, which are displayed in this section.
Input Form - Use as a hyperlink to collect contact data.
Modify/Unsubscribe Form - Use to give contacts the option to modify their record, update information, or to unsubscribe.

Create a Data Input Form
As mentioned previously, your account can have multiple Data Input Forms; you can easily create new forms by copying existing ones or creating them from scratch.
To copy an existing form, click its associated Copy icon.
To create one from scratch, click Add Input Form.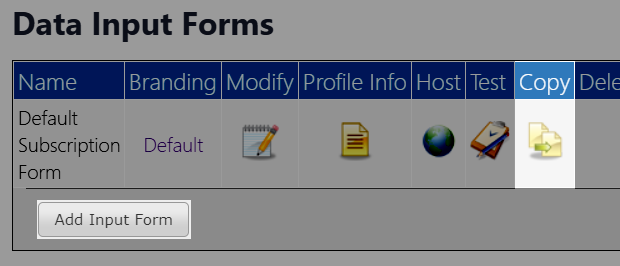 Regardless of method, you can learn about each of the form's many options in the Data Input Form overview section above.