Understanding the audience is something that every communications team should strive to do.
The way in which you communicate with an undergraduate college student is likely different than how you communicate with a freelancer with ten years of experience, and how you communicate with an executive with 30 years experience is probably very different than how you communicate with students and freelancers.
Watch the video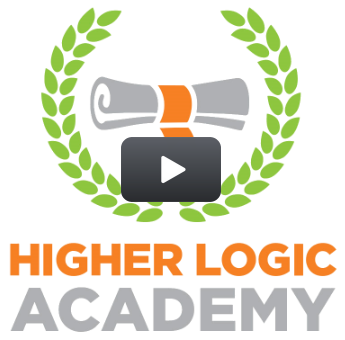 Create a Persona
Access the Admin interface.
Navigate to Engagement > Personas.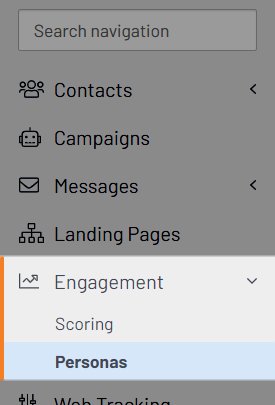 Click Create.
In the dialog:
Give the Persona a name.
Select an avatar image to represent the Persona.
Select the Target Group you want to represent the Persona (Target Groups represent the "head" data referenced earlier).
Provide a description, being sure to include some of the conceptual details of the Persona.
Click Update.
What's next?
As new contacts appear, they'll automatically be added to the appropriate Persona. If a contact meets the criteria for more than one Persona, they'll be assigned to the first Persona in the hierarchy, working from top to bottom. You can change the order (priority) of your Personas by clicking on their green tabs and dragging the Persona to a different position in the hierarchy.
After a Persona has been created, it can be used in several ways.
You could simply use it as the Target Group for certain messages; this enables you to use story-level targeting to really customize the content and the tone of that content for each specific demographic of the audience.
View your Persona reports
From the Admin interface, navigate to Contacts > Reports > Summary.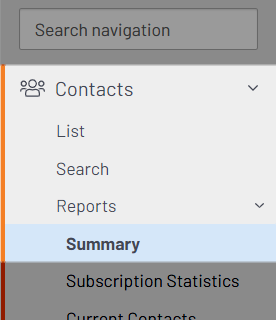 In the Engagement Scoring and Lead Scoring folders, you can run several reports to view metrics for your engagement and lead scoring based on your Personas.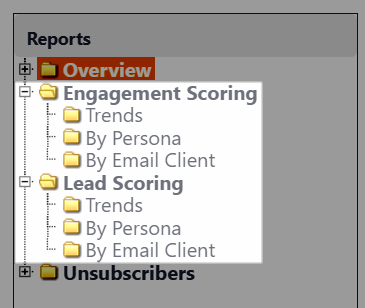 By Persona
If you've created Engagement and/or Lead scoring, you can look at these metrics by Persona. The scoring grid provides a great visual representation of how each Persona is performing based on the metric you set. The darker the green square the greater the number of people in that grade for that Persona.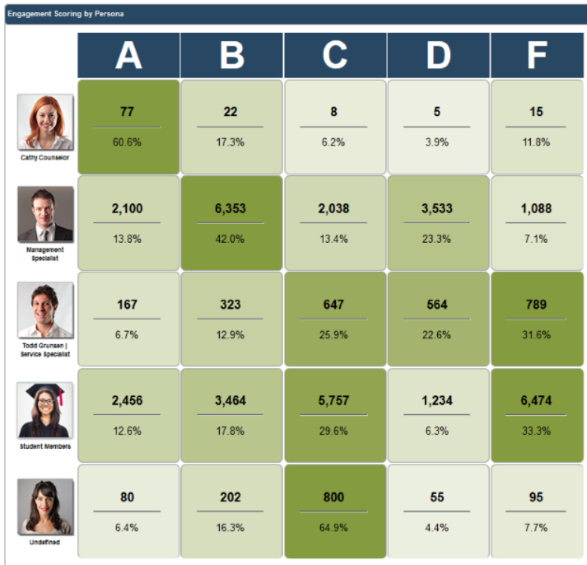 By Email Client
When you look at the scoring by Email Client, you can spot any email clients that seem to be under performing. If any are, you may want to do more testing to see if there is an issue with that particular client (e.g., deliverability issues, etc.). This report is helpful for detecting problems that otherwise may not be noticed.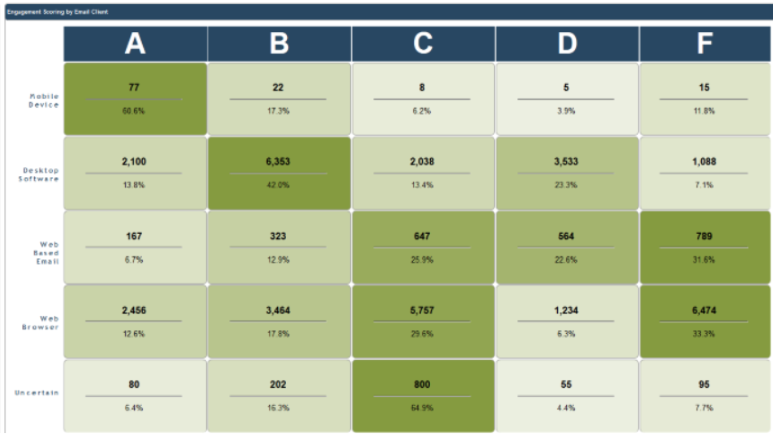 Personas best practices
The types of subscribers that you attract and the traits that they share may change over time. Revisit the Persona profile that you created for them to make sure that you are still properly summarizing this group.
Have there been industry changes that affect how you profile your subscribers? Be sure to update the Persona info.
Also make sure that you are using the most appropriate Target Groups for your Personas.
Switching to a different integration database, incorporating Web Tracking, and finding access to new forms of data may have given you a way to create a Target Group that better represents the users that should be in one of your existing Personas.