In your marketing efforts, you and your organization will likely create numerous Target Groups; in addition, the system automatically creates Target Groups in several instances. Over time, this may result in "old" Target Groups you no longer need.
If you find this is the case, there are a few reasons you should consider deleting them:
It decreases clutter, making it easy to find and work with the Target Groups you actually need
It ensures you and your organization avoid accidental Target Group usage
NOTE: Remember, Target Groups only compile contact information, they do not store it directly. In other words, if you delete a Target Group, you'll still preserve all contact information associated to it.
To perform the tasks discussed in this article:
Access the Admin interface.
Navigate to Contacts > Groups.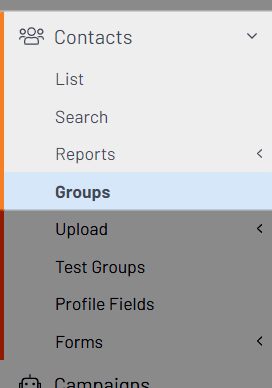 Delete a Target Group
You can delete one or more Target Groups by checking their boxes to the left.
Click Delete.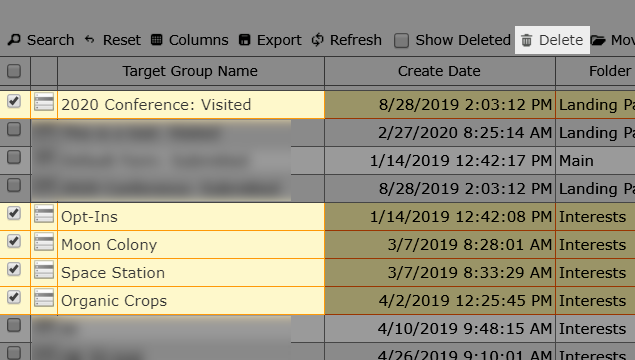 Your browser displays a confirmation message. Click OK. The Target Group is now deleted from the Target Group page's default view.
Validation
Target Groups currently in use cannot be deleted.
Certain Target Group types cannot be delete, such as General and Marketing Compound.
When deleting in bulk, ALL Target Groups without validation issues are immediately deleted, while those with validation issues are listed in a pop-up, along with any reasons.
Restore a Target Group
Check the Show Deleted checkbox. Any deleted Target Groups appear in red text on the page.
To restore a Target Group, hover over the menu icon to the left of a Target Group's name and select Undelete.
Target Group Automatic Cleanup
All accounts have a feature that automatically deletes unused Target Groups based on an Admin-specified threshold.
See Target Group Automatic Cleanup to learn about enabling and configuring this option.