You can link your organization's social-media accounts to your Higher Logic Thrive Marketing Professional (Thrive Marketing Professional) account. When you link these accounts, you can send a message to your Thrive Marketing Professional account contacts and Thrive Marketing Professional will simultaneously create a post (social posting) on your organization's linked social-media sites, thereby increasing the reach of your message. This posting includes a link to the online version of the message.
You can also take advantage of Thrive Marketing Professional's social sharing feature, which lets you insert social-media site icons in your message. With these, your contacts have the ability to share a story, an entire mailing, or a web page to their own social-media accounts.
Access your Social Accounts
To access your social accounts:
Access the Admin interface.
Navigate to Settings > Setup > Social Accounts.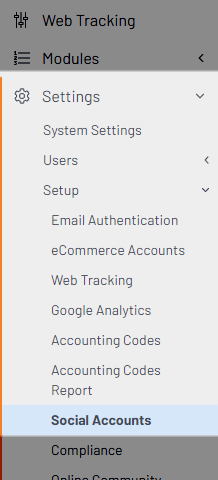 The grid lists your account's social-media accounts that have been associated with/linked to your Thrive Marketing Professional account.

Create a Social Account
You can add social-media accounts on this page in order to link them to your Thrive Marketing Professional account.
Click Create.
In the pop up, select a social-media account to link to.
The social-media site's login page will open in a new tab.
Log in to your account and follow the steps.
Manage your Social Accounts

Click a column header to sort on that column; click again to reverse the sort order.
Drag the column separators left or right to adjust the width.
Click Delete and then Delete this account to delete the social account.
Notes
The Thrive Marketing Professional social accounts feature does not work with LinkedIn Company Pages.
If you are already logged in to your social-media account when you select the option in step 2, Thrive Marketing Professional will automatically sync with that account. So make sure you are logged out of any social-media accounts that you do not want linked to Thrive Marketing Professional.
NOTE: There is one exception: If you are the admin for your organization's Facebook page, your personal account has to be added as well. Before you can publish, you'll select the social-media accounts where you want to post your mailing information.