You can link your organization's social-media accounts to your Marketing Automation Professional (MA Professional) account. When you link these accounts, you can send a message to your MA Professional account contacts and MA Professional will simultaneously create a post (social posting) on your organization's linked social-media sites, thereby increasing the reach of your message. This posting includes a link to the online version of the message.
You can also take advantage of MA Professional's social sharing feature, which lets you insert social-media site icons in your message. With these, your contacts have the ability to share a story, an entire mailing, or a web page to their own social-media accounts.
Access your Social Accounts
To access your social accounts:
Access the Admin interface.
Navigate to Settings > Setup > Social Accounts.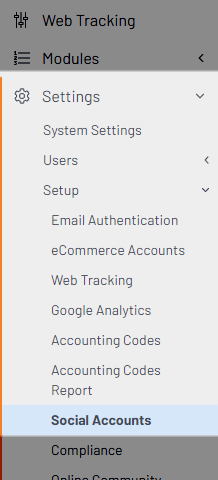 The grid lists your account's social-media accounts that have been associated with/linked to your MA Professional account.
Create a Social Account
You can add social-media accounts on this page in order to link them to your MA Professional account.
Click Create.
In the pop up, select a social-media account to link to.
The social-media site's login page will open in a new tab.
Log in to your account and follow the steps.
Manage your Social Accounts
On each tab, click a column header to sort on that column; click again to reverse the sort order.
Notes
The MA Professional social accounts feature does not work with LinkedIn Company Pages.
If you are already logged in to your social-media account when you select the option in step 2, MA Professional will automatically sync with that account. So make sure you are logged out of any social-media accounts that you do not want linked to MA Professional.
NOTE: There is one exception: If you are the admin for your organization's Facebook page, your personal account has to be added as well. Before you can publish, you'll select the social-media accounts where you want to post your mailing information.
Related articles