After creating a message, you'll likely want to send it either to yourself and/or your colleagues for testing or to perform a deliverability test.
You can send your messages from the Messages List. To access this page:
Access the Admin interface.
Navigate to Messages > List.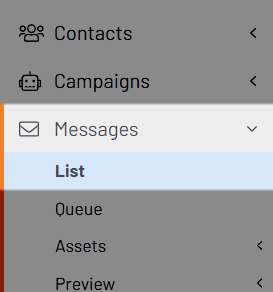 NOTE: You can also send a message directly from the Message Designer while editing it.
Send options
From the Messages List, select a message and click the Send menu to access the following options:

To an individual - Send your message to one or more individuals. This is a great way to single out specific contacts for a message that, perhaps, has confidential information.
To a group - Send your message to one or more groups.
A deliverability test - Send a test message to one or more recipients. This is a good way to verify that the text-to-image ratio is not a spam trigger.
TIP: Before sending your message, you should test it to confirm that it will be successfully delivered. When ready, click Send again to send the message to an individual or a group of contacts.
Watch the video