There's more to sending a message than simply configuring a few options and selecting a group of Contacts. There are numerous deliverability best practices and pre-send tasks to consider before ever clicking Send, such as:
sending your message to yourself and/or your colleagues for review and testing;
performing a deliverability test to check your message's deliverability score.
Only after performing these tasks do we recommend sending a message to your Contacts. In this article, we'll walk through these pre-send tasks, as well as the process to send a message to a group of Contacts, so you feel comfortable with the overall methodology and process of having your messages delivered successfully.
Watch the video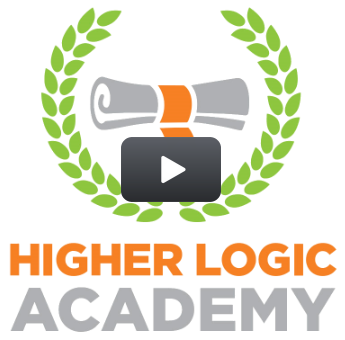 TIP: Check out the Higher Logic Academy Paths page for product- and role-specific videos!
Access your messages
You can send your messages from the Messages List.
To access your list of messages:
Access the Admin interface.
Navigate to Messages > List.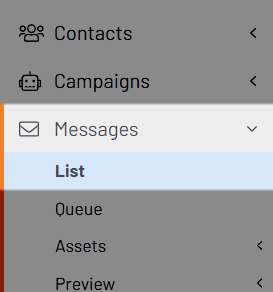 NOTE: You can also send a message directly from the Message Designer while editing it. However, you cannot perform a deliverability test while editing; deliverability tests are only possible from the Admin Interface, as outlined below.
Send options
On the Messages List, select a message and click Send to access the send options.

To an individual - Send your message to one or more individuals. Use this option to send a message for internal testing and review.
To a group - Send your message to one or more groups. Use this option to send a message externally to a group of Contacts.
A deliverability test - This action sends the message to our deliverability system, which performs a number of tests to check for spam triggers. These results are provided to you in an easy-to-understand format, giving you the opportunity to make any necessary changes prior to sending to Contacts.
TIP: Before sending your message, you should test it to confirm that it will be successfully delivered.
NOTE: These processes are described in Best Practices: Prior to sending to Contacts, below.
Best practices: Deliverability
The ultimate goal when sending a message is to, of course, have it delivered. Prior to any message landing in someone's inbox, email clients employ a spam filter to evaluate whether that message meets a set of standards. Let's look at some of the best practices you can employ in your messages to give them the best chance of delivery.
Avoid excessive punctuation, caps, hyphens, etc. in the body and subject line of your message.
Avoid using third-party link-shortening tools such as bit.ly or tinyurl. Because a lot of spammers use these free tools in an attempt to hide their spam links, many email clients now flag these types of links.
Avoid "exposed" URLs (i.e., simply pasting a full link in the message); instead, "embed" your URLs in text and images.
Avoid common spam trigger words/phrases in the body and subject line. While this is fairly nuanced in practice, you should avoid words like "free!" and phrases like "work from home"; ultimately, if it sounds like something a spammer or scammer would say, try to keep it out of your messages. With that said, there is some flexibility here, and simply including the word "free" doesn't automatically mean your message won't be delivered.
Avoid too little text in the body of your message. A common reason this occurs is the use of excessive images. Spam filters flag emails with too little text, so messages that comprise mostly images tend to be flagged. This can be tricky, as many organization employ graphic designers who produce wonderful images for use in their email campaigns, and while we support (and encourage) the use of high-quality imagery to bolster your messages, it's important to have a balance of images and text.
Include alt-text for all of your images. This is especially important if you plan to include a lot of images. This not only helps you comply with accessibility standards but also gives spam filters additional text to evaluate.
Avoid dangerous HTML elements like JavaScript, iFrames, and embedded content. If you want to share this type of content, provide a link to it instead. For example, a lot of marketers want to embed a video directly in their message, which is a huge red flag for spam filters. Instead, we recommend taking a screenshot of the video and link that image to the video.
Best practices: Prior to sending to Contacts
Let's examine the pre-send tasks you should perform before sending a message to a group of Contacts.

Step 1 - Send to self
Even before sending your message to peers for review, it's a good idea to send a copy to yourself to make sure you're happy with the overall layout and design, and to look for smaller issues like typos.
On the Messages List page, click Send > To an individual.

In the Send To field, enter your email address.
Fill out the remaining fields as appropriate (From field, Reply to, etc.).
Click Send.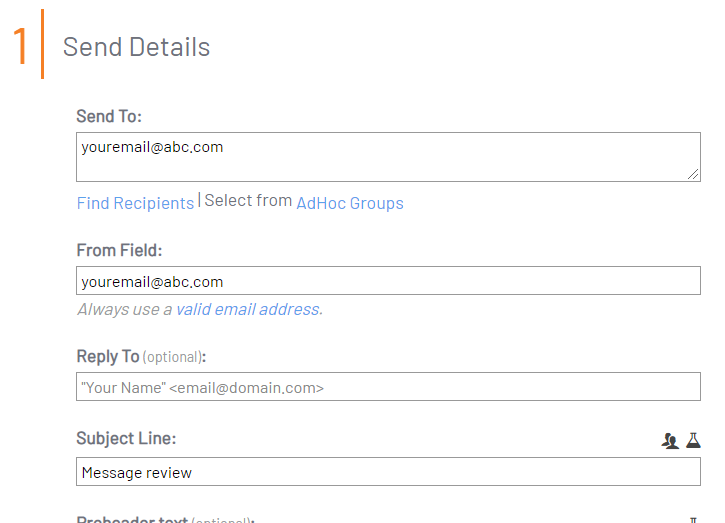 After a minute or so, the message should appear in your inbox. Once you're finished reviewing it, and have fixed anything needing fixing, move on to Step 2.
Step 2 - Send internally to peers
This is an important step, as your peers and colleagues can often provide critical feedback – perhaps one of your peers is a subject matter expert on the message's topic – or catch something you may have missed.
On the Messages List page, click Send > To an individual.

In the Send To field, enter the email address of all the peers you want to send to. There are a few ways you can do so:
Manually enter each address in a comma-separated list (format: john@higherlogic.com, bill@higherlogic.com, erica@higherlogic.com). This method is typically only recommended if there are only a few addresses.
Click Find Recipients and use the available filters to locate and select your colleagues.
Click AdHoc Groups and select one to auto-populate the addresses. Many organizations create Ad-hoc Groups for test/review purposes, as it's a quick and efficient way to populate the Send To field with multiple addresses with the click of a button.
See Ad Hoc Lists to learn more.
Fill out the remaining fields as appropriate (From field, Reply to, etc.).
Click Send.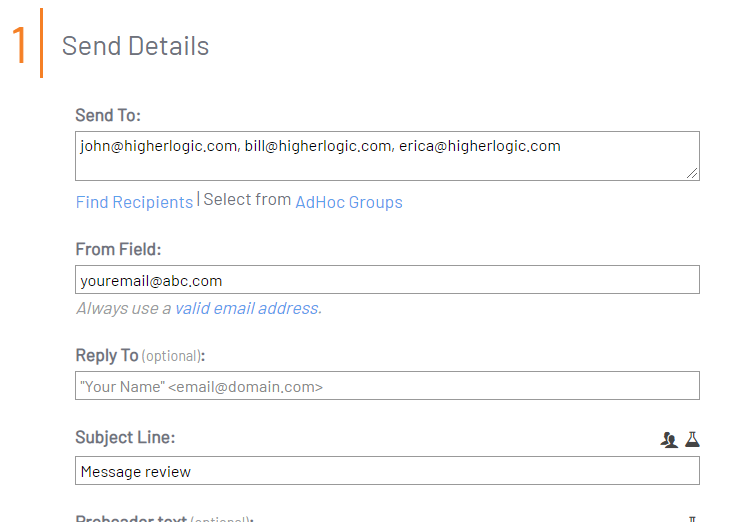 Step 3 - Deliverability test
NOTE: If you don't see this option, create a case to have it enabled for your account.
On the Messages List page, click Send > A deliverability test.

In the Send To field, enter your email address.
Fill out the remaining fields as appropriate (From field, Reply to, etc.).
Click Send.
When you click Send, the message is sent to our deliverability system (a copy is also sent to the entered email address). After the indicated time has passed, click Track Deliverability Results. You'll see some initial results after just a few minutes, but it may take up to 15 minutes for the full results.
NOTE: You don't have to wait on this page to view the results. You have two options:

1. Leave this tab open and continue working in a new one until the full results are ready.
2. View the results at any time on the Messages List page by selecting the message, followed by the Track > Deliverability Test option.



Next steps
Refer to Deliverability test results overview below to learn more.
Deliverability test results overview
A deliverability test is recommended prior to sending any message to a group of Contacts. The test examines and "grades" your message's Links, Images, Size, and HTML Tags.
The grades appear at the top of the page and display as pass (thumbs up) and fail (exclamation point) icons.
Spam Assassin
This part of the deliverability test evaluates your message for various spam standards. Ultimately, you want to pass; if you do, you'll see a checkmark, along with a breakdown of your score and more details. And remember, just because some aspects of your email are flagged doesn't mean it won't pass. As long as your overall score is below the spam threshold, it will pass and likely not encounter any deliverability issues.
If your message doesn't pass
If your message contains too many spam risks, its Spam Assassin score will be above the threshold; instead of a checkmark, like you see above, you'll see a caution icon like you see below. The associated table will provide a breakdown of your score, and you should focus on resolving the listed issues.
Making adjustments
Your Spam Assassin results may prompt you to make some adjustments to ensure your spam score is low enough to result in delivery. For example, your message may be flagged as having too little text, so you may want to reduce the number of images or replace a few images with text to achieve a better balance.
TIP: After making any changes, be sure to re-run the deliverability test to see if your changes positively impacted the score. We only recommend sending messages that pass this test.
Message Previews
This part of the deliverability test evaluates your message's design. It enables you to view your message across three email environments (Desktop, Webmail, and Mobile) and many clients (e.g., Gmail and Outlook).
NOTE: The previews of the various email clients are not an exact representation but a simulated preview; they are provided merely to give you a general idea how your message may look, and to help pinpoint large design and layout issues.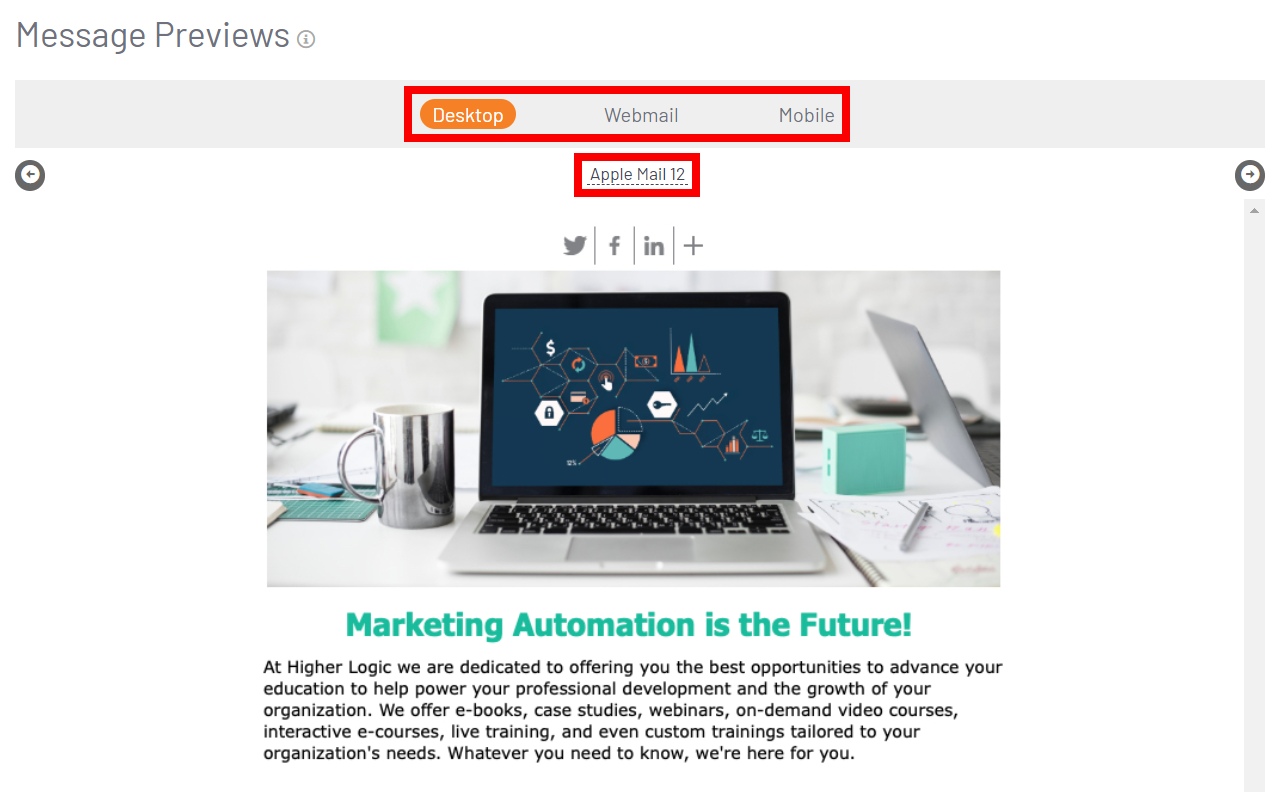 Take a moment to check the Desktop, Webmail, and Mobile versions, as well as the various email clients, to see if any display issues exist.
TIP: We recommend evaluating your message analytics to see how the majority of your audience is viewing your messages. For example, if 60% of your audience is viewing your messages on a specific type of iPhone, you can pinpoint that device here to see how your message looks on it.
Send message to Contacts
Only after having followed our best practices above should you send a message to a group of Contacts.
On the Messages List page, click Send > To a group.

The process to send a message to a group of Contacts comprises three primary steps:

NOTE: If you have our optional Social tool enabled for your account, you may see an additional step, called Social Articles. This optional step is not covered below, but if you'd like to learn more about this tool, and how to configure it, see Social (Accounts Dashboard).
Each of these steps has their own dedicated page in the process. Let's walk through each now.
1. Setup Job
This page has several fields and options, grouped in three sections.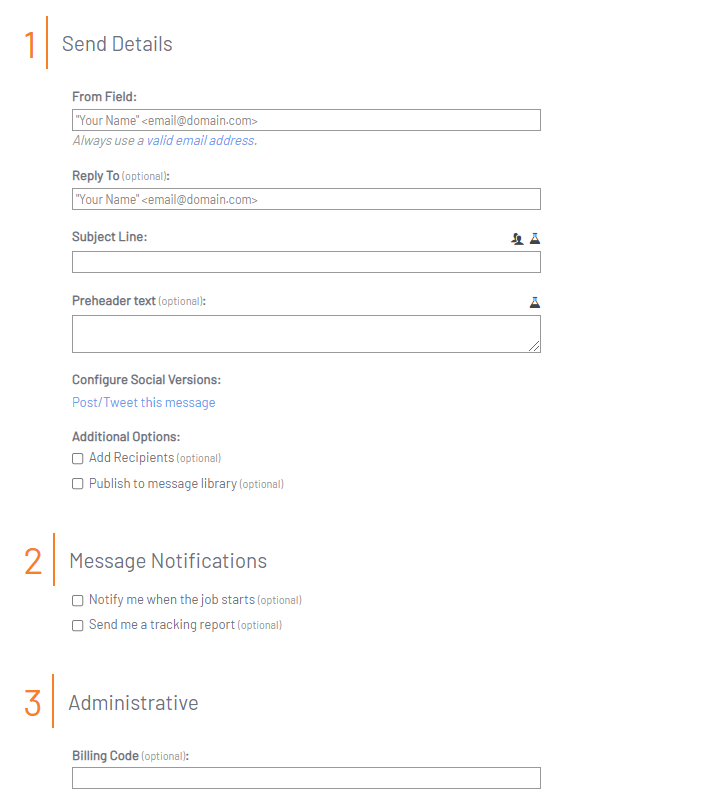 Send Details
From Field - The best practice is to format your From Field in the "vanity" or "friendly" format.
EXAMPLE: If I want the From Address to display to a recipient as "Higher Logic Education" instead of the actual address, I would enter it as: Higher Logic Education <education@higherlogic.com>
Reply To - If left blank, any replies will default to the From Field address. While a different Reply To address is optional, there may be times when you don't want replies going to the From address. TIP: You can employ the same "vanity" / "friendly" format here as in the From Field.
EXAMPLE: You're sending a message on behalf of your organization's CEO. In this case, you likely don't want your CEO inundated with replies, so you instead provide the email address for the CEO's administrative assistant.
Subject Line - This is arguably the most important field, as it's often the first content seen by recipients. Because of this, you want your subject to be a "home run." One way to make your Subject Line grab their attention is through Personalization (click the people icon).
EXAMPLE: Inserting the First Name Personalization field will pull each recipient's first name from your account so it's automatically personalized to each recipient when the message is sent.
Preheader - This is the text that displays in an inbox before someone opens an email (it's typically next to the subject). By default, an email client will display the first line of text from a message, but the best practice is to customize this preheader text to display something more meaningful and impactful. Other than the subject, this will be the first thing a recipient sees, and so you want to ensure it captures their attention.
EXAMPLE:



Add Recipients - In addition to the Contacts you'll choose during during step 2 (Select Groups), are there other people you'd like to receive your message, such as staff? If so, you can add them here by manually entering their email addresses or via ad-hoc groups. You can think of this as CC'ing additional people a copy of the message.
Message Notifications
Notify me when the job starts - You can choose to have a notification email sent to you (or someone else) when the message is processed to be sent. Select when you'd like the notification sent (now or when the message is scheduled).
Send me a tracking report - You can also choose to have a tracking report containing data about this message sent to you (or someone else). This is a great (and automated) way to stay on top of your message statistics, especially if you're sending a lot of messages. After entering the desired email address, select how long to wait after the message is sent before generating and sending the tracking report. A best practice is to wait at least 24 to 48 hours.
Administrative
Billing Code - If billing codes are applicable to your organization, you can enter one here.
2. Select Group
This is where you select the group(s) of Contacts to which to send your message.
NOTE: You can select more than one group, and the best part is if an individual Contact belongs to multiple groups, they'll automatically be deduplicated so they only receive a single email.

Use the Search field at the top right to quickly find specific groups by name (employing smart naming conventions for your groups makes this search all the more useful).
If you'd like to prevent specific groups from receiving your message, check the Filter out groups box at the bottom of the page and select them.
EXAMPLE: Let's say you have one or more groups of Contacts you've identified as "disengaged," meaning they haven't been opening or engaging with any of your recent marketing emails. Rather than bombarding them with additional emails and risking them unsubscribing completely, you can filter them out with this option. You may want to then strategize how best to reach out to these Contacts in a more nuanced fashion, perhaps by sending them more targeted emails that better suit their interests.
3. Review & Send
Let's take a look at this page's two sections.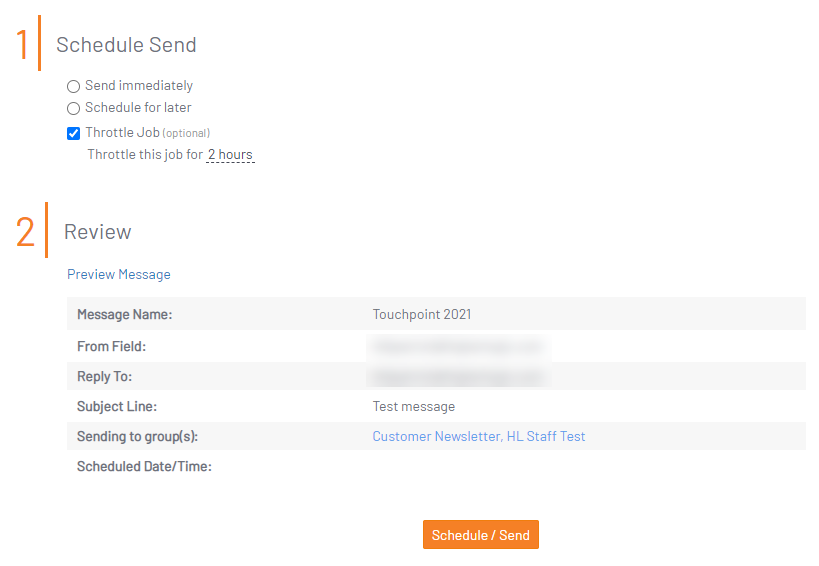 Schedule Send
At the top of the page, go ahead and choose when to send your message: either immediately or by scheduling a day/time.
NOTE: Your account may include additional options to optimize send time. To learn more, see Send Time Optimization.
Review
This section gives you one last opportunity to double-check your message details, like it's From Field and Reply To addresses, subject and preheader, selected Groups, etc.
In addition, at the top of the section you'll notice the Preview Message link. A best practice is to click this to preview your message one last time before sending.
Schedule/send message
After you've verified these details, click Schedule / Send to perform the associated action.
If you chose to send immediately, the message will immediately be processed and sent.
If you scheduled your message, you'll see the message below, informing you that your message has been sent to the Message Queue, where it will be processed and sent at the designated time. You can visit the Message Queue immediately via the Cancel/Message Queue link or at any time in the future on the Messages > Queue page.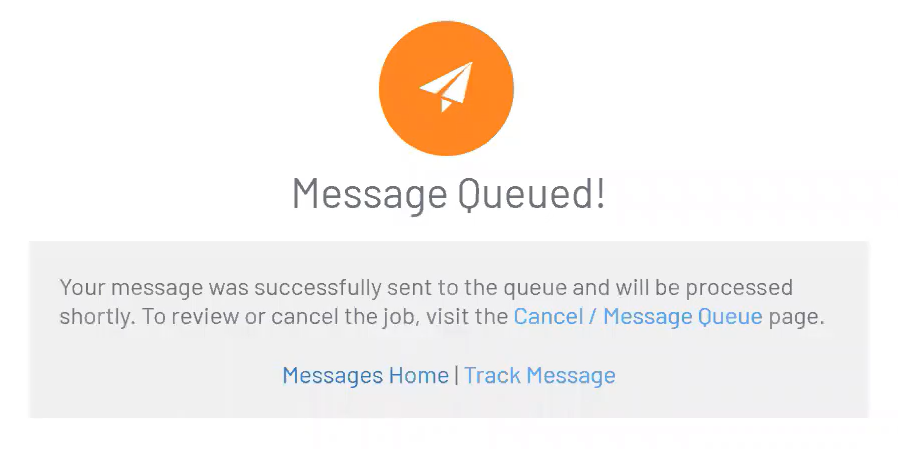 TIP: Unless you absolutely need to send a message immediately, a best practice is to schedule them to take advantage of the Message Queue. Because queued messages are stored here and can be managed at any time prior to sending, this gives you the chance to make last-minute updates or to cancel the job altogether. So, even for messages you plan to send right away, it can be a good idea to schedule them a few hours out to give yourself a window of time to make changes that may arise unexpectedly.
Related articles