Event Engagement allows you to create three session types:
Live session - Use this type for the live keynote and breakout sessions you're hosting on a third-party platform, such as Zoom, GoToWebinar, etc. You can provide the dial-in and/or login instructions for people to attend the live session, and registrants can download a .ics file to add the session to the personal calendar on their preferred email platform. You can also create an external registration live session type; this

enables you to track attendance since you'll be linking out to a registration form in your third-party hosting platform, and it allows you to take advantage of your hosting platform's security features.

Embedded recorded session - Use this type to upload video files for direct hosting on your Event Engagement site; for this, you'll need to have direct access to the video file (i.e., it's on your computer or network). The uploaded video will be embedded right on the session's home page for easy viewing. You can also use this session type to upload other event resources you'd like to share, like PDF documents, Powerpoint presentations, etc.
External recorded session - Use this type to link to a video file hosted externally on a platform such as Zoom, GoToMeeting, YouTube, etc. The external video you link to will be pulled in and added right to the session's page for viewing. The only difference between this and the embedded session type is the source of the video: embedded videos are directly uploaded and hosted on your Event Engagement site while external videos are hosted externally and linked to.
NOTE: For security reasons, video files cannot be downloaded; this ensures individuals can't download one of your presentations and share it with those not registered or participating in your event. On the other hand, other uploaded resources, like PDFs and Powerpoints, can be downloaded and shared.
How to create a session
You can create all three session types from the Tracks menu, located in your site's top navigation menu: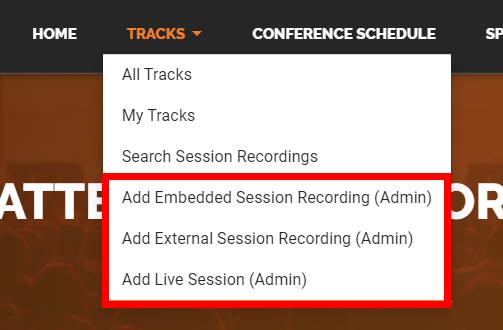 Where to view your live sessions, recorded sessions, and other resources
As you'd expect, the best place to view and interact with your live sessions, embedded/external recordings, and other resources is from the track they're associated to.
Navigate to Tracks > All Tracks in the top navigation and click a track title to view its home page.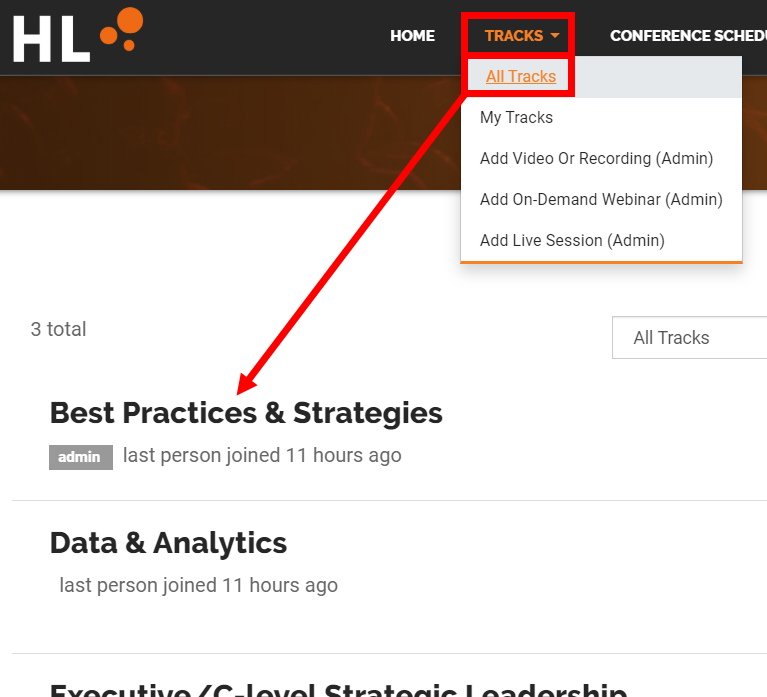 TIP: If there are a lot of tracks, use the menus above the list to filter the tracks to make searching easier.



On the track's home page:
Live sessions are listed on the LIVE SESSION SCHEDULE tab
Embedded/external recorded sessions and other resources are listed on the RECORDED SESSIONS & RESOURCES tab.

On these tabs, click the title of a live or recorded session to view its home page, where more information is provided.
For live sessions, you can see when its occurring, how to attend, and even download a .ics file you can use to add the session to your personal calendar (i.e., in Outlook, gmail, etc.).
For recordings and other resources, you can view additional information about them, read and add comments, view the recording, download any uploaded resources, and access any related information.
NOTE: The upcoming live sessions for ALL tracks are listed on the CONFERENCE SCHEDULE tab, located in your top navigation.