Tags (also known as #hashtags) are like behind-the-scenes organizers, helping to categorize your Event Engagement site's content and make it easier to find. For example, if 15 users tag their content with #2021conference, all 15 pieces of content can be viewed simply by clicking the tag.
How tags work
Let's learn how to apply a tag while creating a discussion post.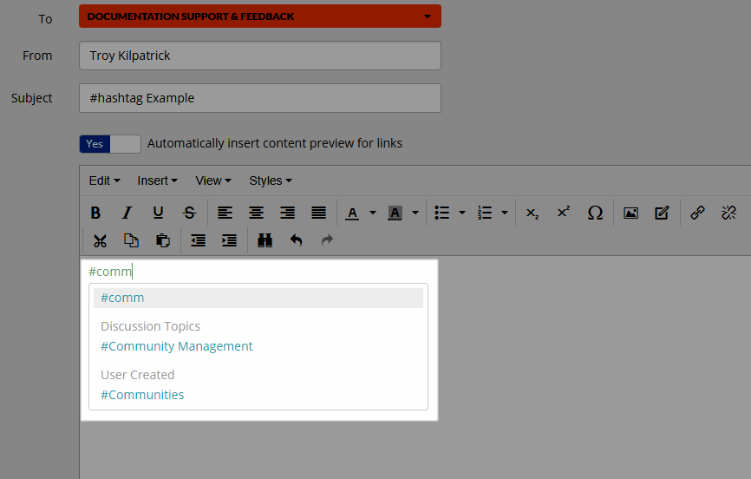 In the discussion body of content, initiate the tagging process by typing "#" and then start typing the desired keyword(s). As you type, a list of existing, user-created tags will appear (if any exist).
Select a suggested tag or continue typing to create your own (if allowed).
After selecting or creating your own tag, it will become a hyperlink that users can click to view all content associated with it. As more content is tagged with the same tag(s), it will become easier to find, with more and more associated content.
Tags notes
Do NOT use spaces when typing, as this will prevent hashtag creation. If adding your own tag, press Enter after spelling it out to create it.
Tags must start with #, but this cannot be used after that first occurrence.
Tags cannot contain: @, $, or &.
You can also include #hashtags in Discussion posts made via your email client. For example, if you include

#CommunityManagement

in your Outlook message, the system will convert it into a hyperlinked tag after it is sent.
Searching tagged content
There are two ways to view content associated to a specific tag:
1 - Using the search bar
If you know a tag's name, you can enter it into the search bar to view its associated content. For example, I want to view my community's content with the Formal tag Food Supply. I can do so by entering tags:"food supply" in the search bar:

The search results display the content associated to this tag: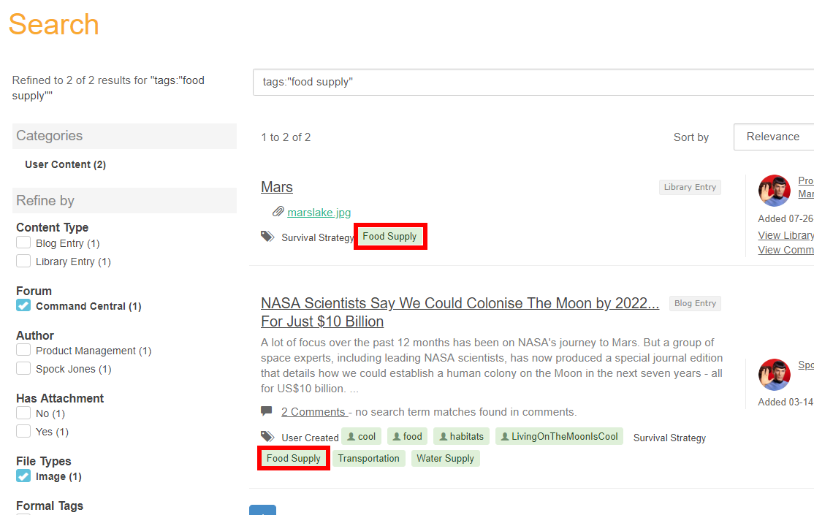 2 - Clicking tags
In addition to manually searching via tags, you can also click a tag within a discussion post to browse its associated content.
Just like searching tag keyword(s), clicking a tag displays its associated content in the search results: