Admins can run several important reports to generate data about the health and engagement of the tracks within their Event Engagement site.
NOTE: Track Admins can run these reports for their specific track; Super Admins can run these reports for any track.
Accessing a track's reports
From a track's Home page:
Click Settings.
Click Reports.

The resulting page lists each of the available track-based reports. Click View Report to generate the report you want. Descriptions for each are provided in the table below.
NOTE: In several of these reports, you'll notice the word "community" is used. This is because these are the same reports used for our base Higher Logic Online Community offering. In these instances, just remember "community" means "track."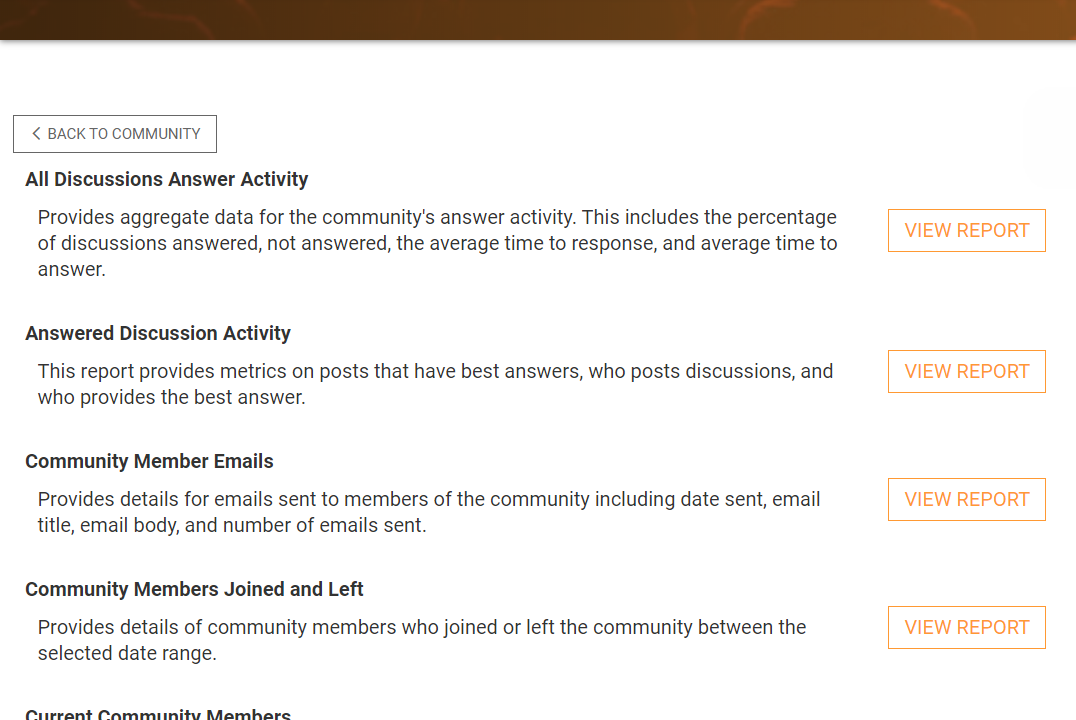 Available reports
Report
Description
All Discussions Answer Activity
Provides aggregate data for the track's answer activity. This includes the percentage of discussions answered, not answered, the average time to response, and average time to answer.
Answered Discussion Activity
This report provides metrics on posts that have best answers, who posts discussions, and who provides the best answer.
Community Member Emails
Provides details about each email sent to members of the track, including date sent, email title, email body, and number of emails sent.
Community Members Joined and Left

Lists each user who has joined and left the track within the selected date range, and includes their:

Name
Member status
User status

This report also includes the total number of current track members, which can be clicked to view the Current Community Members report (described below).

Current Community Members

For each member of the track, this report provides numerous details, including (but not limited to):

The date they were added to the track
The date they agreed to terms
The date of their last login
Whether they have a photo or have filled out their bio
Whether they're receiving emails and notifications
The number of threads they've posted and replied to
The number of files they've uploaded to the track Library
The number of blogs they've published

Discussion Contributors Activity
Provides details for users who have created discussions and replies, how many of each they have posted, how many of their discussions have replies, how many of their discussions have best answers, and how many of their replies have been selected as best answers on other threads.
Discussion Dashboard

Provides a snapshot of the high-level information about the track's Discussion, including:

Its email address
Its Moderation setting
The track members and Security Groups who have permission to view the Discussion and Library
The contributor who posted the most messages
General information like the number of subscriptions added and removed, the total messages posted, and the number of Recommends

Message Origination

Provides a graph and table showing the origination (i.e., via email or website/app) of approved new threads, and replies to messages, sent between the selected date range.

NOTE: The graph is shown by default; click the Next Page button (blue arrow) at the top-left to switch to the table view.

Pending Invitations

Lists each user who has not yet accepted an invitation to join the track, and provides:

The date they were invited
Their Member and User status

This report also includes the total number of current track members, which can be clicked to view the Current Community Members report (described above).

Subscriber Activity
Provides information about subscribers who have created new threads, replied to posts, replied to a sender, and/or recommended posts between the selected date within the track's Discussion.
Threads

Provides details about all threads posted between the selected date range within the track's Discussion.

NOTE: Replies are not affected by the date range: All replies a thread has received since it was posted are included.

Unanswered Discussions
Provides data for the track's discussions where no best answer has been selected. This includes subscribers, followers, and post views