You can use the List Builder to create custom contact lists.
To access it:
Access the Admin interface.
Navigate to Users > List Builder.
Custom contact lists
Use these lists to create custom queries of contacts meeting the defined criteria. In addition to the standard Higher Logic reports, these lists are often used as a reporting tool; because of the extensive (and customizable) criterion available, they enable you to gain a deep understanding of contact activity, engagement, and membership across your community site.
TIP: You can export these lists as a CSV, Excel, or text file!
Create a list
Click Create.
From the first menu, select the criterion that meets your needs (e.g., is not a member of any community) and click Add.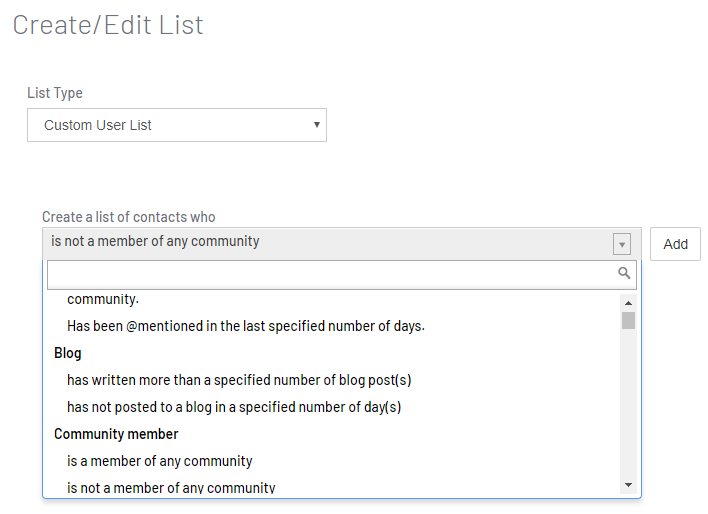 You can add additional criterion, if needed, to create more complex queries. Simply select another criterion and click Add again. All selected criterion are listed in the area below.
TIP: After clicking the dropdown, you can type in the search field at the top to quickly filter the criterion you're looking for.

Some criterion have one or more aspects that must be defined. In the image above, you'll see that we needed to select a specific community and define the number of days.
When more than one criterion is selected, they can have either an AND or an OR relationship, controllable via the associated buttons to the right. Select the appropriate option best suited for your query.
Give your contact list a name. Make sure it's descriptive to help other admins understand who it's targeting.
Click Save to create your custom list. It is now listed on the Custom Contact List page, where it can be run, edited, copied, and deleted.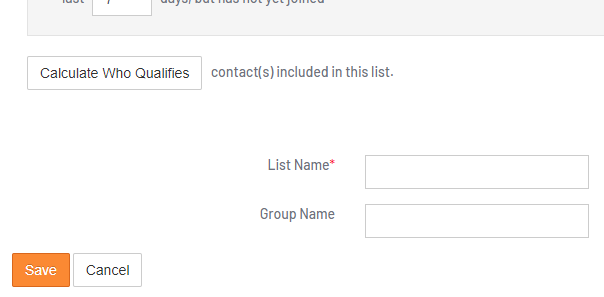 TIP: In the Group Name field, you can assign an optional group to the list, which is simply a way to organize similar lists. For example, if you assign the "Engagement" group to three lists centered around assessing contact engagement, you can select this from the Groups menu to quickly manage these three lists.



TIP: Click the Calculate Who Qualifies button to see how many contacts meet your criteria. This is a great way to see if your selected criteria are achieving the results you want, and if not, tweak them.
Run a query
All created lists are available on the Custom Contact List page. To run a list query, select View List from its Actions menu to see all resulting contacts.

In the dialog, the name, company, and email of each contact is provided.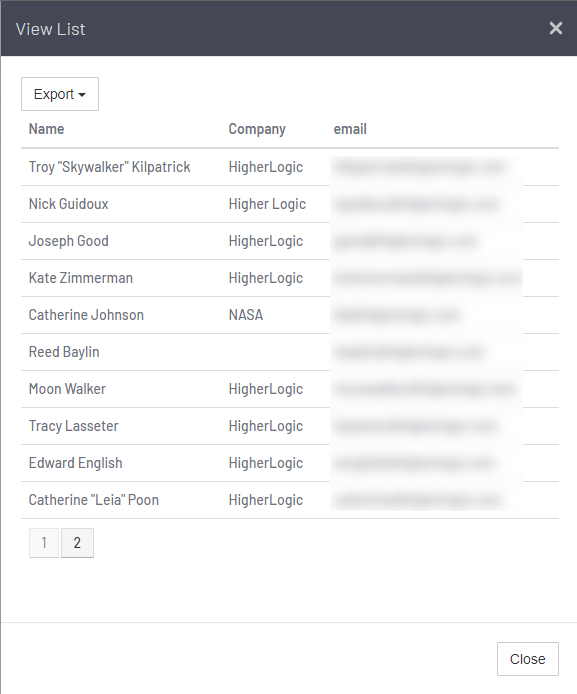 TIP: You can export these lists as a .csv, Excel, or text file!