A community is where your members will engage with one another by asking questions in the discussion and sharing files in the library. If you'd like to moderate these messages and files so they can be reviewed by an admin prior to everyone else, read on.
NOTE: You cannot apply a moderation setting to just the discussion or just the library: it is applied at the community level and inherited by them both.
From the community, click Settings > Settings.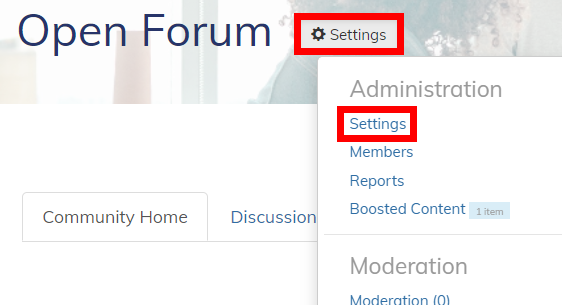 Scroll down to the Moderation Setting option. Click the dropdown and select one of the following options:
No Moderation - Posts/files don't require admin approval and are added to the discussion/library immediately.
Self Moderation - All new posts and files do not require admin approval and are added to the discussion or library immediately; however, all users who have access to the discussion and library can moderate a post or file using the Mark As Inappropriate option on the post or file page. The user will then be prompted to give a reason for marking the content as inappropriate. At this point, the content is removed and an Admin can then approve the moderation request to keep it in moderation or reject it to add it back to the community.
Full Moderation - ALL new posts and files are queued in Moderation and require admin approval before posting to the discussion or library.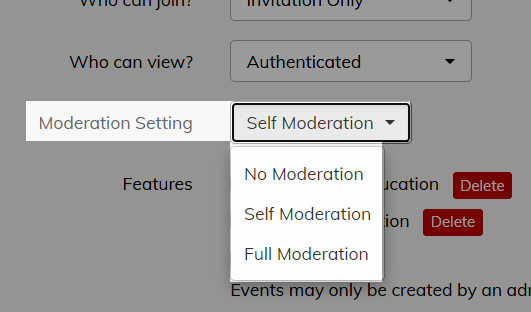 Click Save at the bottom of the page to apply the chosen moderation setting.
NOTE: If a community is set to No Moderation or Self Moderation, the system will then apply individual moderation settings on a per-user basis. To learn how to moderate individual users, see Moderate Users.