A child account is a sub-account of a main Higher Logic Thrive Marketing Professional account. Child accounts are a good way for a large organization to segment its smaller units. For example, a national organization could have multiple child accounts -- one each for its regional (e.g., state or province) chapters.
Benefits
Child accounts allow admins to have separate accounts for smaller units of their larger account. This enables them to, for example:
Provide the child accounts with branded email options so that their messages reflect their unique information (e.g., regional office address and phone number).
See and manage membership data that is unique to their child account which makes the data easier to manage on a "local" level, but have it still be accessible to the main account admins.
Is a child account right for me?
Child accounts are not necessary or even beneficial to all accounts. Review the following list to determine whether a child account would be a beneficial add-on to your main account.
| | |
| --- | --- |
| I want to prevent some members from seeing and accessing some account data | |
| I want to restrict access to account data more so for some users than for others | |
| I want to have a separate unsubscribe workflow from the main account | |
| I want to restrict access to account templates, messages, images, and campaigns (i.e., some users should have access to only a sub-set of these) | |
If you want to introduce some of the above-mentioned measures, but the permissions options in your current account structure do not meet your needs, you might benefit from having one or more child accounts.
Access & permissions
You can enable the Child Account Permissions permission, per user, to allow that user to navigate between the parent account and the child account and between child accounts.
The Child Account Permissions permission:
Is present in the parent account only;
Can be edited in the parent account only;
Will not display if there is not at least one child account; and
Pushes all of that user's permissions to all accounts.
Set the permission
To set the permission:
Access the Admin interface.
Navigate to Settings > Users > Manage.
Click to select a user and then click Edit.
Scroll down to the Permissions section and check the box for Child Account Permissions.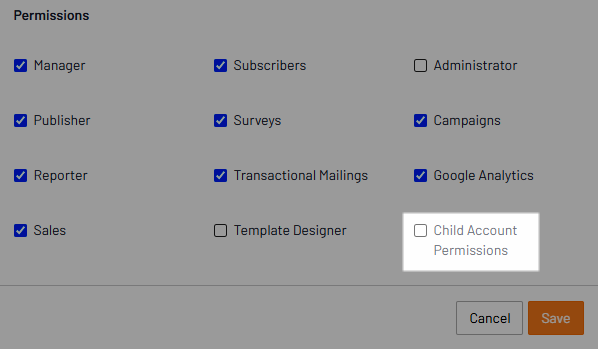 Click Save.
TIP: This permission being granted to a user is not reflected on the Users List page. Click the column chooser below the list and select Last Modified Date and/or Last Modified By; these columns confirm your recent action.
Related articles