Admins can boost any user-created content (library files, discussion posts, events, and blog articles) that they think is noteworthy and want to spotlight for other members. When content is boosted, it is "forced" to appear in Topic Community community notification email messages. The boost can be set for either:
1—7 days or
an unspecified duration and remain boosted until an admin "unboosts" it.
NOTE: Only content in Topic Communities can be boosted.
NOTE: Any admin can unboost content that was boosted by another admin.
Boost content
The Boost option is to the right of the title of the content. When content is boosted, the button automatically updates with whatever option was selected (as shown) and, for the 1—7 days options, updates daily to display the remaining number of days.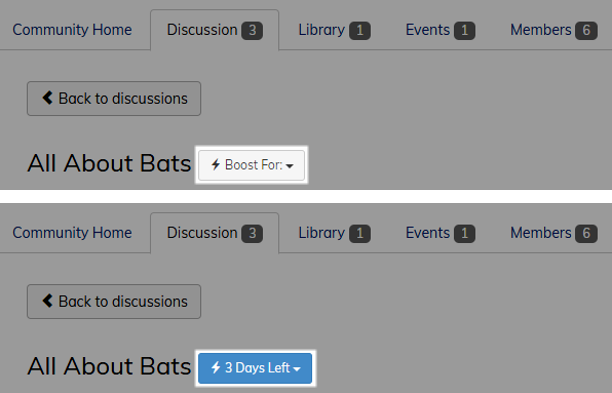 Manage boosted content
Community Admins and Super Admins can manage all boosted content for a Topic Community in one location: the community itself.
To access and manage boosted content:
Click Settings to open the Settings menu.
Under Administration, click Boosted Content.
The Boosted Content page displays all user-created content that has been boosted by an account admin.

You can see details about each item, such as the author and title, the type of content, and status of the content's boost.
Filter & sort the list
Click the All Content Types dropdown and choose a type. The list refreshes and displays just those content types.
Click the dropdown on the right to sort the list by name or remaining days of boost.
Manage your boosted content
In the Details column, click the title to access the message on its dedicated page.
In the Boost Status / Actions column, click the boost button to change the current boost status. You can:

Unboost the content now,
Decrease or increase the number of days to when the boost expires, or
Set the content to remain boosted until an admin unboosts it.