You can put your messages and your templates into folders in order to group those that are similar or somehow related. Organizing your messages and templates into folders enables you to isolate like items as a group in order to more easily access and manage them -- especially because the Messages list and Templates list pages display all of your messages and templates by default.
TIP: Create folders and organize your messages and templates from the beginning; otherwise, it will be a more time consuming and difficult task after dozens of messages and templates have been created. Then, when creating a message or a template, you can select which folder to store it in.
Folders notes
The folders functionality is available on two pages: Messages > List and Messages > Templates.
IMPORTANT: Folders are specific to either messages or templates; you cannot put messages in a templates-based folder and vice versa. You can, however, create folders with the same name (e.g., Newsletter) for messages and templates.
The Messages list page has five status-based lists: In-Progress (default), Review, Sent, Triggered, and Scheduled. Any messages-based folders you create are available to all five statuses.

Any messages you put into a folder stay in that folder, even if a message's status changes.

If you filter on a folder on one list page and then switch to a different list page (e.g., from Sent to In Progress), that filtering will be honored and applied on the new page; it will remain effective on subsequent list pages until it is removed or the admin logs out
Folder names can contain letters, numerals, and special characters.
Folder names that start with a special character will be listed first, followed by those that start with a numeral, and then an alphabetized list.
Access your folders
To access your folders:
Access the Admin interface.
Navigate to Messages > List (or Messages > Templates).
Click the folder icon.

The Folders dialog opens on the page and lists any existing messages (or templates) folders.
Create a folder
To create a folder:
Click New Folder and specify a name in the field.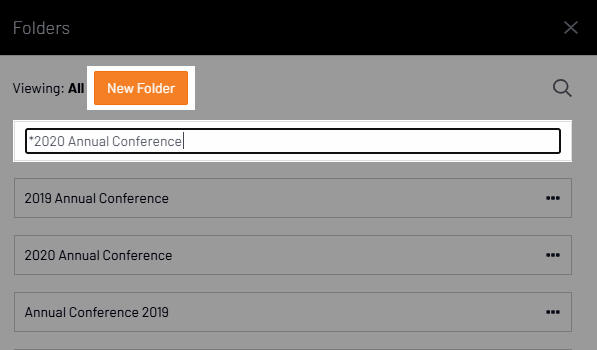 Press Enter to add the folder.
The folder will now be selectable when creating a message (or template).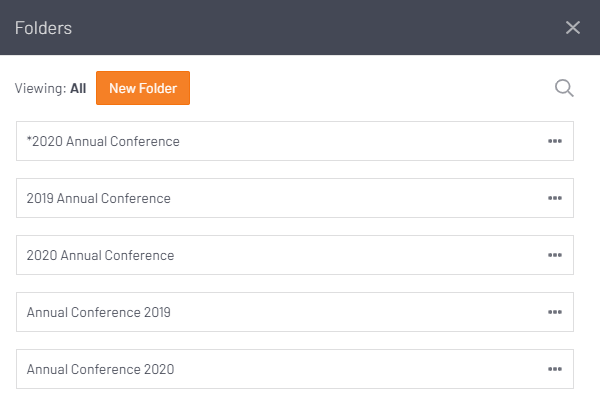 Manage folders
To manage your folders:
NOTE: Messages has a default folder, Main; you cannot rename or delete this folder.
Click a folder's ellipsis icon and then select:
View - to view the contents (messages or templates) of the folder on a "filtered" list page. Refer to Viewing a folder, below.
Rename - to rename the folder in the text field.
Delete - to delete this folder; click Delete at the confirmation prompt.
Viewing a folder
When you're viewing a messages or templates folder:
The name of the folder displays to the right of the page title.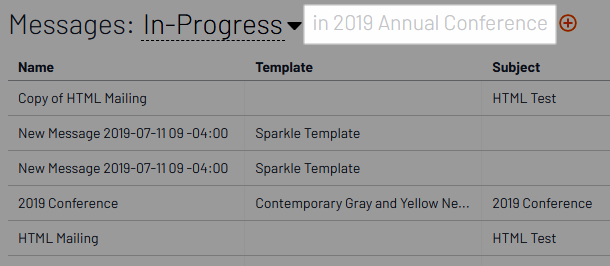 The folder icon displays as solid orange.
Click the folder icon, followed by the View All button in the Folders dialog to restore the full list of messages or templates on the respective list page.