In addition to Libraries, there are a number of other places you can view files and upload your own, including your site's Home page and the Home pages of communities you belong to.
Watch the video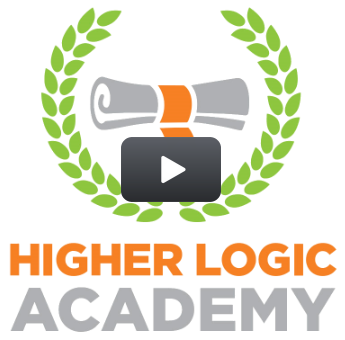 TIP: See Supported File Types & Sizes for a complete list of the file types that are supported in your community site for standard file uploads and those made via email.
NOTE: The options that are available to you depend on your Higher Logic configuration.
For example, the community shown below has the default content configuration, so a few of the latest files are listed on its Home page for easy access. You can click More below the list to view the community's Library and Add to upload a file. A similar feed of the latest files from across your account is likely shown on your site's Home page as well.
The most common place to upload and download files is on the Library tab. Let's look at some of the functionality this page offers.
Switch between List and Folder view
On the Library tab, click the folder icon to switch between the List and Folder Views, both of which have a distinct purpose.
List view
List View is the default view for every Library and is a more "socially-centered" interface than Folder View, as it provides additional file details, context, and functionality. By default, the most recent Library Entries are shown, but you can sort them in a number of ways via the two filter menus at the top, and use the pagination buttons at the bottom of the page to view more if the Library has a lot of content.
List View provides the following file and social information:
Posting information, including the author's picture and name and when it was uploaded
An Entry's description, if one was provided (abbreviated if over 100 characters)
Previews of image and video files
The ability to download a file directly from the Library page (and download all if the Entry has multiple files)
Folder view
This view has two purposes:
It enables admins to create new folders and move Entries from one folder to another to better organize a Library's content and
It's the only way all members can view any custom folders that have been created for a Library, potentially allowing them to more easily search for specific types of content in large Libraries.
Generally, though, community members will want to use List View to enjoy the more streamlined social-centric interface.
NOTE: See Organize Library Entries to learn how to create new folders and move content within a Library.
In this view, folders are displayed on the left and their associated Entries are shown on the right. All Libraries have a base folder that defaults to the name of the community or Library, and any additional folders that are created exist as children of this parent folder. Library Entries with only a single file show an icon specifying the file type (e.g., PDF and JPG); Entries with multiple Entries have a unique icon that looks like stacked paper.
In the Folders section:
Click New to add a folder.
Click New Child to add a folder within a folder (a child folder).
In the Folders Contents section:
Click New to add content.
Click View to view an Entry.
Create an Entry
You can think of Library Entries as containers for individual files; you can upload multiple files to a Library Entry.
On the Library tab, click Create New Library Entry to work through the Create Entry Wizard, which guides you through the upload process. This process comprises four steps, each discussed in their associated sections below.
NOTE: See Supported File Types & Sizes to learn about the file types supported on the Higher Logic platform.
Step 1 - Describe & choose Entry Type
To begin, describe and configure your Entry using the options:
Library entry description options
Field
Description
Title
Give your Entry a descriptive title making its purpose clear.
Description
If desired, describe your Entry here to give users any helpful or useful information about it.
Library
The community you're uploading a file to will already be selected here, but if you'd like to upload the file to a different community's Library, you can select any communities you belong to from this menu.
Folder
If the selected community Library has additional content folders created for it, you can select which one to upload your file to here.
Entry Type
This is where you select which type of Entry to create. You can learn more about each type in their associated section of Step 2.
Owner
An Entry's owner has management rights to it, and enables them to edit its details and files, moderate comments, etc.
When initially creating an Entry, you can leave this blank to default yourself as the owner (i.e., creator) or enter someone's email address and click Lookup to assign them as the owner. You can update an Entry's owner in the future.
Step 2 - Configure your selected Entry
Each Entry Type is described in more detail below.
Standard/Copyright Files
These two Entries are similar, except Copyright Entries require an additional step to choose your copyright license for the file(s) you plan to upload. For these two types, you can upload one or more files types, including multimedia, using the options on the left or by dragging-and-dropping files or choosing them from your computer or network.
Hyperlink
With this Entry, you aren't sharing files but are instead providing a link to the internal page (e.g., a page on your site) or external page (e.g., your organization's website). You can also customize your link's text so something other than its URL is displayed. This link is displayed to users on a standard Library Entry page.
Webinar
This Entry provides an embedded video on a standard Library Entry page, linked from a third-party provider like Adobe Connect. These Entry Types are meant for the display of completed webinars, not for the streaming of live webinars.
NOTE: Currently, .wmv files are not supported for playback in webinars.
YouTube
Use these Entries to embed a YouTube video that is displayed in the multimedia player of a standard Library Entry page. Instructions for acquiring the necessary YouTube information to embed your video are provided on the page.
Step 3 - Describe your files
If you're uploading files via a Standard or Copyright File upload Entry, this optional step allows you to change the title of each file on the left and provide a description for each file on the right, helping explain the purpose of your file(s) to others.
NOTE: If you don't provide a title for a file, it's file name will display on the Library Entry page. In the image below, the file name "HL_Word_Template" was changed so that the Entry has a title, "Higher Logic Support Guide Template," that will make more sense to other users.
Step 4 - Tag your Entry (optional)
The last step in the process is to optionally apply tags to your Entry. Applying tags is a best practice that makes it easier for all members to find one another's Entries.
View & download an Entry's files
On the Library tab, each Entry is listed on the page.
Click an Entry to:
View its file(s). Multimedia files (images and videos) are displayed directly on the page for convenient viewing without needing to download them first.
Individually download any of the Entry's uploaded files.
Download ALL of its files, if it has more than one, rather than having to individually download each one.
View any comments you and others have posted about the Entry, as well as add your own via the Add button. You can edit and delete your own comments, and those of other users if you're an admin, by clicking the pencil and trashcan icons.
View any related information users have made available for the Entry. If there are other Entries or pages (internal or external) that relate to an Entry, click Add and provide the link here. You can delete your own related links, and if you're an admin, those of other users clicking the trashcan icon.
Quick download files
If you just want to download an Entry's file(s) immediately, click the Download All button.