If enabled, users can @mention other users in various locations across your Higher Logic site, including:
Announcements
News articles
Comments
Discussion posts
Events
Library Entries
NOTE: @mention functionality is compatible with Chrome, Firefox, Edge, IE 11, Safari, and the mobile view of the website. It's also available in the mobile app.
How do @mentions work?
Initiate the @mention by typing "@" and then start typing the user's name. As you type, a list of suggested users will appear.
NOTE: Users who are opted out of the Directory will not appear in the suggestions, and profile privacy settings are respected.
Select the desired user from the list of suggestions and the @mention will become a hyperlink to the selected user's profile.
What happens after I @mention someone?
When a user is @mentioned, they'll receive an email notification letting them know (as long as they can access the associated content). For example, if Eric is reading a thread about community management and thinks his colleague, John Doe, would be interested in participating in the thread, he could @mention John in a discussion reply. John would then receive an email notification that he was mentioned in Eric's discussion post, along with a link to the post so he can easily participate.
These notifications are sent to a user's profile Inbox (from your profile, click My Inbox to access it).
Other users can click John's @mention in the discussion post to view his profile.
NOTE:
1. An @mentioned user can remove the @mention link to their profile by hovering their cursor over the @mention and clicking Remove Reference in the pop-up.




2. If a user is @mentioned within content they don't have access to view, they will not receive an email notification.
Can I enable/disable @mentions functionality?
The @mentions feature is ​enabled, by default
Super Admins cannot enable/disable this feature
However, if you'd like @Mentions disabled on yo​ur community site, Higher Logic staff can take care of this for you (create a case).
How to update the @mention email template
As mentioned above, users receive an email notification when they're @mentioned (as long as they can access the associated content). If needed, Super Admins can customize the @mention email template. To do so:
Access the Admin interface.
Navigate to Email > Email Management > Email Templates.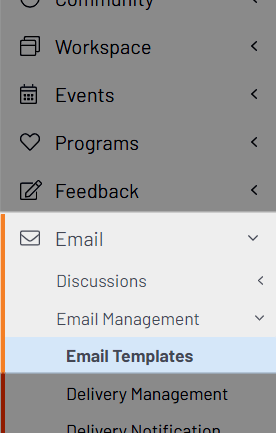 Select Comment Notification from the Category menu.
Click the Edit button associated to the @Mention Notification template and make your desired changes.