Before you begin
Review the netFORUM Integration Overview to answer general questions about the integration - more detailed information can be found in the Integration Articles.
The netFORUM integration with Higher Logic Thrive Marketing Professional (Thrive Marketing Professional) will require its own xWeb License - even if you already have one with the community platform.
Ensure that your Thrive Marketing Professional is licensed for an integration - you can do this by confirming with your Implementation Project Manager or creating a case via support.higherlogic.com.
Getting Started
Requirements
The integration requires the following:
Absolute Tokens - if Sliding Tokens is enabled the integration will not function
Configuring netFORUM Enterprise
Create a case with Abila Support

SUBJECT: Informz integration with netFORUM Enterprise 2014 - [Client Name]
SUPPORT PRODUCT: netFORUM Enterprise
SUPPORT PRODUCT TYPE: Integration
PRODUCT APPLICATION: eMail
PRIORITY: Severity Level 4
CASE DESCRIPTION:

Please provide the following information to establish the integration for [Client Name]:

xWeb Address (URL)
xWeb Username
xWeb Password

Create a sample "Informz" query to facilitate testing of the connection. Please configure this query to contain a single record with a distinct and valid netFORUM Enterprise ID and a distinct and valid email address.
Abila Support will
Work with client contact to provision the xWeb license
Create the xWeb login and password for the integration
Create a sample query that will appear in Thrive Marketing Professional as a target group (the target group type will be "Individual")
Update the support case with the xWeb address and login credentials
Activate the Integration
Log into Thrive Marketing Professional with an account that has

Administrator

privileges.
Navigate to

Admin > System Settings.
Scroll down to the

Integration Settings

area and click

Edit Integration Settings.

On the resulting page, check the

Active

box.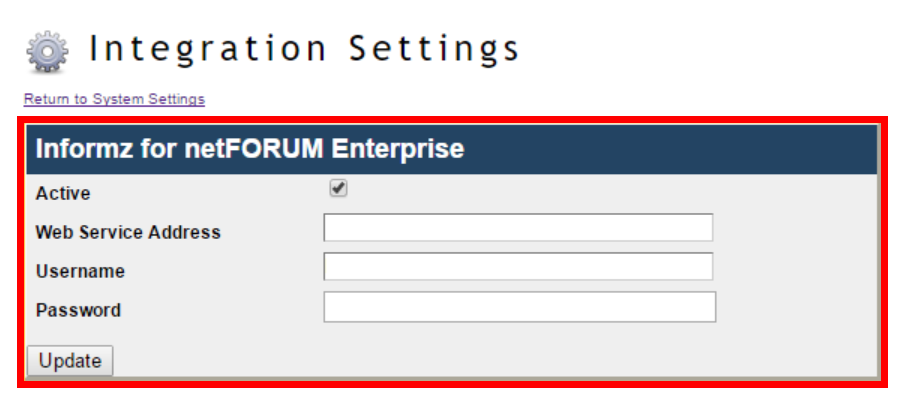 Enter the URL to the netFORUM Enterprise web service in the

Web Service Address

field.
Enter the username and password (provided by Abila).
Click

Update.
Check Connection
In Thrive Marketing Professional, navigate to Admin -> Setup -> Bridge Configuration
Under Diagnostics, click

Check Connection
Post-Configuration Steps
Once the integration is completed:
Refresh a target group under the netFORUM Individual Queries folder
Enable Writebacks
Functionality testing
Syncing - Target Group List Sync
In Thrive Marketing Professional, navigate to Subscribers -> Target Groups
Select the "netFORUM Individual Queries" target group folder
Click on "Refresh Target Group List"

Confirm that the sample distribution list that Abila Support created is visible in the Target Group List
Syncing - Individual Target Group Sync
Hover over the sample distribution list and click "Info"
Click on "sync"

Confirm that the sync successfully displays the record in the sample distribution list
Personalization - View List of Personalization Attributes
In Thrive Marketing Professional, navigate to Admin -> Setup -> Bridge Configuration
Under Personalization Attributes, click

List of Personalization Attributes

Confirm that the personalization attributes are available under netFORUM Individual Queries
Unsubscribe - Confirm Write-Back
In Thrive Marketing Professional, navigate to Subscribers -> Target Groups
Find the sample target group that Abila created, and drill down to view the subscriber record in the target group
Unsubscribe the subscriber
Navigate to Admin -> Setup -> Bridge Configuration
Under Writebacks, click

Writeback List

Confirm that the unsubscribe write-back has a status of "Sent" (write-back may take a few minutes to be sent; periodically refresh the page until status is updated)

Once the write-back has a status of "Sent," update the Abila Support Case requesting for Abila to confirm that the test record has been updated with the unsubscribe write-back

Abila confirms that the record was successfully updated with the unsubscribe
Resubscribe - Confirm Writeback
In Thrive Marketing Professional, navigate to Subscribers -> Search
Search for the test record that was previously unsubscribed
Resubscribe the subscriber
Navigate to Admin -> Setup -> Bridge Configuration
Under Writebacks, click

Writeback List

Confirm that the resubscribe write-back has a status of "Sent" (write-back may take a few minutes to be sent; periodically refresh the page until status is updated)

Once the write-back has a status of "Sent," update the Abila Support Case requesting for Abila to confirm that the test record has been updated with the resubscribe write-back

Abila confirms that the record was successfully updated with the resubscribe