In this article, you'll learn about:
The three available Library views and the way in which they present Library Entries
Viewing and interacting with Entries via the Details Panel
Using the various filtering and sorting options to make finding specific Entries easier
Available Library views
When viewing a Library, you'll notice a View area with three options available.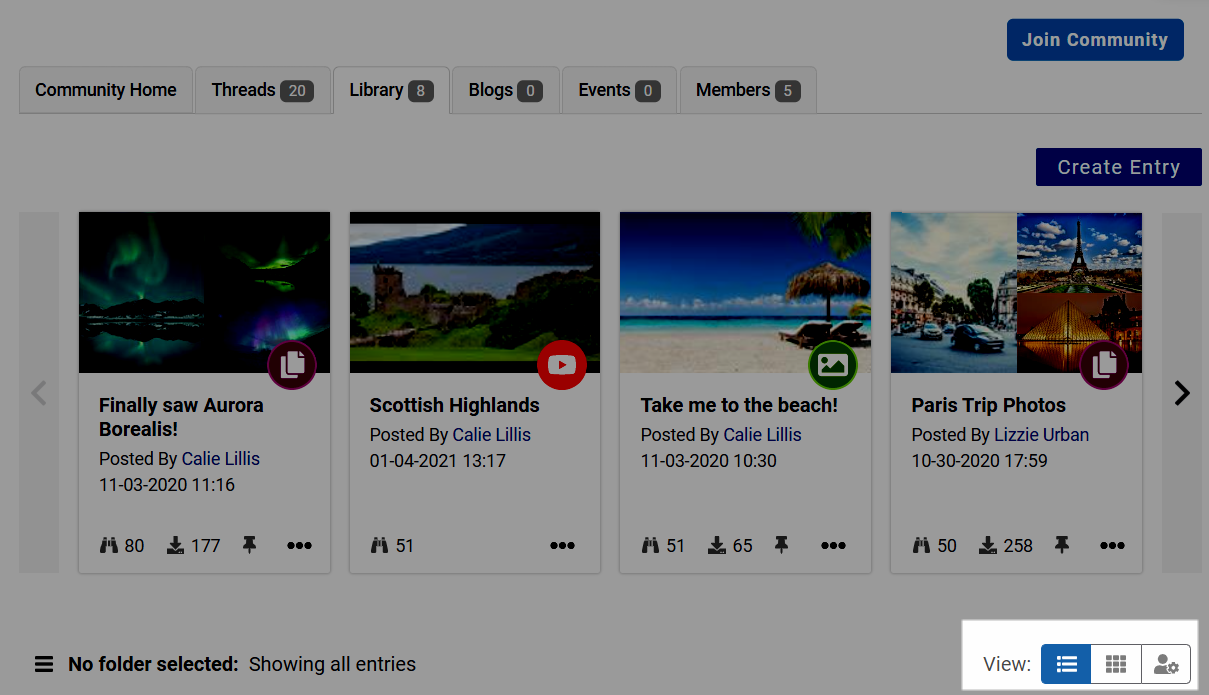 Row view
Row view is the default view for every Library; Entries are arranged in a standard top-to-bottom list. In this view, Entry images are smaller than Card view.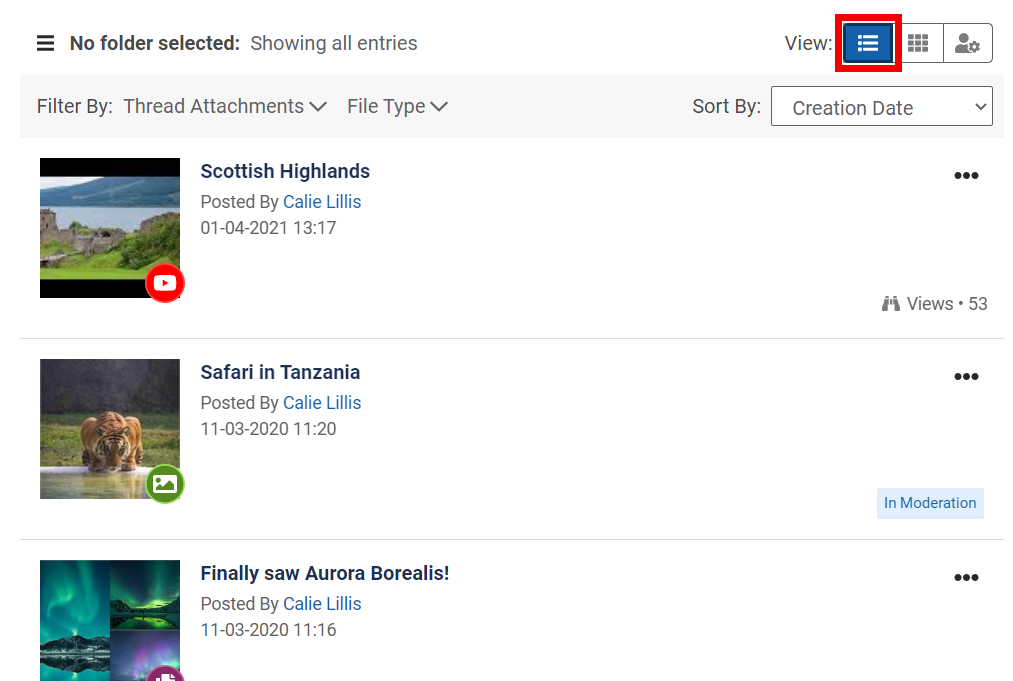 Card view
Instead of a traditional top-to-bottom list, Card view arranges the entries as "cards" in horizontal rows (as they are in the Feature Card Row at the top of the page). This view offers an even more visual browsing experience, with each Entry's "card" featuring larger images and its details (e.g., views, downloads) directly below for easier at-a-glance parsing.

Admin view
IMPORTANT: The information in this section is applicable to Community and Super Admins only.

Additionally, you must be a member of a community to have access to the Admin view.
Admin view allows Community and Super Admins to:
Create and delete folders
Move folders
Rename folders
Moving Entries from one folder to another

See Manage Folders & Move Entries (New Library Experience) to learn how to manage folders and move Entries.
Library Entry Details Panel
From any view, click a Library Entry to view all of its details, files, comments, tags, etc., in the Details Panel. What's great about this panel is you can see everything you need to know about an Entry, and can even add tags and comments and perform other management actions (if you're an admin), without ever leaving the page.
This is also where you can download an Entry's files, either by:
clicking Download All to download all files in the Entry (if it has multiple)
or downloading individual files via their ellipsis (...) menu.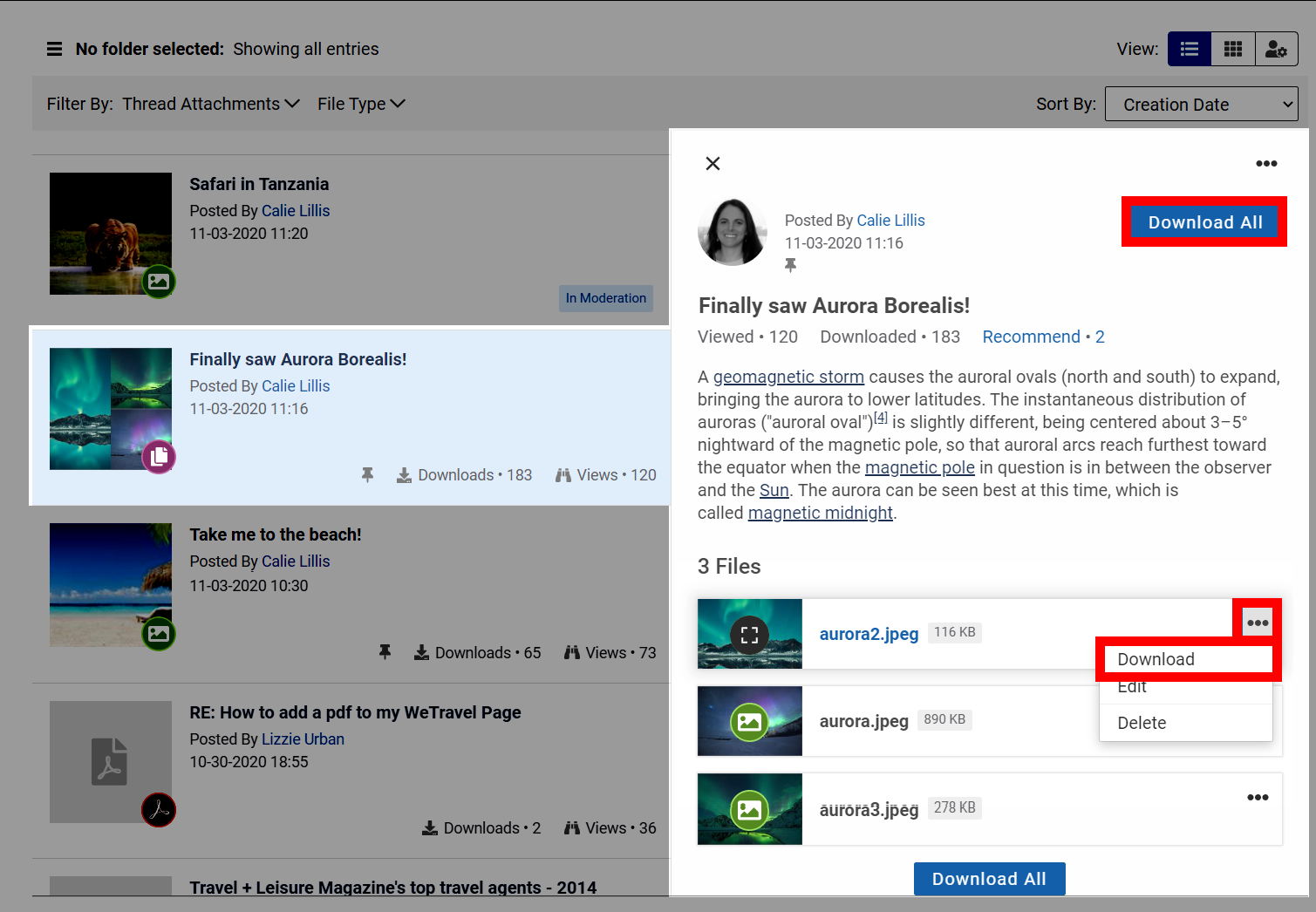 TIP: Click the X at the top left of the panel to close it.
NOTE: You can still select View Entry Page from the main ellipsis (...) menu if you'd like to view an Entry's content on a dedicated page.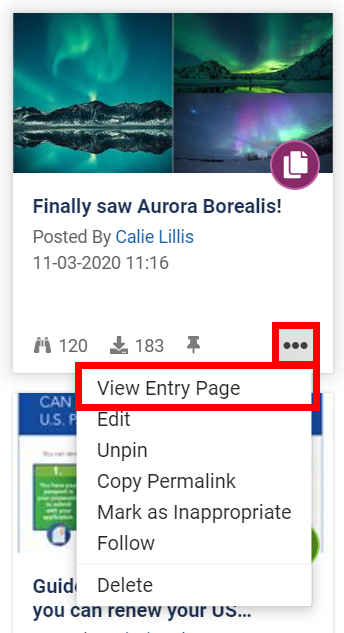 Filter and sort Entries
Let's take a look at the various filter and sort options available above the list of Library Entries.
Filtering options
There are several filtering options that you can use independently or together to determine which Entries display. These options are useful for pinpointing specific library entries in large lists.
TIP: Use these in conjunction with sorting to refine large lists.
Thread Attachments
Click the menu, select a filter, and click Show Entries to apply it.
Filters include:
Show all entries - The default selection, which shows all Entries, regardless of their origin.
Show only entries originating as thread attachments - Any time someone includes a file attachment in a community Discussion post, that file is automatically added to the community Library as an Entry (with the same name as the associated Discussion post). Select this filter to show only these Entries in the list.
Show only manually created entries - Use this filter to see only Entries that users manually created from the Library (i.e., it didn't originate from a Discussion thread).
TIP: When a filter is applied, the Thread Attachments text is bold. There is no way to simply remove a filter; to once again show the full list, apply the Show all entries filter.
File Type
Click the menu, select a file type, and click Show Entries to apply it.
File type filters include:
Documents - Only Entries containing document type files (PDF, Word, etc.) are displayed.
Images - Only Entries containing image files are displayed.
TIP: When a filter is applied, the File Type text is bold. To remove a filter to once again show the full list, click Clear.
Sorting options
In addition to the filters discussed above, you can apply several sorting options to further refine the list of Entries.
TIP: Use this in conjunction with filtering to refine large lists.
Click the Sort By menu and select a sorting option to apply it.
Filters include:
Creation date - The default selection, which lists Entries by their creation date, from newest to oldest.
Title A-Z / Z-A - Use these two options to list Entries alphabetically from A to Z or Z to A.
Most Downloaded - Lists the Entries from most to least downloaded.
Most Viewed - Lists the Entries from most to least viewed.