Do you want more engagement from your members? Do you want to spotlight content from across ALL of your communities in a single place? If so, read on to learn how you can use the Recommended for You widget on your site Home page to accomplish both of these things.
NOTE: Only Higher Logic staff can add this widget to your site. If you already have it and want to remove it, we recommend hiding the widget instead of deleting it.
How it works
This widget functions as an automatically updating feed that displays the latest content from across your site. Each content type (e.g., discussions, questions, etc.) has its own dedicated tab, allowing users to quickly view the latest activity for the content they're most interested in.
Just like our other feed-based widgets, the benefit is two-fold:
It ensures fresh content is always available for your members
and it requires zero maintenance.
What it looks like
The tabs you see may be different than what's shown below; your widget was configured by Higher Logic to show the content applicable to your needs.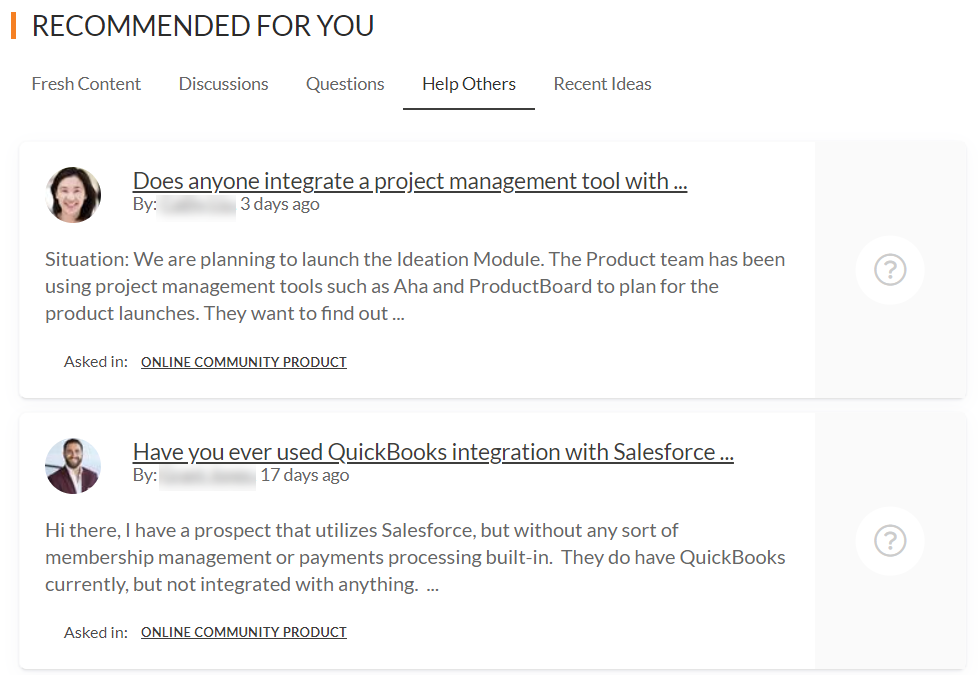 Two tabs warrant special mention:
NOTE: The availability of these tabs depends on your specific widget configuration. If you'd like to make updates to your widget, create a case
Fresh Content - This tab shows the latest content across all content types; it's essentially a feed showcasing the newest discussions, questions, ideas, etc., making it easy for your members to keep up with what's happening in the communities they belong to.
Help Others - If your organization uses the Questions & Answers discussion thread type, this tab highlights any unanswered questions. This is a simple yet powerful way to spotlight these questions across your membership to get them resolved faster.
NOTE: This widget only shows content to members applicable to them (i.e., only public content and content associated to communities they belong to).
How to hide this widget
This widget is available by default on many Higher Logic sites. As mentioned above, only Higher Logic staff can add this widget to your site, so if you already have it and want it removed, we recommend hiding the widget instead of deleting it. Let's learn how.
Since this widget is located on the Home page, navigate to your site's Home page.
In the Admin Toolbar, click (or right click for a new tab) Edit Page.

You're now editing the page in Page Designer. Click the widget to select it, and then check the Hide box.
Click Publish to apply the change and hide the widget.