Your site's Home page likely features the Community Quick Links widget at the top. In this article, you'll learn how to add, edit, and remove links using its easy-to-use interface. Let's dive in!
NOTE: Only Higher Logic staff can add this widget to your site. If you already have it and want it removed, we recommend hiding the widget instead of deleting it.
Watch the video
What it looks like
Each link is represented by a "card" and features a built-in hover effect (shown below). NOTE: Your site's Secondary color powers the hover effect and icon color.
While you can add more links than what's shown below, we recommend keeping it to five or fewer, as this presents the best visual experience. The more links you add the smaller each becomes, resulting in limited space for text and "squished" cards to compensate.
In the example below, you'll notice that our last link has a different background color than the others; this effect is applied automatically to whichever link occupies the final slot, and is done to allow you to call more attention to a particular link. NOTE: Your site's Primary color powers this alternate background color. While you cannot disable this effect yourself, we can do it for you. For assistance with this, create a Case.

How to manage your quick links
Let's check out how to add, edit, and delete a quick link.
Add quick link
Click the Add button at the top right of the widget.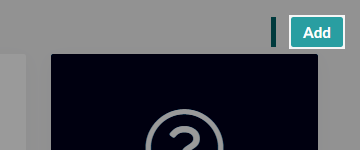 Configure the following options:
Primary Text - Think of this as your quick link's "title."
Description - Add a short description .
Icon - You don't need to upload an image; simply click this field to view the available icons, and click an icon to select it. You can also use the filter field at the top to quickly locate one.
Web Address - Enter the internal or external URL you want people taken to when the link is clicked. If an internal link, you can also simply enter a page's Page Code rather than provide the entire URL.
Position # - Enter a number in this field to determine the link's placement. Use small to large numbers to order the links from left to right.
Check the box to have the link open in a new browser window.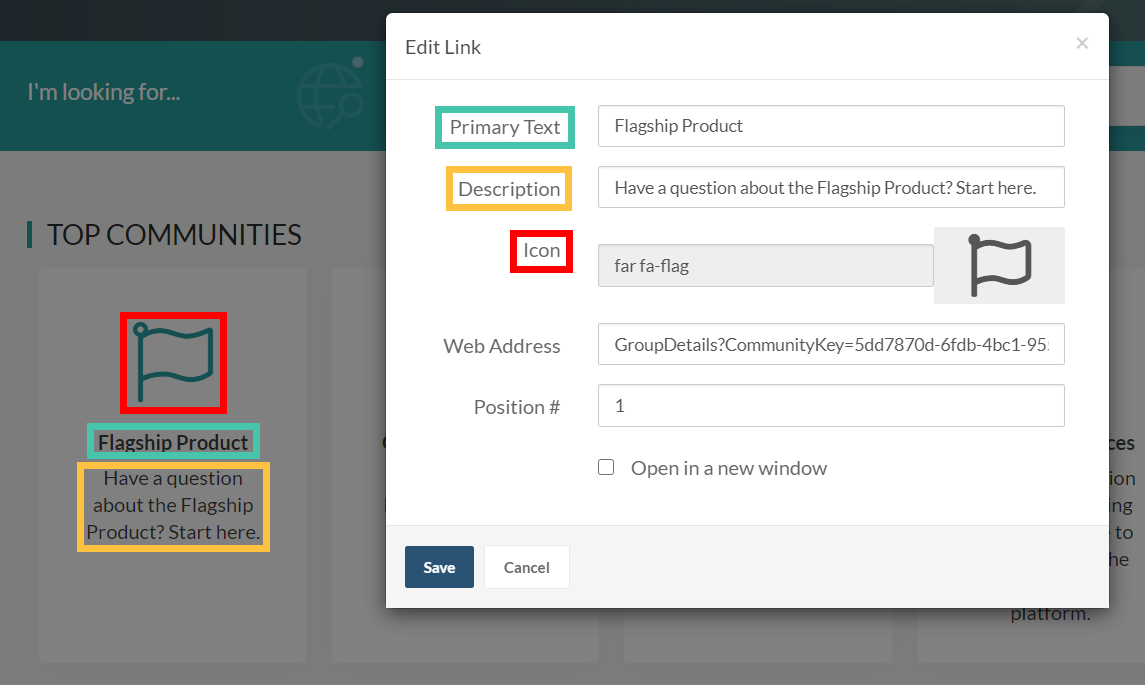 Click Save to add your link.
Edit a quick link
Hover over a link to display the management buttons. Click the pencil icon to display the edit dialog, where you can update any of the options described in the Add a Quick Link section above.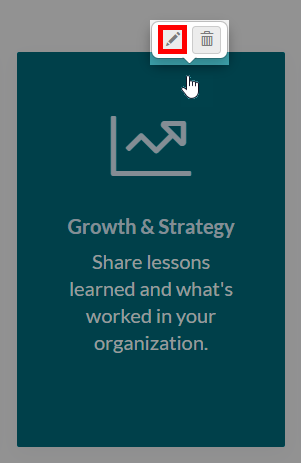 Click Save to apply your changes.
Delete a quick link
Click the trashcan icon to display a confirmation popup.
Click Yes, Delete This Item to remove it.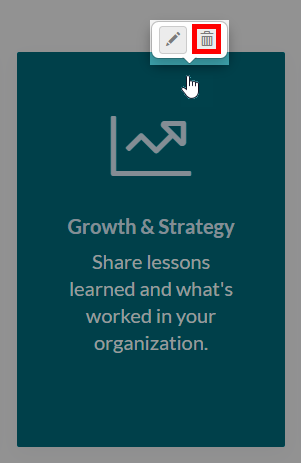 How to hide this widget
This widget is available by default on many Higher Logic sites. As mentioned above, only Higher Logic staff can add this widget to your site, so if you already have it and want it removed, we recommend hiding the widget instead of deleting it. Let's learn how.
Since this widget is located on the Home page, navigate to your site's Home page.
In the Admin Toolbar, click (or right click for a new tab) Edit Page.

You're now editing the page in Page Designer. Click the widget to select it, and then check the Hide box.
Click Publish to apply the change and hide the widget.