NOTE: This article is meant for community members, and focuses on how to join Request to Join communities.

If you're an admin wanting to learn how to create and manage this type of community, see Request to Join Communities.
While some communities are more open, only requiring you to be logged in to join, others may feature additional "barriers to entry" to limit who can join, making them more private.
One such private community type is the Request to Join community, where membership is obtained as follows:
To join this type of community, you must manually submit a request
A Community Admin or Super Admin can then either approve or reject your request
Request to Join process
In the example below, I'm viewing the "all communities" page, allowing me to view all of the communities I can join. As you can see, I can join the Discussions community immediately by clicking Join; however, the New Zealand Travel community is a Request to Join community, so I need to go through the formal process to obtain membership.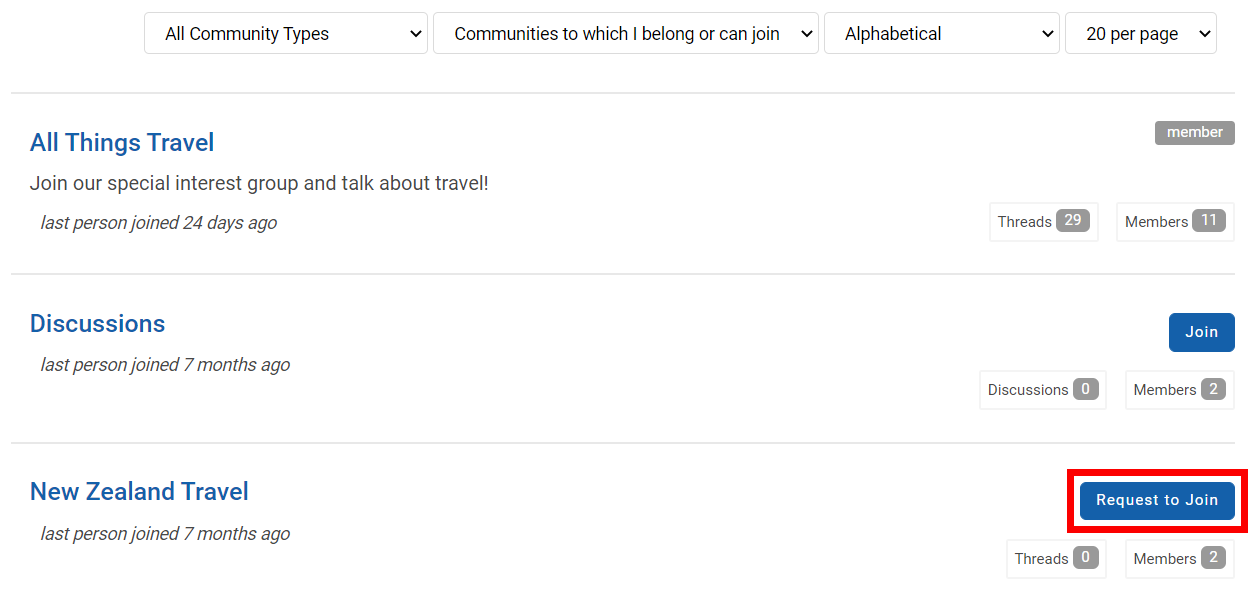 Let's walk through this process in a little more detail. To join a Request to Join community:
Click its Request to Join button, whether on the "all communities" page or when viewing the community itself.
In the dialog, provide a short message explaining why you should be granted membership. This is the message an admin will review when determining whether to accept or reject your request.
Select your preferred email notification option for community discussion activity: Daily Digest (single email with all discussion activity from the previous day), Real Time (an email for each new post), or opt-out if you don't want any notifications from this community. Note that you can update this choice at any time later; this is simply your initial selection.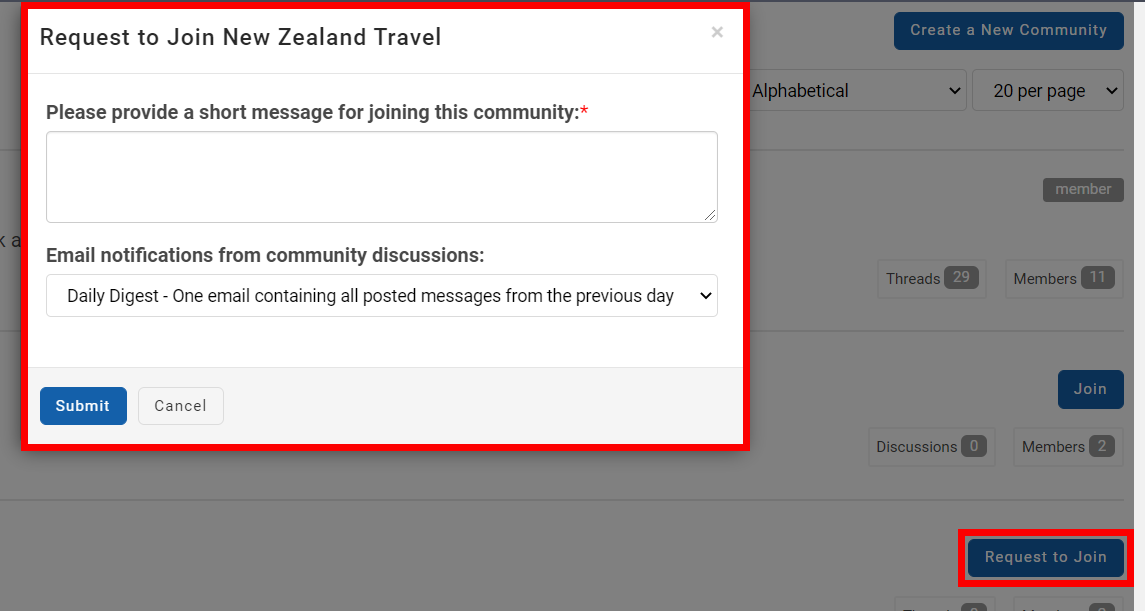 NOTE: If Consolidated Digests are enabled for your site, you'll also see an option to include content from this community in your Daily and/or Weekly Consolidated Digest.
Click Submit.
What happens after submitting your request
You will receive an email notification in both your profile inbox and your personal email letting you know that your request was received.
On the "all communities" page, the status indicator request submitted is displayed so you know which communities you're attempting to join.


Once an admin has reviewed your request and either accepted or rejected it, you'll receive a corresponding email notification.
When rejecting requests, admins have the option to include a message explaining why; if they chose to do so, this message will be included in the email notification.
You can submit additional requests if your initial request was rejected. Make sure the message you include with your request adequately explains why you should be allowed to join the community.