Your Higher Logic Thrive Community (Thrive Community) includes a powerful content management system (CMS) and page editor called Page Designer.
CMS/Page Designer overview
If you're not already familiar with the CMS and Page Designer and want to learn more, check out the articles below.
Thrive-specific CMS features
This article focuses on a few CMS features that are exclusive to customers using our Thrive Community model.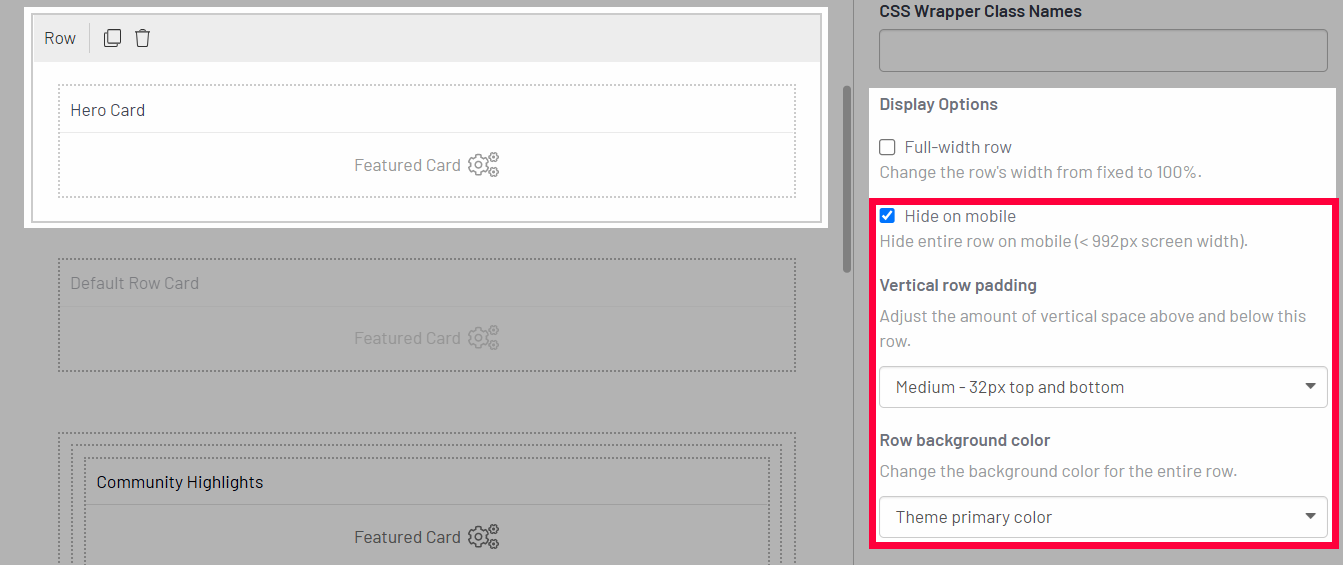 When editing a Row in Page Designer, three exclusive display options are available:
Hide on mobile - If enabled, all of the widgets in the Row will be hidden to users accessing your community on mobile. This is a great way to hide certain content that may not display properly on a smaller mobile device. NOTE: Because all of the widgets in the Row are hidden, be mindful of this when hiding Rows containing one or more nested Rows of content.
Vertical row padding - Select from a range of vertical padding options to adjust the amount of vertical space above and below a Row. This is a great way to give your content a little "breathing room" for better visual parsing.

Row background color - In addition to padding, you can help visually separate your page content with Row-specific background colors.

Note about Row background colors
You cannot choose any color you want; you're limited to a primary or secondary color, which is pulled directly from your Theme.
You can edit a Theme's primary and secondary colors on the Site Options > Site Setup > Theme Editor page, as shown below.
Example
The example below illustrates:
Vertical padding between each of the Rows
The blue Primary and purple Secondary Row background colors. Note that the Secondary color is automatically limited to 15% opacity so that it doesn't take precedence over the Primary color.