This article presents an overview of the Higher Logic Thrive Marketing Enterprise (Thrive Marketing Enterprise) admin interface and is intended for account admins who will use the interface.
Watch the video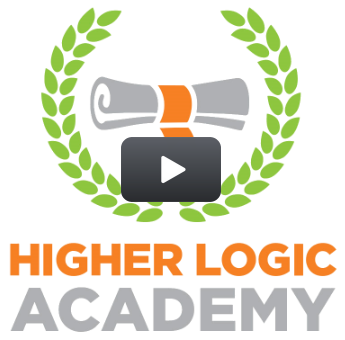 Dashboard
Each session begins on the Dashboard, where charts displaying at-a-glance metrics provide an efficient way to gauge output and engagement.
In addition, for organizations who license our Higher Logic Thrive Community (Thrive Community) and Thrive Marketing Enterprise products, the Dashboard is customizable by each admin. This enables you, as an admin, to configure the Dashboard to display only the data you want to see.
NOTE: If your organization licenses only Thrive Marketing Enterprise, Dashboard customization is not available.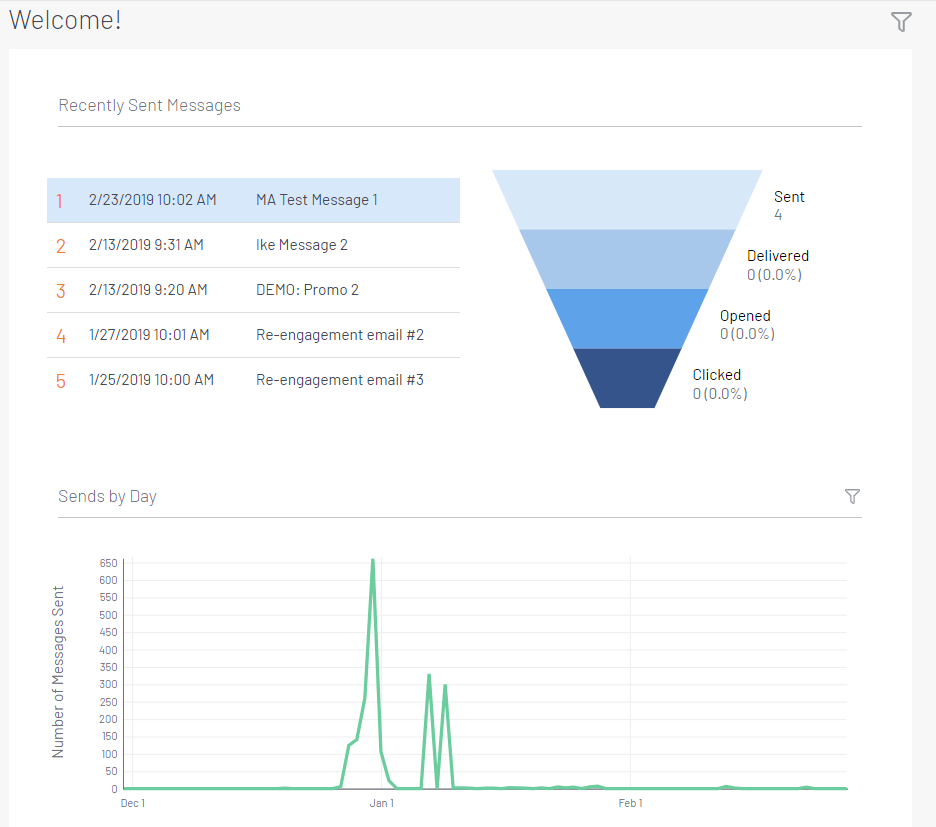 See Thrive Marketing Enterprise Admin Dashboard to learn more.
Navigation
You navigate the admin interface via the vertical Navigation panel. The menu items are ordered and labeled to provide a streamlined and intuitive user experience.
TIP: If your organization licenses our Thrive Community and Thrive Marketing Enterprise products, there will be two tabs at the top of the panel, enabling you to quickly access the admin interface for each product.

The vertical orientation provides a better mobile experience, and the panel can be collapsed to optimize website real estate. In addition, you can search menu terms for quick access to those admin pages.
NOTE: Type at least three characters to initiate the search and automatically refresh the list to display matches.
Admin interface - Profile options
The Thrive Marketing Enterprise admin interface has a Profile dropdown that has account information and account-management options.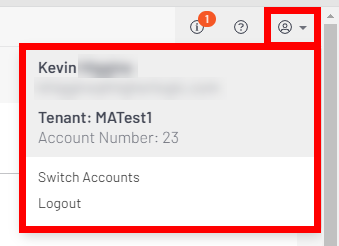 User & account information
The upper, shaded section of the Profile dropdown shows your:
First and last names,
Email address,
Tenant ID (name/number), and
Account Number
The system uses the first name, last name, and email address values that are specified in Settings > Users. Changes to these values will be reflected in the Profile dropdown.
NOTE: You cannot change the tenant and account information.
Switch Accounts
If your Thrive Marketing Enterprise account has Child Accounts and you are authorized to manage them, you can easily navigate between those accounts right here.
To switch to a different account:
Click Switch Accounts.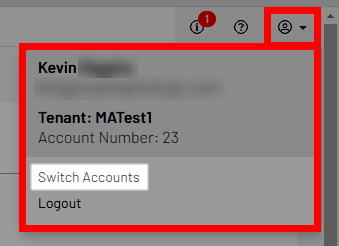 In the dialog, click an account to select it and then click Login.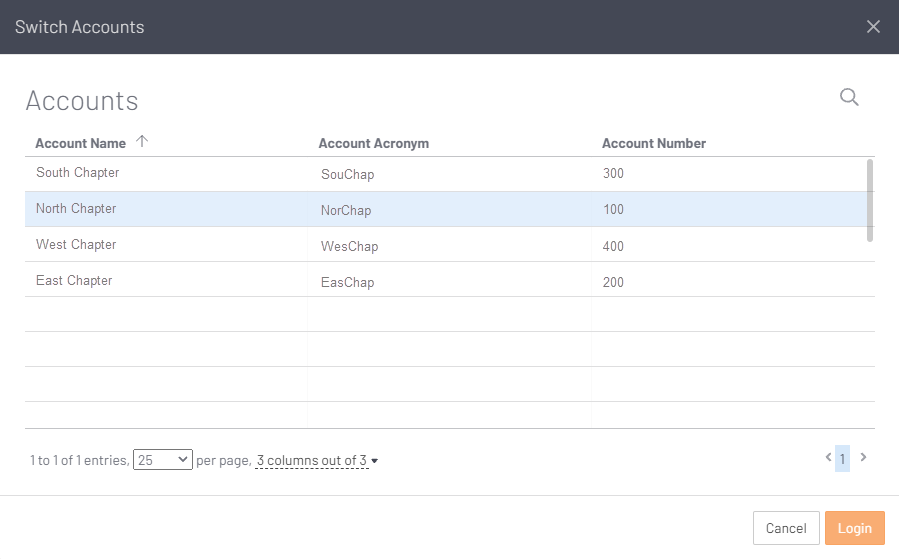 Thrive Marketing Enterprise redirects you to the selected account.
Resource Center
Click the

in the upper-right corner to expand the Resource Center. This in-app resource provides:
Quickstart Guides for guided product training,
product updates to stay current on new software updates,
our knowledge base at your fingertips,
and more.
See Resource Center Overview to learn more.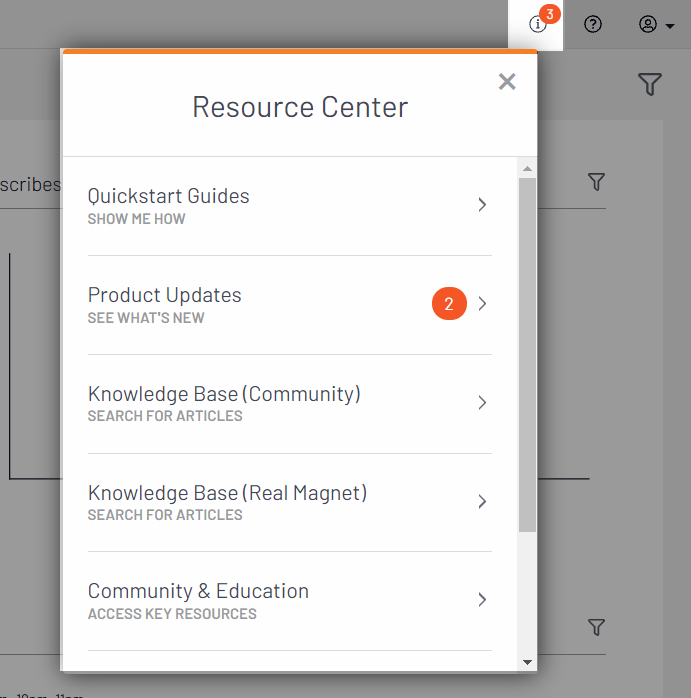 On-Page Help
Click the

in the upper-right corner to expand the Help Panel. Page-specific topics help you understand how to use and understand the page you're on. Most topics include a Learn more… link you can click to view more in-depth information in our knowledge base. Pages that don't yet have specific help content display a set of default topics.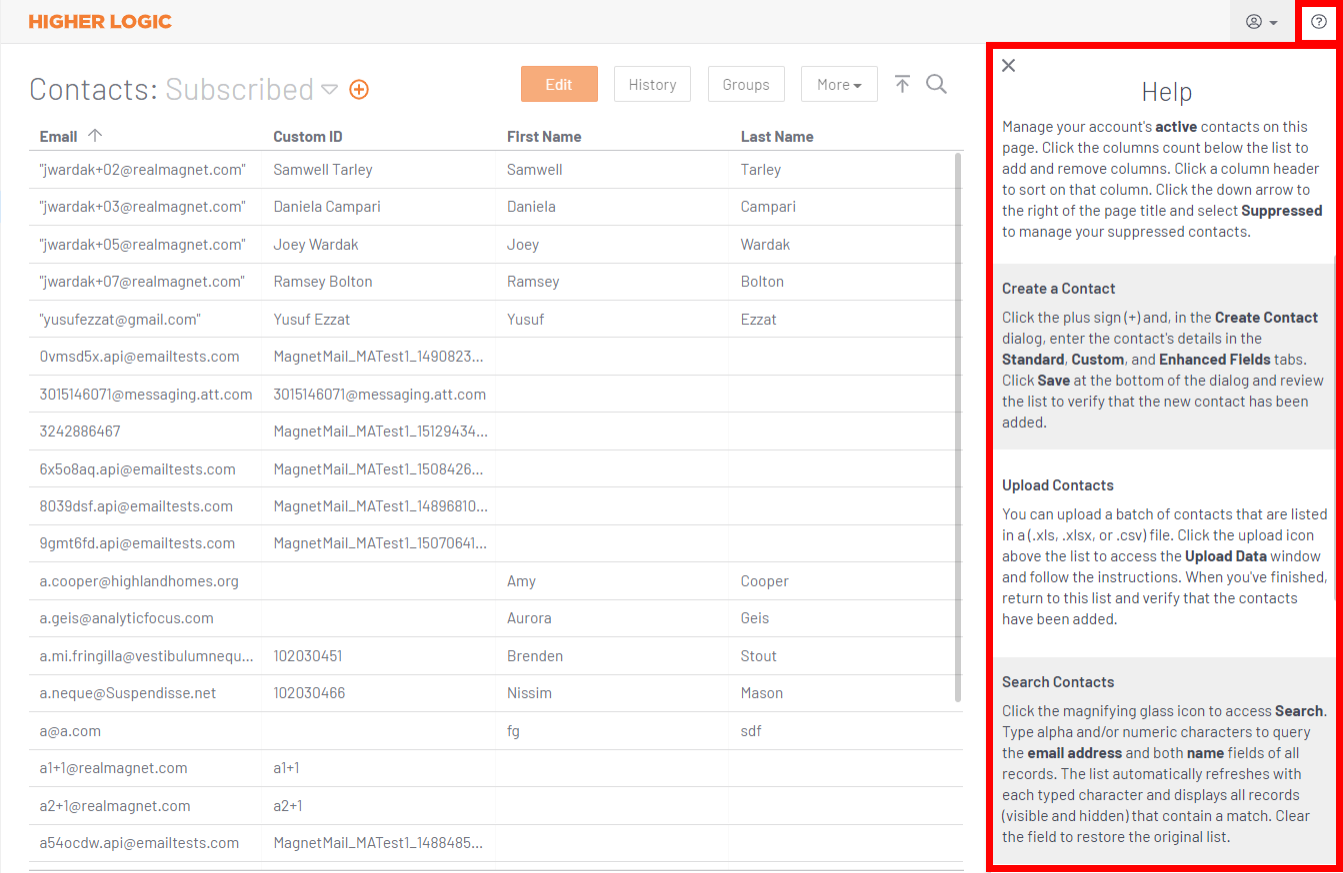 List pages
Many admin interface pages have been designed in a list structure. This was done for a singular reason: Efficiency. These list pages make it easy to find, create, and manage your content.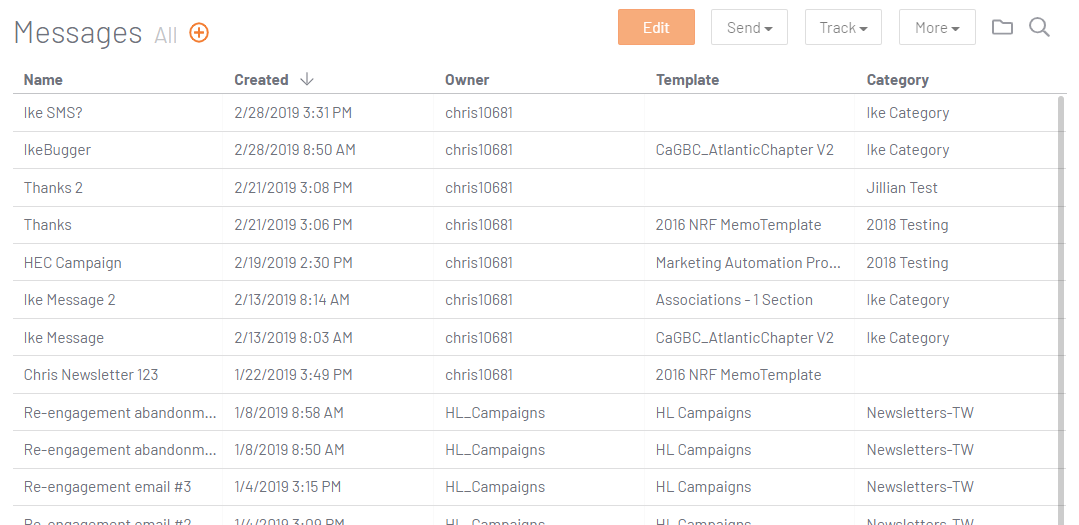 List page features
Search
Click the magnifying glass to display the search field. The search queries a set of available columns that have been heavily indexed so that results are presented fast. The searchable columns are the text fields within a given list.

The list automatically updates with each typed character and displays all records (visible and hidden) that contain a match. Click the X to clear the search field to restore the original list.
Filter
Many list pages also feature a filter in which you can combine multiple fields using an "AND" operator for more focused filtering. The example below is for the Thrive Community product.

Columns
List pages include several columns that you can display or hide, making it easy to locate the content you're looking for.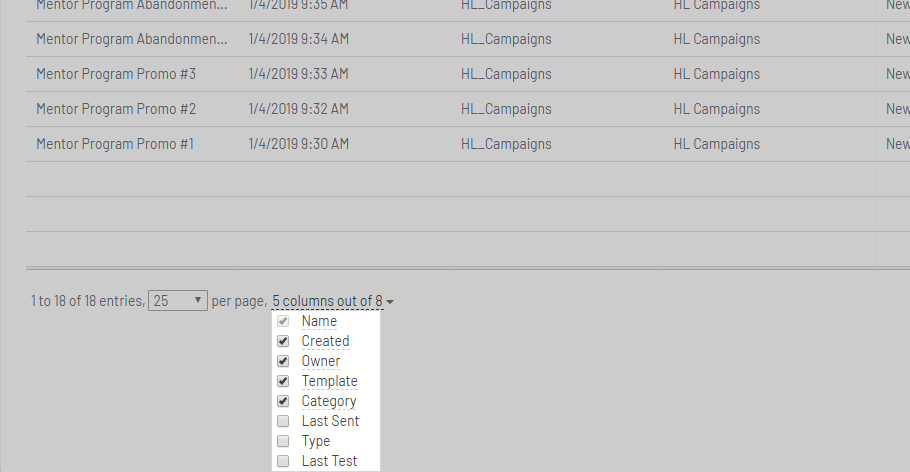 Multi-Select
List pages support multi-selection. In many lists, you can perform actions on multiple records for more efficient records management.
How to select multiple records
The button used to multi-select rows is device-dependent. To select more than one row, hold the Ctrl (Windows) or command (Mac) key and select each of the other rows you want to manage. To select a continuous list on PC and Mac, click one row, then hold the Shift key and click the last row.
TIP: After multi-selecting BUT before acting on the selected records, you can add and deselect records via the check boxes to their left.
Pagination by type and status
On many list pages, there is a dropdown to the right of the page title that you can click to view content of different types or statuses. For example, on the Contacts List page, you can easily switch between views of your Subscribed and Suppressed Contacts.

Preview Panel
A Preview Panel is available on many list pages. Upon clicking an item in the list, the panel opens and provides an at-a-glance view of key data and metrics. Dots under a field value indicate that the data can be edited.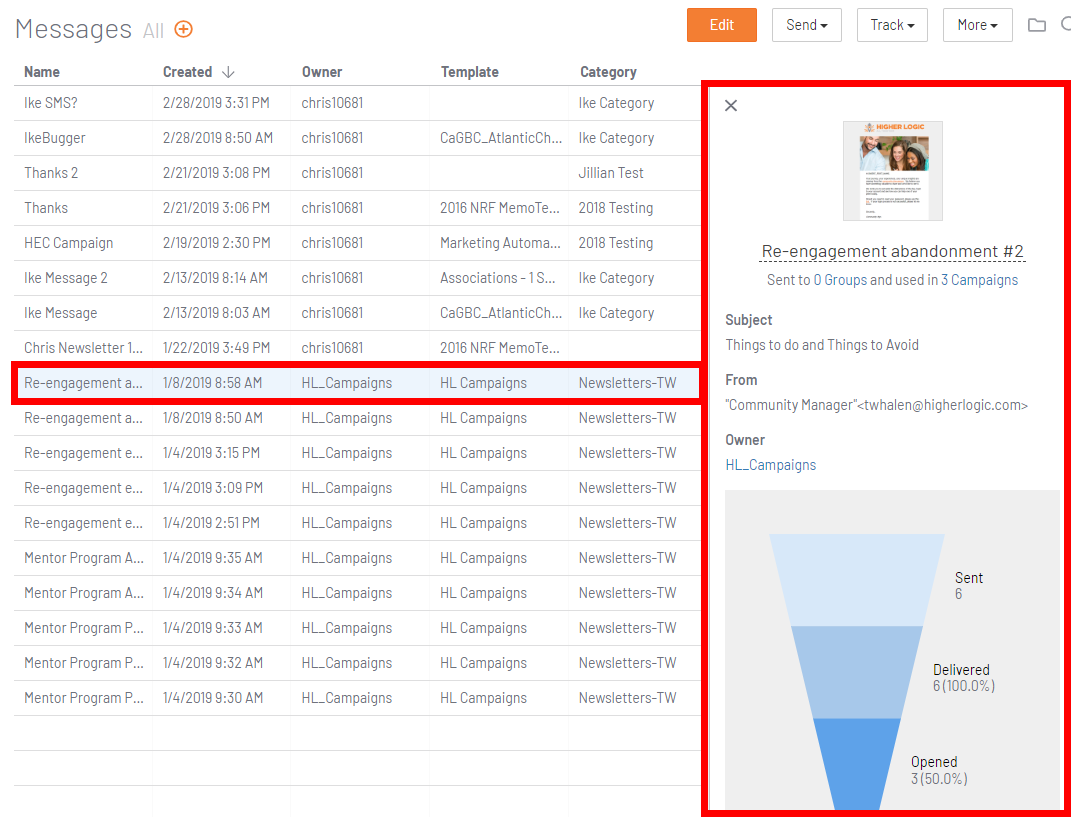 Contacts List
The Contacts List page enables you to view individual contact data without having to execute a query. In addition, Suppressed Contact management is also performed here, creating a single page for comprehensive Contact management.

Campaign management
Campaigns, Landing Page Campaigns, and Engagement Campaigns are at the main level of the menu. This ensures easy access so you can create and edit each campaign type. Each list page displays only the campaign types associated to the page you accessed.
Campaigns
The Campaigns menu is the go-to place for campaign creation and management. From here, you can access campaign reports, manage your Salesforce account, and view the Campaign Dashboard.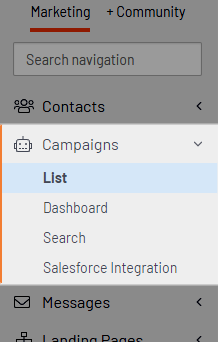 Landing Pages
The Landing Pages menu item is your direct access point for creating and managing your Landing Pages. Landing Page Templates are here also; thus consolidating your Landing Page management.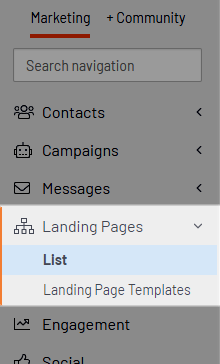 Engagement
Engagement Campaigns are also featured right at the main level. Click the menu item to go to the list page and start designing.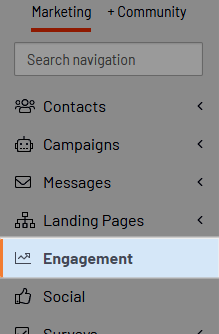 Messages
The Messages List displays all mailing types. From here you can create, edit, send, and track all of your communications. And when you select a Message, the Preview Panel displays a thumbnail preview of it for easy at-a-glance message management.
Support options
The Navigation panel has a Support item with several options that simplify accessing some of our help and support resources. Click: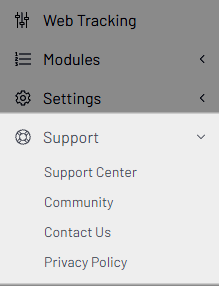 Support Center to manage your tickets and to create a case.
Community to visit our Higher Logic User Group (HUG) community.
Contact Us to open a knowledge base article with product-specific email addresses.
Privacy Policy to view Higher Logic's policies on the collection and use of personal data.
TIP: All of these links open the page in a new browser tab so that you retain your page in the admin interface.
Terminology
If you have migrated from a prior version of Thrive Marketing Enterprise, you're likely to see some things referred to differently. This is due to a rebranding initiative.
TIP: In the Navigation, type the "Previous term" in the search box to find its new equivalent.
| Previous Term | New Term |
| --- | --- |
| Recipients | Contacts |
| Tools | Settings |
| Predefined Billing Codes | Accounting Codes |
| International Character Pref. | Character Set |
| Subscription Page Mgmt. | Subscriptions |
| Manage Subscription Page Labels | Page Labels |
| Subscriber Report | Search |
| Unsubscribe From All Recipients | Unsubscribes |
| Track Options (Category under Messages) | Tracking |
| Google Analytics Goal Conversion Setup | Google Analytics Goals |
| Tracking Page Preferences | Page Preferences |