Once you've identified a list of people that you'd like to send a mailing, you need a way to create that list in MemberSuite. You do this by creating a Search and then saving it. Higher Logic Thrive Marketing Professional (Thrive Marketing Professional) uses that search as the basis for a target group.
Thrive Marketing Professional requests email recipients from a saved search in MemberSuite. Each time the individuals from the search are requested, MemberSuite reruns the query, ensuring that Thrive Marketing Professional has the most current list.
New searches coming into Thrive Marketing Professional as target groups are initially placed in the MemberSuite folder; these can later be moved to different folders.
Step 1 - Create a search
Navigate to CRM > Search for CRM Records.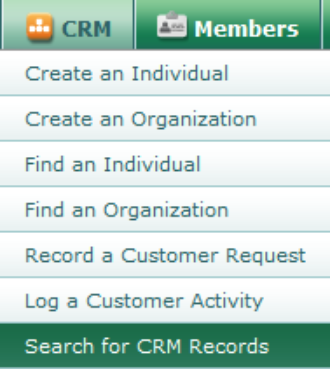 In the What are you searching for? area, choose:

Category - CRM
Record Type - Individual
Retrieve a Search - Start with a fresh search
Click Continue & Customize Search.
Step 2 - Add search criteria
You can refine your search by adding different criteria. (Remember, your search becomes a target group in Thrive Marketing Professional.)
Use the dropdowns to select the fields and operators to create the search criterion.
When complete, click Add Criterion to include it.
To add more criteria, repeat these steps.

The integration does not require specific fields (output columns) in a search to create the target group, nor does it require any sorting parameters. You may use the default values for each of these sections.
Click the Output Results dropdown and select Directly to my web browser.

Step 3 - Save the search
Click Save this Search at the bottom of the page.
On the new page, enter a name for the search and select Public as the Access Level.
Click Save this Search to finish.
Your search becomes a target group in Thrive Marketing Professional.
Related articles