In this article, we'll dive into the important role target groups play in the Higher Logic Informz for YourMembership integration.
Overview
YourMembership queries/lists become target groups in Informz: Once saved, these lists are transferred to Informz to become an interest-based target group.
Each YourMembership list has a unique name that you can enter in the YourMembership UI. The name is carried directly to Informz, making it easy to identify these lists. Once in Informz, you can use different folders to reorganize your target groups into areas that make sense for you and your team (having such an organizational structure is a best practice because your target group numbers will likely increase overtime, and having a structure in place allows you to easily manage your target groups).
Target Groups List Page
NOTE: If the search is no longer found in your 'saved' list in YourMembership, an ongoing campaign sync will stop working.
You can view a list of all target groups created in YourMembership on the Informz Target Groups page.
To access this page, navigate to the Directory & CRM tab > Email & Newsletters > click Target Groups.

From here, administrators can view and manually sync existing target groups. A manual sync will force the system to update any records that may be added to or removed from the target group based on its criteria.
To update an existing target group from this page, click the Sync Data icon (two arrows), and then click OK in the confirmation window.
A new window opens that shows that your data sync is in progress. You can close this window or log in to your Informz

account by clicking Continue (this will open the Mailing Designer in a new tab).
Saving and Transferring to Informz
There is one process that saves searches in YourMembership. As above, these searches become target groups in Informz.
Whenever you create a query, YourMembership assigns that query a default name (e.g., "Directory Search") along with a date/time stamp. This name can be replaced, and as a best practice, you'll want to create a name that is easily recognizable in Informz

(each name must be unique).
Click Save to send the data to Informz. This opens a pop-up window that indicates the data is processing.
Click Continue to open a new browser tab that takes you directly to the Informz

Mailing Designer.
Once the query is fully processed, it appears as an Informz

target group that you can use in your mailings.
List Leverage
Taking advantage of the queries and lists in YourMembership is a great way to leverage the data in YourMembership in a very efficient way. A small investment in time learning about target groups is one that will yield high returns for all of your marketing and communications teams.
Custom Queries
The Informz for YourMembership integration allows you to use a Custom Query tool that can generate sophisticated and specific queries across multiple areas of data to generate results and create precise target groups.
Steps
Navigate to the Exports & Reporting tab and click Build a Query or Report.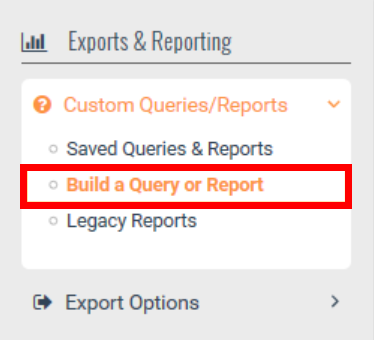 Enter a title for your query and select an Area of Interest.

Use the provided checkboxes and fields to enter any query filters you wish to include in your report. it is critical to ensure that you include Email Address and Website ID as fields in your query. If you do not, you may experience errors with your data transfer that prevent you from sending to your desired list.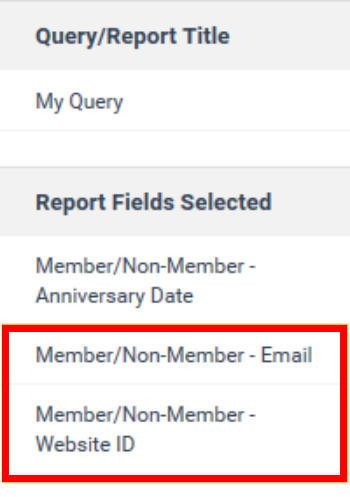 NOTE: You must have at least one filter criterion saved before you can run your query. Click the Disk icon to save your filter; the icon will change to a Pencil. Click this to edit your filter).
Once you have set all your criteria, run the report to obtain your results.
When you have your results, click Save this Query. You must save your query BEFORE creating an Informz

target group. You cannot create a target group list from the custom query if the custom query list is not saved.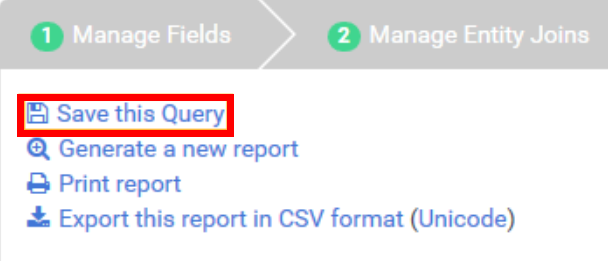 Once the query is saved, the Email All # Records button displays. Click this to generate the target group in Informz.

You are asked to name your target group.
Click Save to continue. After saving, a new window opens that indicates the sync with Informz

is in progress. You may either close this window or click Continue to open the Informz

Mailing Designer in a new tab where you can construct your mailing within Informz

itself.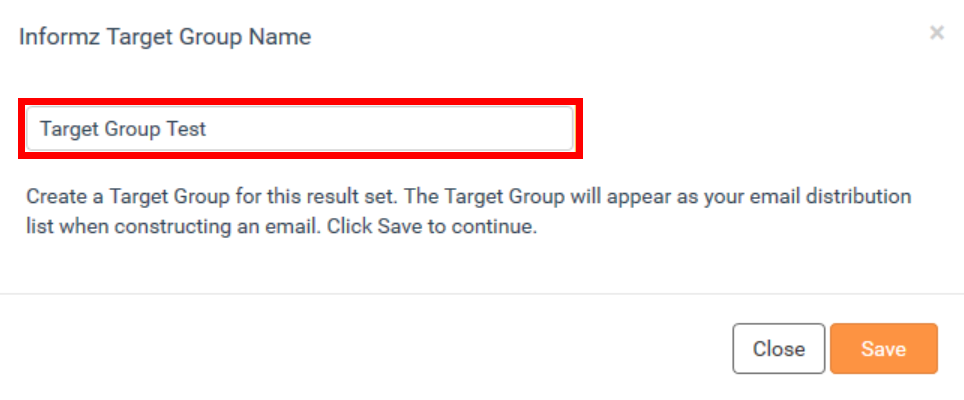 Directory Search
The YourMembersehip Directory Search tool obtains records based on your entered criteria. Directory searches are commonly used to generate bulk email lists in YourMembership, which in turn generate target groups in Informz.
Steps
Navigate to Directory & CRM tab > Community Directory > Directory Search.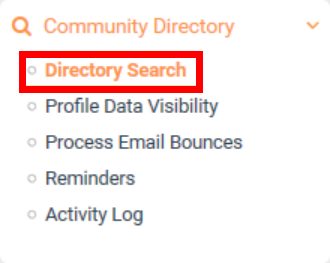 There are several search criteria fields. Enter any desired criteria, and when complete, click Search.
YourMembership displays the search results. Click Bulk Email All # Records within the Search Results Options.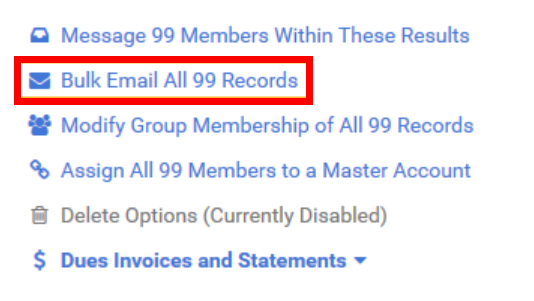 A new window opens that prompts you to name your target group. This must be a unique name, and as a best practice, create an easily-recognizable name so that you can quickly identify the target group in Informz.
Click Save. This begins the target group sync and opens a pop-up window that indicates the sync is in progress. The sync with Informz

may take several minutes. Once the upload is complete, you'll receive a confirmation email notice in your administrative account. Click Continue to navigate directly to Informz

's

Mailing Designer.
Create a Bulk Email
Navigate to Directory & CRM tab > Email & Newsletters > Create Bulk Email. YourMembership immediately opens the directory search (creating a bulk email brings you directly to the directory search feature).
Events
Events are important activities for any organization, but successfully executing an event can be daunting to say the least. Fortunately, the Informz for YourMembership integration eases this burden. By creating target groups from Event Registration Lists in YourMembership, you can work with your subscriber base to help increase event attendance and registration.
Steps
Navigate to Features tab > Active # (under the Events heading) to select the desired event.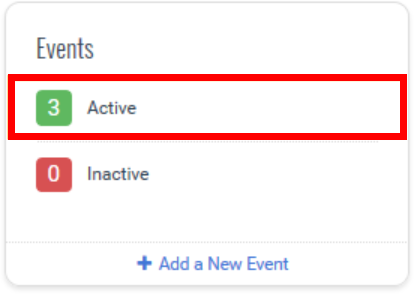 Hover over the Options icon and select Manage Restrictions.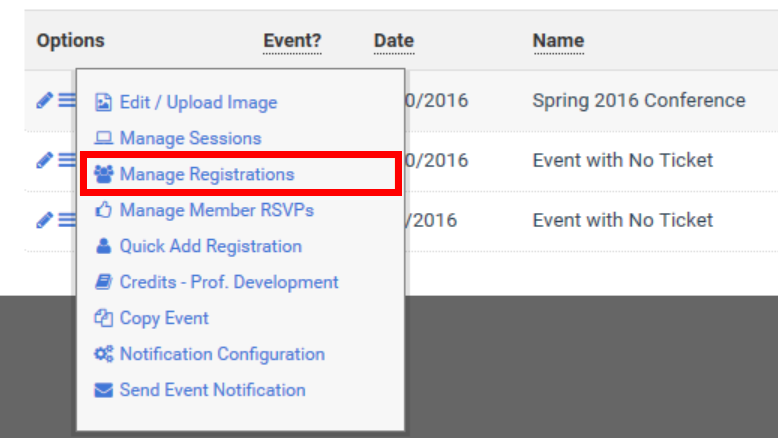 Enter any filter criteria, and when ready, click Apply Filter to view the event registrants.
Enter a name for the list and click Save to create a new Informz

target group.
NOTE: Only member and non-member records are included within a target group from an Event Registration list. Event registrants that are not linked to a member or non-member record cannot be included in the list sent to Informz.

If you wish to use Informz to mail to all registrants (including those without records), activate the Automatically Link Registrants to a Member/Non-Member Record option in the Event Creation Wizard.



Compound Target Group Best Practices
Creating compound target groups (see Compound Target Groups) is a powerful skill - one that takes little time to master but one that yields incredible results. However, you may wonder why you should create your compound target groups in Informz rather than in YourMembership. Let's find out why.
Organization
While you can create a custom query and directory search directly in YourMembership, it may be difficult to see the different filters used to identify the subscribers within the resulting target group in Informz. Because filtering often requires precision, it's often critical to understand filter components. This is why we recommend using compound target groups instead of a complex query/directory search.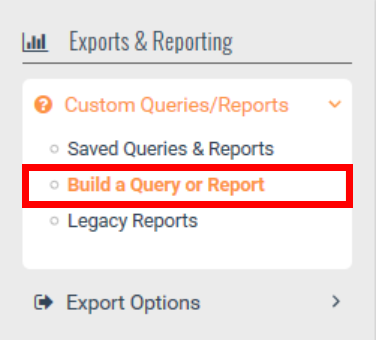 In YourMembership, you can create a custom query around a single filter criterion. By naming the query (and resulting target group) something you can easily identify, you'll know exactly who you've included. Create as many single-filter queries as you need. Once you do, you can easily combine or exclude as many as you need in a compound target group.
Viewing Component Target Groups
Understanding a compound target group's components is simple:
Hover over the Menu icon for your desired compound target group and click Info.
In the resulting pop-up, click the Expand tab. Here, you'll be able to see a full breakdown of the compound target group.
NOTE: Don't forget that you need target groups from all your queries first. Once these have been established, you'll be on your way to creating some "solid" compounds.