Security Groups are the fundamental categories to which your users belong, and control access to your Community site's content at a high level.
NOTE: See Understand Security Groups to learn more about site security and the role Security Groups play.
NOTE: You can add users to Higher Logic Security Groups on the Admin > Users > List page. See Add Users to a Security Group to learn how.
NOTE: If you're a database/AMS-integrated client, you'll likely see a mix of Higher Logic and database/AMS Security Groups. This article describes how to manage Higher Logic Security Groups; database Security Groups are managed and assigned to users in the AMS.

Database Security Groups have an AMS key that corresponds to the primary key for the member type/Security Group in your database. Data sync will automatically add and remove users based on your business rules on the database side only.
To create and manage Higher Logic Security Groups:
Access the Admin interface.
Navigate to Users > Security Groups.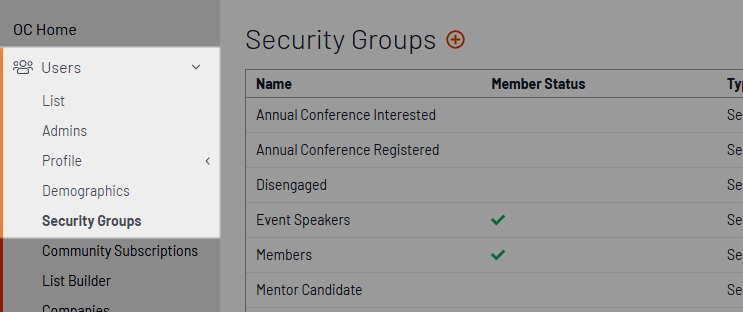 Default Higher Logic Security Groups
Your Community site comes provisioned with four default Higher Logic Security Groups:
Public - Any user without a login to your site.
Authenticated - Any logged in user. An authenticated user may or may not have Member permissions. Content and functionality is routinely protected to Authenticated to encourage account creation and the sharing of user data.
IsMember - Users with Member permissions, commonly referred to as IsMember. Content and functionality is routinely protected to Members as a benefit of membership. Those with Member permissions also have access to content and functionality protected to Authenticated.
Higher LogicAdmin - Global administrators with universal access and editing rights, commonly referred to as "Super Admins."
These baseline groups are typically comprehensive enough, but you can create additional Security Groups based on your organization's business and security needs.
Creating Security Groups
Click the plus sign to the right of the page title.
In the resulting dialog: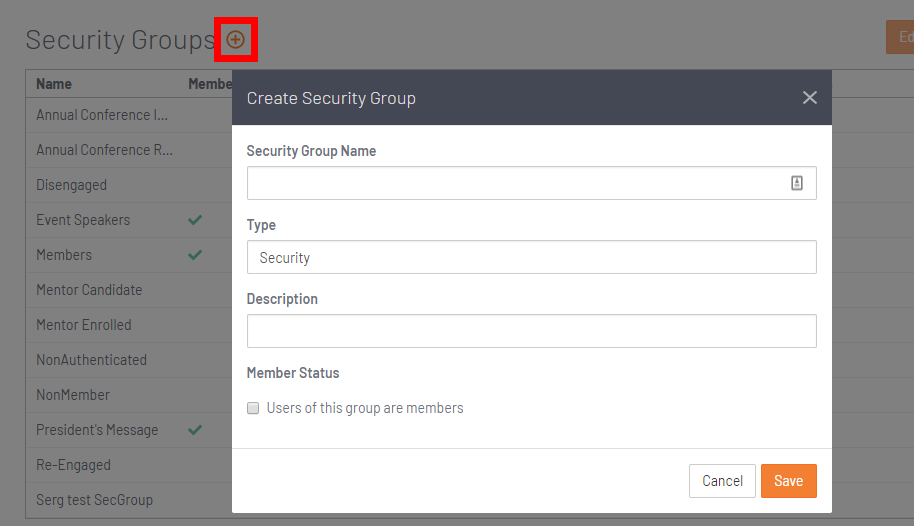 Enter a name, type, and description for your new Security Group.
Check the Member Status box to give users added to this Security Group Member access to your community site.
Click Save to add the Security Group to the list.
Managing Security Groups
Select a Security Group to enable the Edit and Delete buttons at the top right.

Edit - Click this to update a Security Group's name, type, description, and member status flag.
Delete - Click this to delete a Security Group.
WARNING: If users belong to a Security Group you're deleting that grants Member status, those users will immediately lose Member status on your Community site.