Each member has a profile page where they can provide any personal information about themselves they wish in the available profile fields. As an admin, you can manage the global default privacy settings for each of these fields, allowing you to implement your organization's desired privacy defaults.
NOTE: Each user can override these defaults by setting their own privacy preferences on their Profile > My Account > Privacy Settings page (refer to the Privacy Settings section of the Manage Your Inbox & Account Preferences page for more information).
In the Admin Toolbar, click Admin.

Navigate to Users > Profile > Privacy Defaults.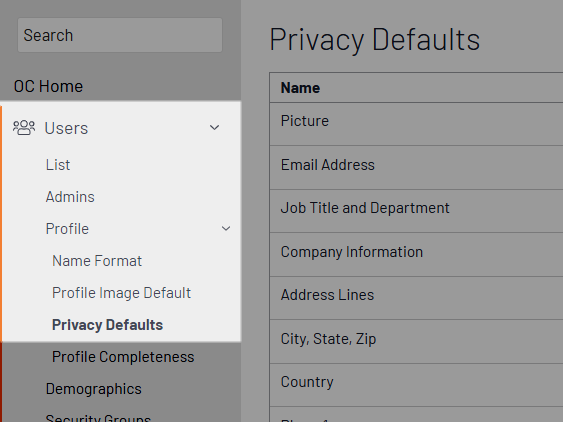 Manage default privacy settings
From here, you can set the default privacy setting for each item available on your profiles (e.g., name, email address).
On this page: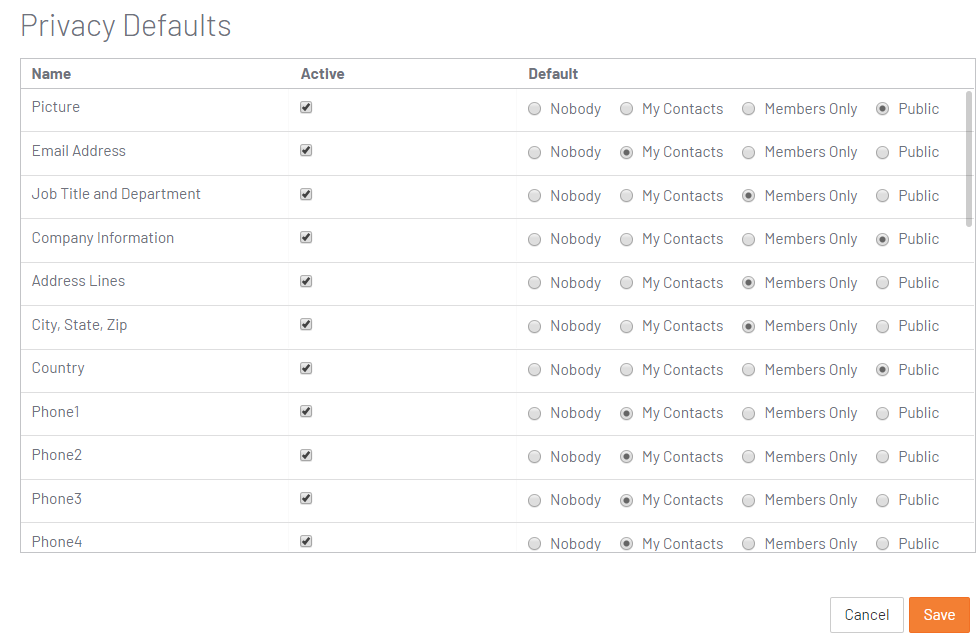 The Name column lists your available profile items.
You can enable/disable each item by checking/unchecking its Active box (disabled items won't appear on user profiles).
Set the default privacy setting for each item to one of four options:
Nobody - Only the user can view the information on his/her own profile.
My Contacts - Only a user and his/her contacts can view the information.
Members Only - Only the user and other members can view the information.
Public - ALL users can view the information, even those who aren't members.
NOTE: If you add new profile fields on the Admin > Users > Demographics page, be sure to set your desired preferences for them here. See Profile Demographics to learn more.

IMPORTANT: Demographics are not available to customers whose Community is based on the Community Essentials model.