Higher Logic's Moderation feature gives administrators and community managers the opportunity to review every new Discussion post and Library Entry before they're publicly available. This feature is often used in Public communities to ensure content is properly monitored prior to consumption.
If your community is configured to moderate Discussion posts and Library Entries, you'll want to stay on top of them so content is available to your members in a timely manner. While you can directly monitor moderated items from Discussions and Libraries, your community's Moderation Queue offers the easiest way to track ALL moderated items from one place.
NOTE: You can also manage every moderated item from every community across your site from the Admin interface. From there, navigate to the Community > Moderation > Queue page. For more information about managing ALL of your site's Moderation items, as well as configuring site-wide Moderation settings, see Manage Your Site's Moderation Queue.
How to access the Moderation Queue
From the community's Home page, click Settings (a Moderation Alert displays in the menu when items are in the queue).
Click Moderation.
NOTE: The Settings menu displays Moderation Alert when new items are in the queue, while the number of items is shown in the menu.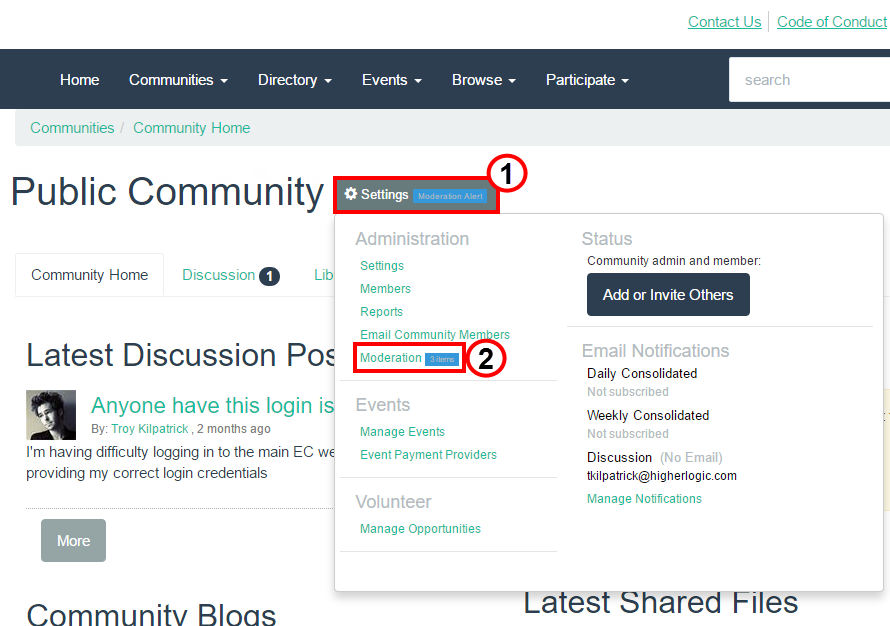 How to manage the Moderation Queue
This Moderation Queue lists all of the community's queued Discussion posts and Library Entries. These items won't be visible in the associated Discussion or Library until they're approved.
From here, you can:
Switch between these tabs to view all moderated items pending approval and those that have been rejected.
Click Preview to view the message or file in question.
Click Approve to approve an item, making it publicly available, or use the menu to:
Edit an item, which is often done to make changes before approving;
Reject the item entirely and move it to the Rejected tab. When rejecting an item, you must provide a reason why and decide whether to send the associated user an email letting them know. Items on the Rejected tab can still be approved at any point, and you can click Preview to see the reason why it was rejected.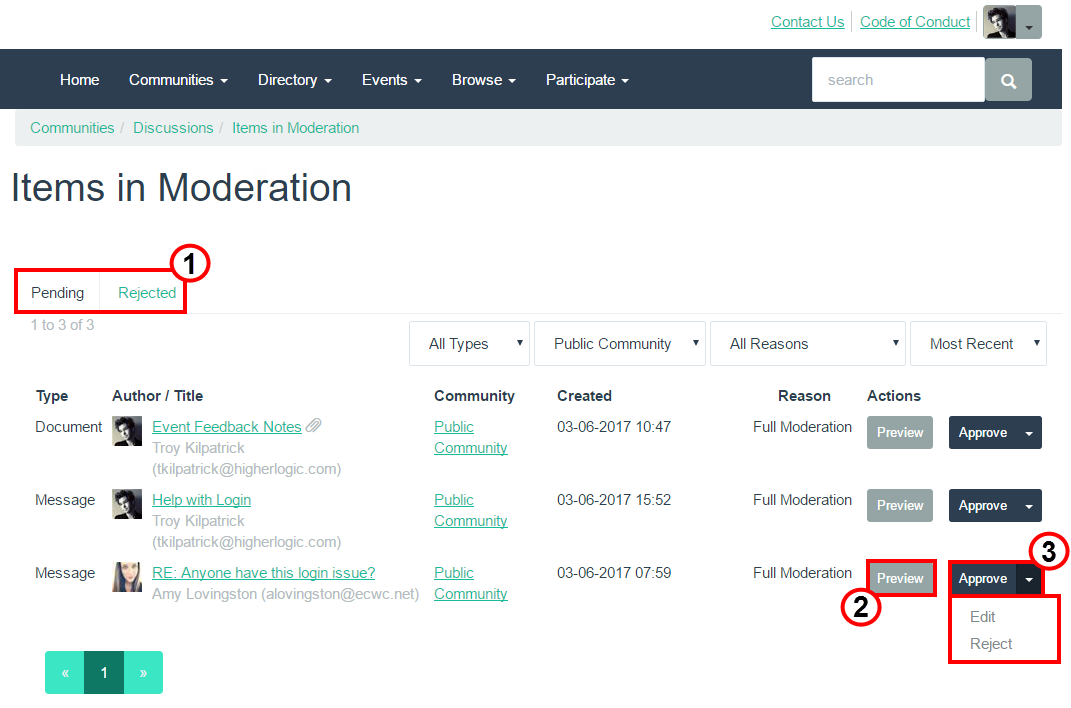 Learn about the column headings
Each of the columns on this page are described below (refer to the image above):
Type - Indicates whether the content is a Discussion post or Library Entry.
Author/Title - Displays the subject of the content and the user who created it. The titles are hyperlinked for easy access to the content.
Community - The community the content was intended to be published in.
Created - The date/time stamp when the content was created.
Reason - Indicates the reason why the content is moderated. Reasons include:
Full Moderation, if a community is set to Full Moderation.
Self Moderation, if a user in the community flagged the content to be removed from the community and added to the Moderation Queue.
Inbound Message, if the community is configured to moderate all email replies before approval by an admin.
Anonymous Message, if the community is configured to moderate all anonymous posts before approval by an admin.
Terms and Conditions, if the community is configured to moderate all content by users who have not accepted your site's Terms and Conditions.
Moderated User, if a user has been individually moderated, requiring an admin to approve all of their content before its publicly available.
Spam, if the post appears to be marketing or other spam-like content.
TIP - Moderating Individual Items
TIP: You can also view, approve, edit, and reject moderated posts and files directly from Discussions and Libraries themselves (an example from a Discussion is shown below).