Marketing Automation Enterprise (MA Enterprise)'s Web Tracking feature enables you to see who is visiting your web pages.
NOTE: This feature is only available if you use MA Enterprise. It works alongside other tracking tools, like Google Analytics.
How it works
MA Enterprise provides a segment of code to include on pages on your website you want to track. Every time a customer visits a page with that code, MA Enterprise records it.
There are two types of users who are tracked: known and anonymous.
Known users
Known users are ones who have responded to a MA Enterprise campaign in the past, and received a browser cookie from MA Enterprise. Visitors become "known" when they take one of three actions:
Click a link in any MA Enterprise email (regardless of whether that email was sent from MA Enterprise).
Submit any MA Enterprise landing page (hosted by MA Enterprise or hosted on your site).
Submit a form on your site that uses the web tracking code.
The first two are typical MA Enterprise actions that don't require any additional work on your part; the third does require an additional step: You need to set up your website to send information back to MA Enterprise.
MA Enterprise uses the browser cookie to associate web visits to a recipient record in your MA Enterprise account.
Anonymous users
Tracking anonymous users is an option you can add onto basic Web Tracking. Anonymous users are ones who came to your website before responding to a MA Enterprise campaign. MA Enterprise still gives these visitors a cookie but cannot identify them until they do any of three actions listed above. Once they do, they become a Known user and we can associate past web visits to that recipient.
After it's set up
Once web tracking is set up for your account, you can enroll recipients into campaigns or build conditions that use recipients' web history. Both enrollment and conditions use the same criteria you see in other MA Enterprise options: You can select a specific web page or even any web page that contains part of a URL.
How to get started
Contact MA Enterprise to enable Web Tracking for your account. Once it's enabled, you can log in to retrieve the web tracking code to add to the desired pages across your website.
How to find your web tracking code
Once web tracking is enabled for your account, follow these steps to access the code:
Navigate to the Automation tab.
Click Campaign Management (either the button or the left sidebar link.)
Click Web Tracking Code in the left sidebar.
Copy the code in the resulting pop-up.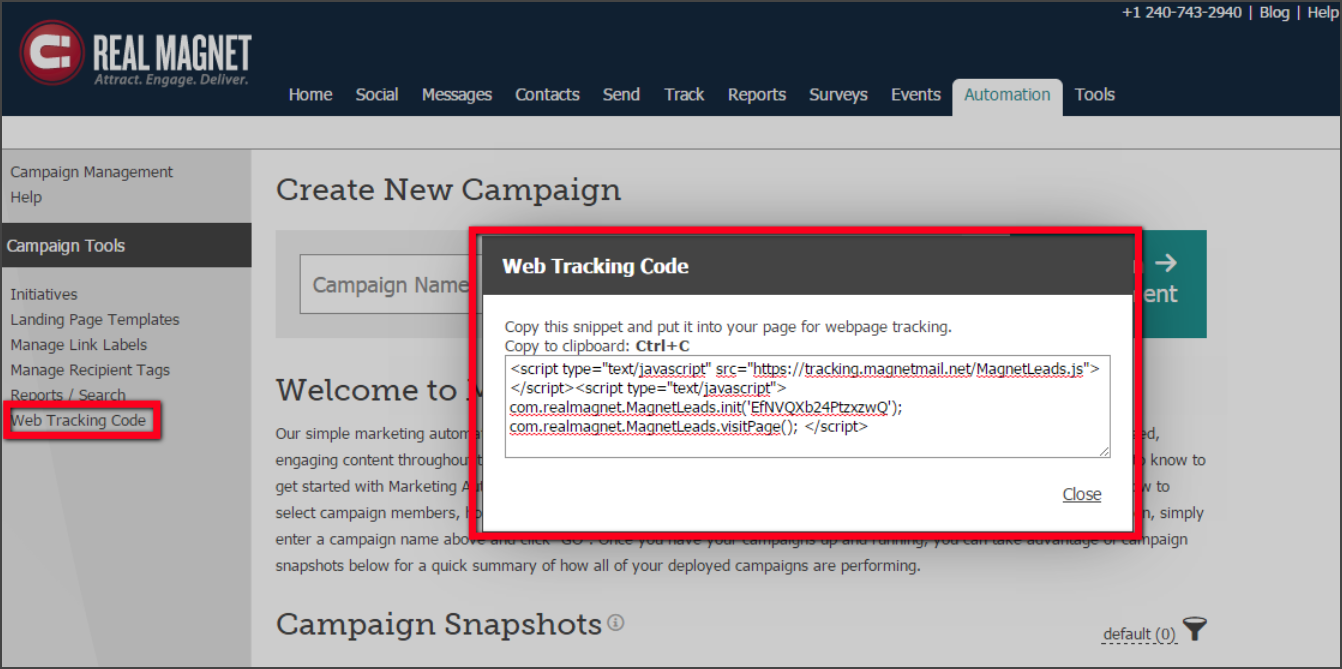 Now, you can paste this code within the HTML of the web pages you wish to track.