In this article, you'll learn how to manage contact data in Higher Logic Thrive Marketing Professional (Thrive Marketing Professional) so that your organization remains in compliance with international regulations.
NOTE: Data protection and the right to privacy are important issues. If you have questions for our compliance team, create a case and we'll do our best to assist you.
Personal data in Communications Professional
Users cannot delete their own Personally Identifiable Information (PII); instead, they must request that an admin do it.
Higher Logic facilitates data-deletion requests through a combination of deleting and "anonymizing" a contact's PII and activity data within Thrive Marketing Professional. Anonymizing involves nulling out identifiable information in fields, but maintaining a unique identifier for that specific record.
Manage contact data
Thrive Marketing Professional includes compliance tools enabling you to:
Request contact data reports,
View a list of current and recent requests, and
Delete contacts' individual data.
To manage compliance for your contacts:
Classic admin interface - Hover over the Admin (gear icon) in the side menu and select Compliance.
New Admin Experience - Navigate to Settings > Setup > Compliance.
On the resulting page:
In the search field of the Manage Compliance page, specify letters, numerals, and/or special characters and press Enter (or click Go).
TIP: Specify more characters to get fewer results (i.e., a more refined list).
A table displays all matching contacts.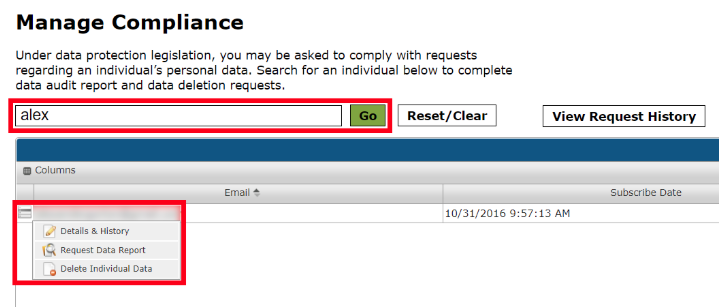 Hover on the menu icon to the left of a contact to access three options: Details & History, Request Data Report, and Delete Individual Data.
Refer to the sections below to learn more about each of these options.
TIP: Click a column header to sort on that column; click the column header again to reverse the order. Refer to Choosing columns, below, to learn how to customize the results table.
Details & History
In cases where the search returns multiple contacts with the same (or similar) name and you're unable to determine the correct contact from the data presented in the table, select Details & History to view more information.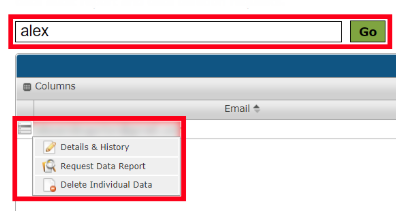 The resulting dialog has several tabs. First check the Overview tab to help identify the contact. If more information is needed, click the Edit tab and look at the Personal Information section.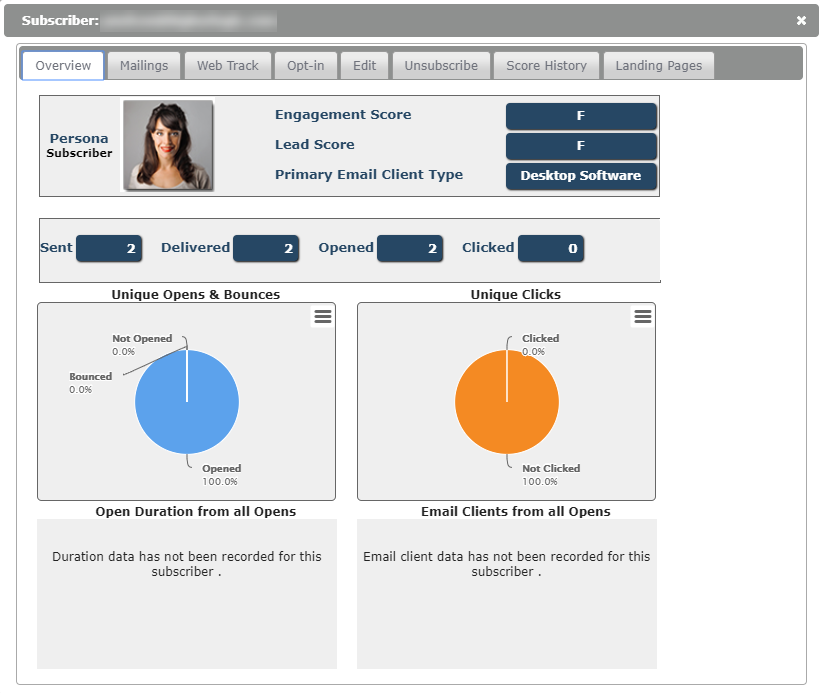 To learn more about this dialog, see Subscriber Profile Overview.
WARNING: It is imperative that you identify the correct contact before accessing a data audit report or performing a deletion.
Request Data Report
Select Request Data Report to initiate a data-report request for a contact. At the confirmation prompt, click OK.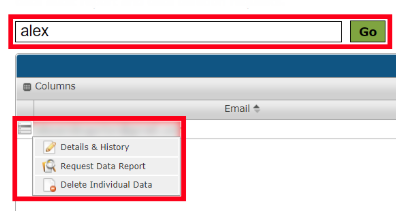 Data-report requests can take up to 24 hours to process. If you click this option for a contact while an existing request is being processed, a message will advise you that an additional request isn't possible.
When the report is ready, it will be available for download in the Report column on the View Request History page.

View Request History
The View Request History page lists all active data-report and data-deletion requests and the status of each.
TIP: Drag the column separators left or right to adjust the width.

Requests that are currently in progress are indicated as Not Started and their Date the request was completed columns are blank. Upon completion, this column will display the date and time.
Download data reports
Once a data request is ready, click the link in the Report column. Navigate to where you want to store the report, give it a memorable name, and click Save.
The report will download as a compressed file with the extension .csv.zip. Open the .zip file to access the .csv files. There could be seven or eight individual .csv files that contain personal information and various data and metrics regarding the contact's Communications Professional contributions and activities.
Tips for report files
These files are read-only. Save a copy with a file type that allows editing.
Some spreadsheet applications have a "move or copy" feature. Use this to consolidate multiple report files into one.
Check the data in the cells. If it seems illogical based on the column header: i) widen the cell so that the full value displays, ii) use your spreadsheet application's cell-formatting feature to apply a logical format, such as Short Date.
Delete Individual Data
Select the Delete Individual Data option to initiate a data-deletion request for a contact. At the confirmation prompt, click OK.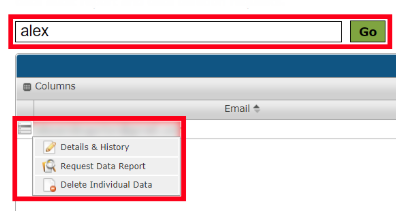 WARNING: The contact will be removed; this action is irreversible.
Data-deletion requests can take up to 24 hours to process. You can check the status of the request by clicking View Request History on the Manage Compliance page.

NOTE: When the data-deletion request is complete, the request will no longer appear on the View Request History page. This action does not generate a report.
Deleting data
The contact's personal data will be expunged from the Thrive Marketing Professional system by a combination of deleting and "anonymizing" the contact's PII and Thrive Marketing Professional activity data. Anonymizing involves nulling out identifiable information in fields, but maintaining a unique identifier for that specific record.
Manage data columns
The results table on the Manage Compliance page can be customized to include various columns; the columns can also be arranged to present the data exactly how you prefer. You can adjust the width of the columns by clicking-dragging a column separator left or right.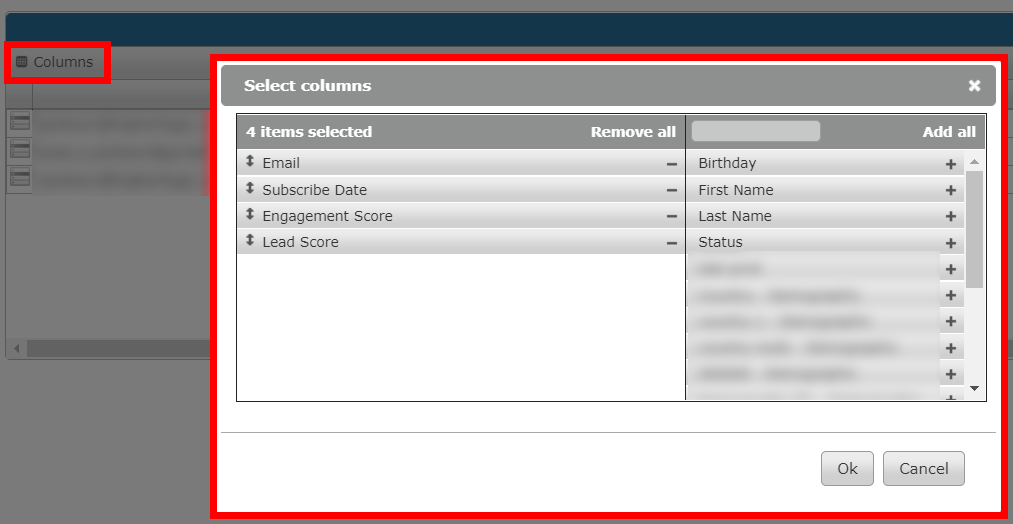 Click Columns (upper left of the table) to access the column chooser. In the column chooser:
Click Remove all, Add all, or use the + and – symbols to add and remove individual columns.
Click and drag column headers up and down in the "selected" area to arrange their left-to-right display order.
Use the search field in the unused columns area to more easily locate columns; clear the field to restore the full list.
Click OK to finalize your selections and return to the results table.
NOTE: Your column selections will remain in effect until you change them—even if you end the session and log in again.
Related articles
Visit our Compliance & Security category where there are product-specific data-privacy articles in addition to the following regulations.