Balancing your message frequency can seem daunting, but with the tools available and a little bit of planning, you can maximize your results by finding a message "sweet spot."
Before you begin, identify a sample audience for your analysis. This set should be based on two parameters:
Group Size - Smaller groups (fewer than 20% of the maximum group) can be ignored. You will want to have a large sample size.
Timeframe - Typically, using one month of data makes for a good sample. If you send fewer messages, you may want to look at two months of data.
Remember that different groups often receive different mixes of messages, so be sure to select an appropriate sample based on the messages that subscribers receive and the cadence at which these messages are sent.
View the Message Summary Reports
Use the Message Summary Reports to determine if you are sending too many messages.
Navigate to Messages > Reports > Message Summary Reports.
In the Filter Messages section, expand Date Range and set a date range. We recommend a month, or perhaps a quarter, at a time.
Expand Number of Contacts and use the slider to ensure that you're working with a large enough sample size.
Click Update Results at the bottom of the Filter Messages section.
Click the View Reports tab.
Navigate to the Analyze Subscribers folder and select Email Volume to view the volume report. This report will show two graphs:
A bar graph that shows how many messages are received by different subscriber totals.
A line chart that shows Delivery Rate, Open Rate, and Click Rate.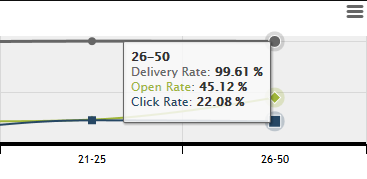 Note that the two graphs correspond directly to one another. A column on the top bar graph directly aligns to the same column in the bottom line chart. By hovering over a column of data, you can see details about the recipient volume and delivery, open, and click rates.
Open Rate Results
If the open rate increases when subscribers receive greater volumes of messages, then you are generally not sending too often. However, if the open rate is higher for recipients who receive fewer messages, you may be sending too many messages. See the images below for examples.
Open Rate Increases with Additional Messages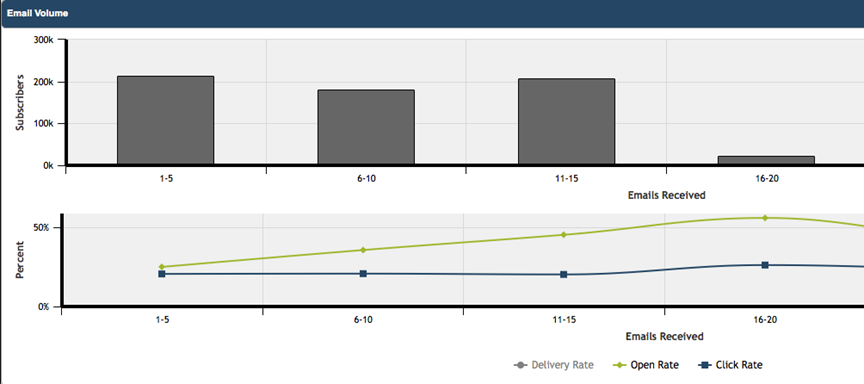 Open Rate Decreases with Additional Messages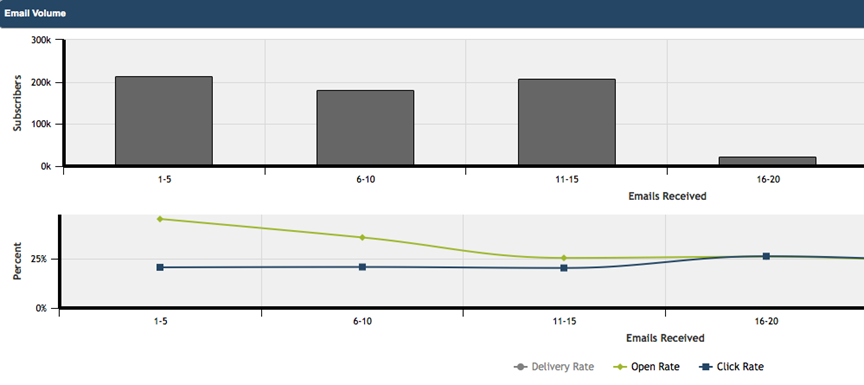 No Changes based on Messages Frequency