You can manually Follow Discussion and Question posts, Blog articles, Library Entries, and Ideation submissions. Doing so enables real-time participation emails for this specific content so that you'll be notified when your peers engage with it.
NOTE: See Real-time Participation Emails to learn more.
How to Follow content
When viewing a piece of content, click the Follow toggle on the right-hand side of the page, as shown below.
NOTE: The look of this toggle on your Higher Logic Thrive Community (Thrive Community) site may be different than what's shown below, but its function remains the same.

If you've disabled Participation Emails from your profile (on the My Account > Email Preferences page), you won't see the Follow toggle on content pages).
When Following a piece of content, the toggle is updated to indicate this. Click the toggle again to unfollow the content and stop receiving real-time participation emails about it.
All content you contribute is automatically set to Followed.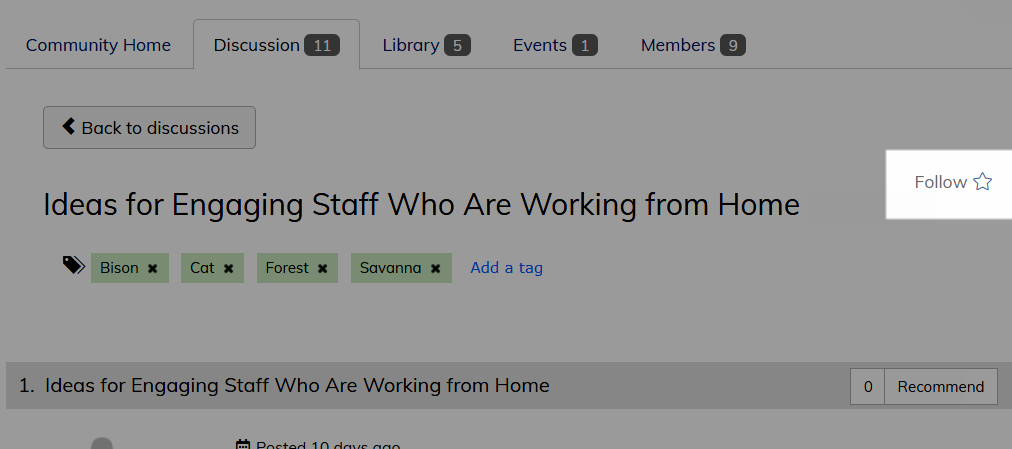 NOTE: If you have a Real Time or Plain Text subscription to a community, you can still choose to Follow community content. While you won't receive real-time participation emails (that would result in duplicate emails), here's why it's often still a recommended best practice: If you ever change your subscription to the community to No Email or digest only, you'll then begin receiving real-time emails about all the content you've Followed.
How to view the content you're Following
To make it as easy as possible to track all the content you're Following, you can view it from your profile; just navigate to My Connections > Following.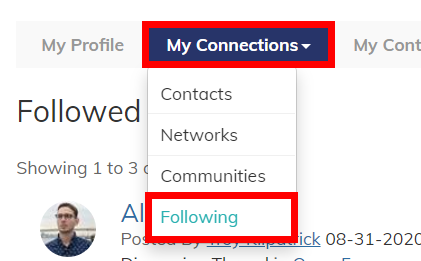 For each entry of followed content, you can click its links to:
view its content page,
view the content contributor's profile,
access the content landing page where the content item is located,
review the date and time you Followed the particular content item
Filter Followed content
By default, ALL Followed content will display, but if you want to filter to a specific type of content, simply select it from the available menu.