Participation Emails is a section of the Email Preferences page of the user Profile. It's a Yes/No toggle that you can use to set whether notification messages will be sent to you for various community activities.
IMPORTANT: The feature controls only whether notification messages get sent to the alternate email address that you've specified on the Email Preferences page of your community profile. The notification messages are always sent to your community email address.
The notification messages that are sent are in response to only those community activities that result from your personal activity (i.e., based on your participation).
For example, you will be notified when someone:
replies to one of your discussion threads,
comments on one of your blog articles, and
answers a question you've posted.
TIP: Refer to Participation Emails triggers, below, for information on which community activities trigger Participation emails.
Participation Emails notes
The setting is not managed per activity or per community by Admins. It is managed by individual users and, when enabled, it applies to all posting activities in all communities that the user belongs to.
When the setting is enabled, the user will be sent a message within a few minutes of a community member engaging with content that the user has posted.
While this is similar to the Discussion Email > Real-Time option that can be set for each community that a user joins, it differs in that it is not per community and is not unique to Discussion threads.
If a user is being sent Real-Time Discussion emails, these participation emails will not be sent to them to prevent duplicate notifications in their inbox.
Participation emails are sent only to i) users who have Daily Digest and ii) users who have opted out of receiving email messages.
Participation emails are not sent to users who have either a Real-Time or a Plain Text subscription.
These participation emails are distinct from your community subscription emails. For example, if you're subscribed to a community with Daily Digest emails but post a thread to that community, you'll receive notifications about any replies but also receive your Daily Digest email at the end of the day to browse other content in the community.
Manage the Participation Emails feature
The feature is enabled (Yes) by default.
To manage it:
Navigate to your user Profile.
Click My Account > Email Preferences.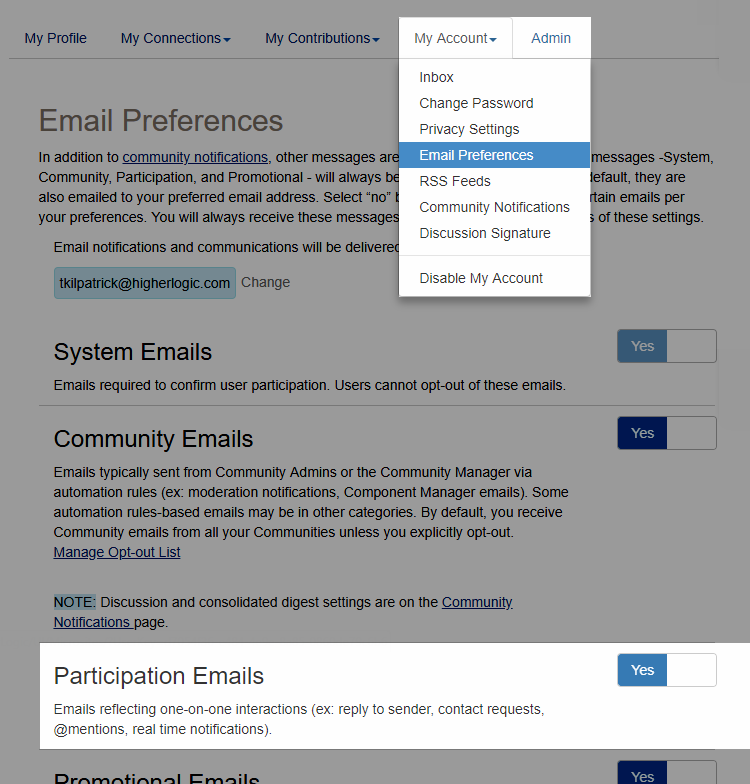 Scroll down to the Participation Emails section.
Click the Yes/No toggle to change the setting.
If you disable the feature, the system will no longer send notifications—to your alternate email address—about community activities that are in response to your personal activity.
Participation Emails triggers
If you have enabled Participation Emails, you'll be notified via email within a few minutes of when someone:
replies to one of your Discussion posts
comments on one of your Blog articles, Library uploads, or Ideation submissions.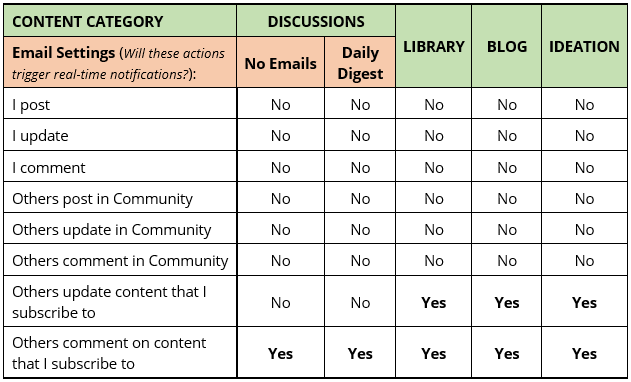 How to receive these emails
By default, you'll automatically be sent participation emails for all content that you're following.
NOTE: The Follow toggle is Admin-configurable and, on your site, might have a different label than what's shown below; however, its functionality is the same.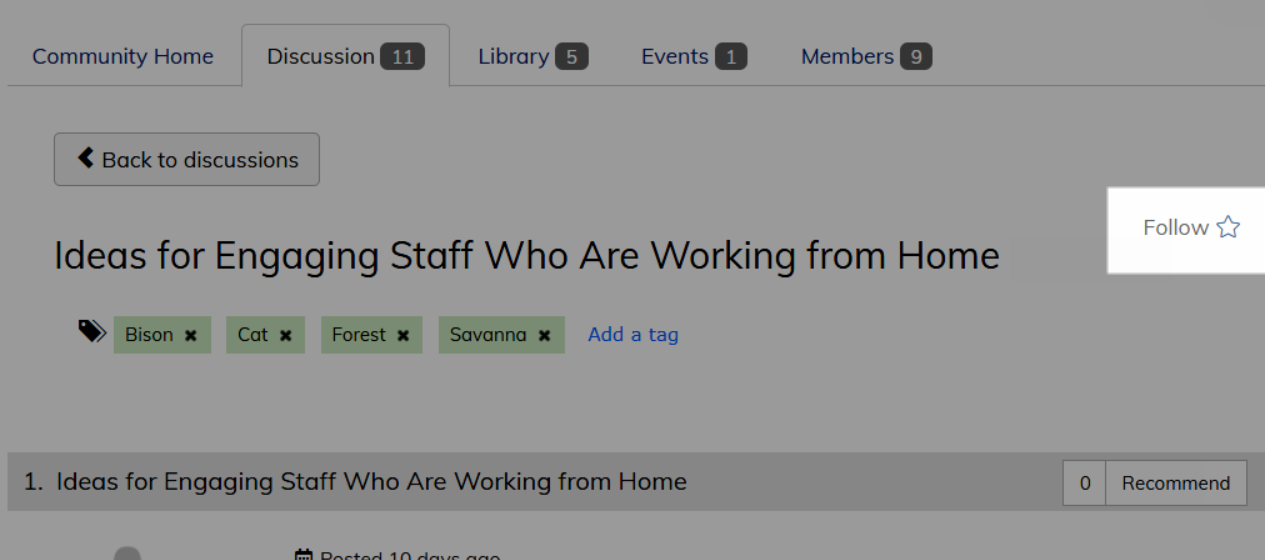 If you disable Participation Emails on your profile, the Follow toggle no longer displays on content pages.
Note that the system defaults you to automatically follow all content that you contribute, so you'll automatically be sent participation emails when other users engage with your content as detailed in this article.
TIP: You can unfollow your own content; just navigate to the content and click the Follow toggle.
Manually follow content
In addition to being sent participation emails for engagement with content that you have contributed, you can manually follow Discussion posts, Blog articles, Library Entries, and Ideation submissions that others have contributed. By following other users' content, participation emails will be sent to you when your peers engage with it.
See Follow Content to learn more about how to manually follow content and view this content from your profile.
Unsubscribe options
There are several ways to unsubscribe from participation emails.
Click Unsubscribe in a participation email to unsubscribe from the associated thread.
Click Unsubscribe from all participation emails in any participation email to unsubscribe from all participation emails.
Click email preferences to access your profile.

Keep in mind...
Even if Participation Emails is set to No, you will continue to be sent—to your community account Inbox only—the following types of participation email messages. These messages will not, however, be sent to your alternative, external email account.
Reply to sender
@mentions
Contact request
Ideation, Library, and Blog participation emails