From the My Account section of your profile, you can access your private inbox and manage a number of important settings and preferences.

Inbox
Your private inbox stores all of the messages you've received from other members, as well as the notifications you've received from various system-generated prompts, like when an admin impersonates you, another user has commented on one of your uploaded files or blog articles, someone has replied to one of your Discussion posts, etc.
Let's take a look at three important areas of your inbox:
Your inbox is divided into these four categories, helping to segment your messages and make finding specific types easier (the Inbox tab shows all messages, including contact requests and community invitations).
The search bar, especially useful if you have a large number of messages in your inbox, enables you to quickly locate specific types of messages or all messages from a specific person or community.
Here, you can mark messages as read or unread and delete selected messages.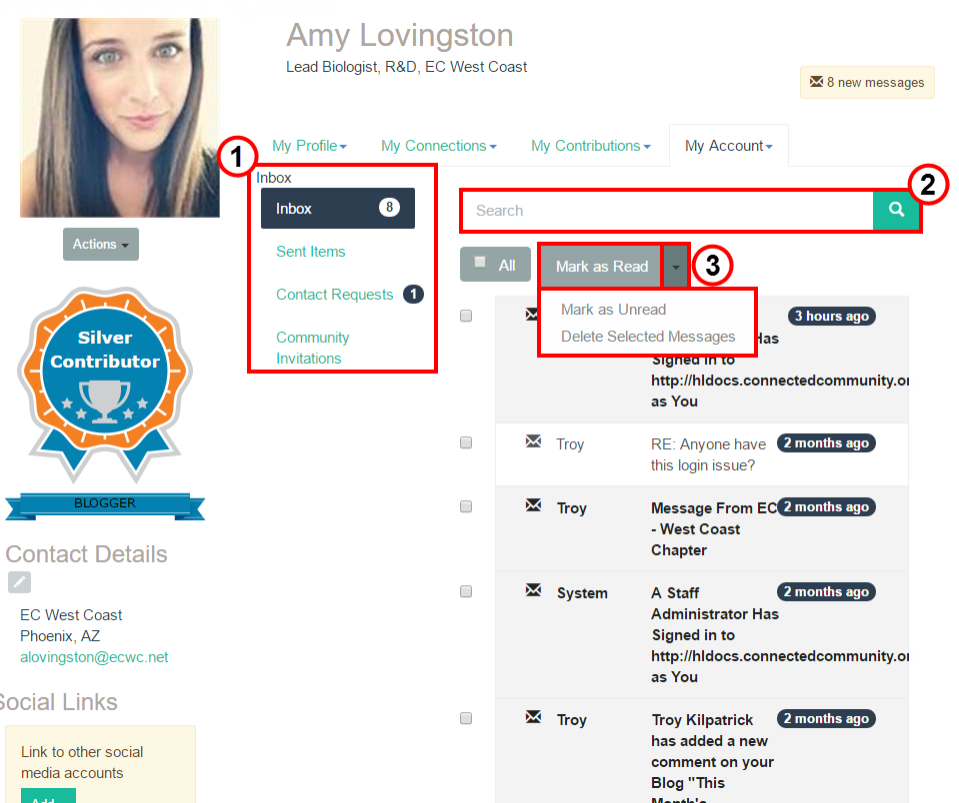 Privacy Settings
While site staff set the default privacy settings for your profile information, you can update them at any time, giving you complete freedom over what personal information you want visible to other users viewing your profile.
Toggle this option to YES/NO to control whether you're included or removed from the Member Directory and Community Rosters. If set to NO, you're essentially hidden and can't be searched for or found by other members.
For each of your profile fields, you can control who can see it by selecting one of the following visibility options:
Your contacts
Other members (i.e., those with an account who are logged in)
The general public (i.e., everyone, even those without an account)
Only you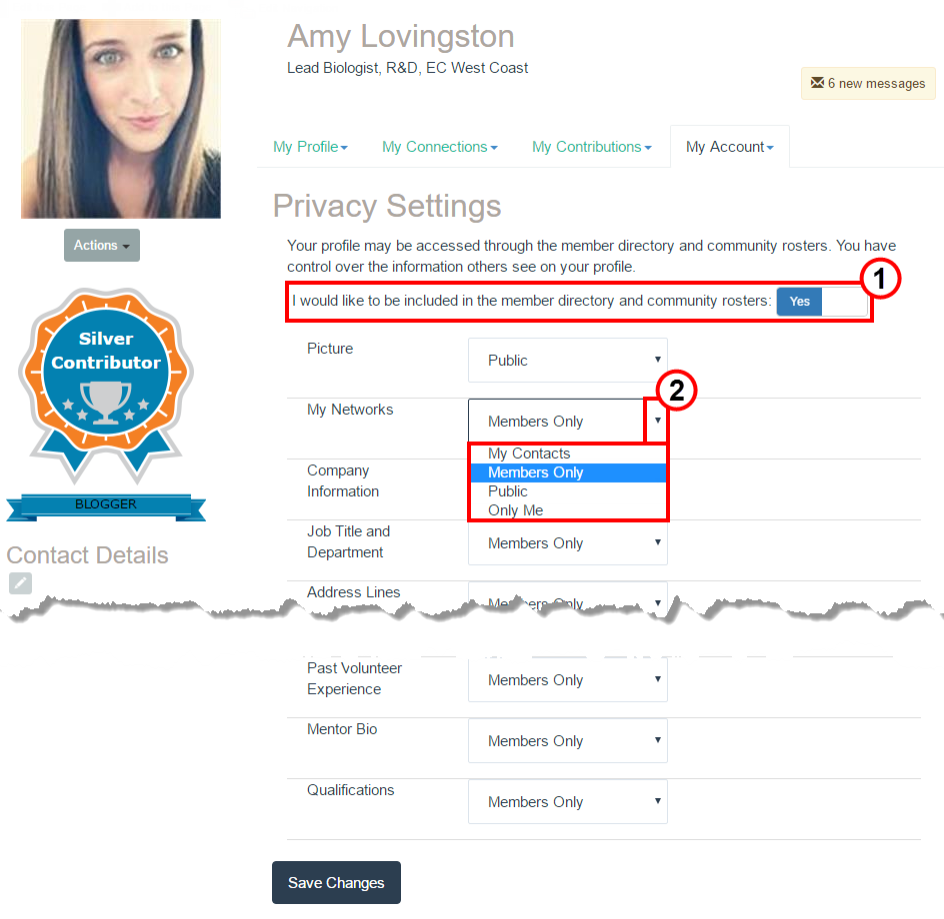 NOTE: You can set default profile privacy settings on the Admin > Users > Profile > Privacy Defaults page. See Default Privacy Settings for more information.
Email Preferences
In addition to user messages and general notifications, you may also routinely receive email messages originating from the following categories: System, Community, Social, and Promotional (each category is described on this page). If you want to opt-out of receiving messages from any of these categories, except for System (which include important messages like password change notifications, event registrations, etc.), simply toggle their associated category to NO.
NOTE: You will always receive these messages in your profile inbox, regardless of these settings: Opting-out only controls whether a category's associated messages are sent to your listed email address.
In addition, you can:
Click Change to update where these emails are delivered (by default, it's the email address you entered when creating your account),
Click Manage Opt-out List to manage which communities you don't want to receive any emails from. Note that this refers generally to messages from Community Admins and/or community managers via Automation Rules and personal outreach; opting in or out of community Discussion notifications is controlled on the Community Notifications page.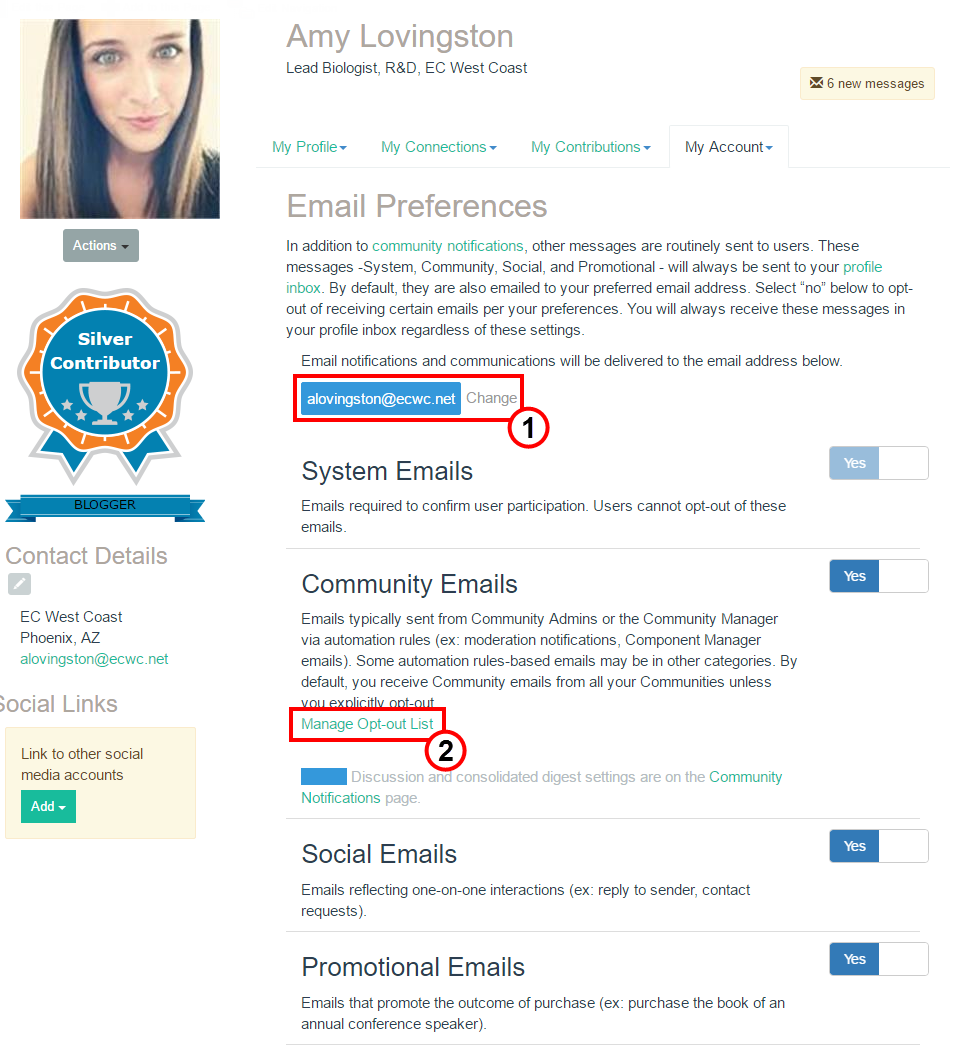 NOTE: This page also indicates if there's a block on your email address; if so, an interface will be available you can use to potentially resolve the underlying issues and remove the block.
RSS Feeds
Here, you can enable RSS feeds for any desired content, including Discussions, Libraries, Blogs, and the Glossary. To do so, simply select the desired tab and check the boxes to receive RSS content from specific Discussions, Libraries, etc., or click Select All to do so from all of them in the active category.
Your personal RSS Feed link is provided for you at the bottom of the page, which you can copy and paste into the Feed Reader of your choice.
NOTE: Before you can use RSS feeds, you must download a news reader or configure your browser or email application. For a list of news readers and aggregators, click HERE.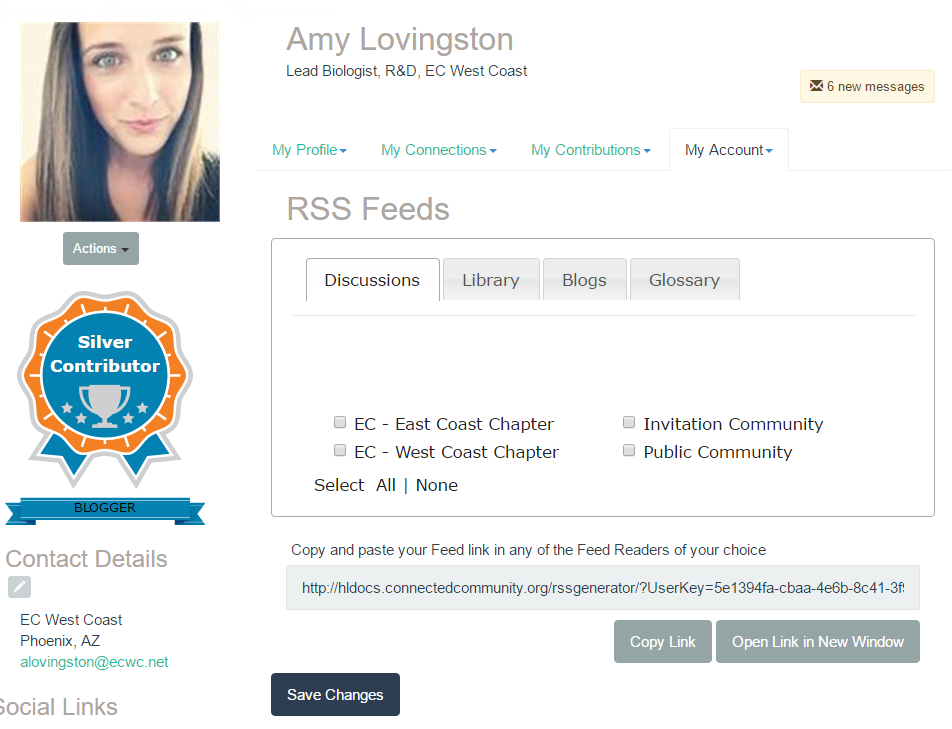 Community Notifications
On this page, you can manage your community subscriptions, establish notification overrides, and create Consolidated Digests:
NOTE: By default, all community notifications go to your account's primary email address; however, if you'd like to have emails from specific community Discussions and digests delivered to an alternate address, you can set that up here.
Here, you can set an override email address for both your daily and weekly consolidated digests.
Below, you can set up override email addresses for any desired community Discussions.
Toggling this option to YES automatically sets a community's Discussion subscription to No Email if that community is added to a Consolidated Digest. Be sure you understand the difference between Consolidated Digests and Discussion subscriptions before enabling this feature (see the note below).
Down here, you can manage the subscription type for each community you belong to.
And here, you can add and remove specific community Discussions into a Daily or Weekly Consolidated Digest by checking/unchecking their associated option. (Consolidated Digests must be enabled by admins, so if you don't have the option to create them, contact your support staff.)
NOTE: Consolidated Digests are different than Discussion subscriptions in two ways:

1. Instead of just Discussion posts, they compile ALL of a community's content, including Library Entries, blog articles, announcements, and events.
2. They DO NOT provide two important features Discussion subscriptions do: (1) Only previews of Discussion posts are included, meaning longer posts are not shown in their entirety (but you can click the links to view them), and (2) you can't reply to messages directly from the Digest email like you can from subscription emails.

For these reasons, Consolidated Digests are typically not the recommended notification type for Discussions, especially if you want the ability to reply via email.
Discussion Signature
Here, you can use the available variables to create your default Discussion signature that will be added to the bottom of each of your Discussion posts. To do so, click the desired variables on the right to add them on the left.
NOTE: Variables are added in the order they're clicked, so you may have to delete some and try again to achieve the desired order.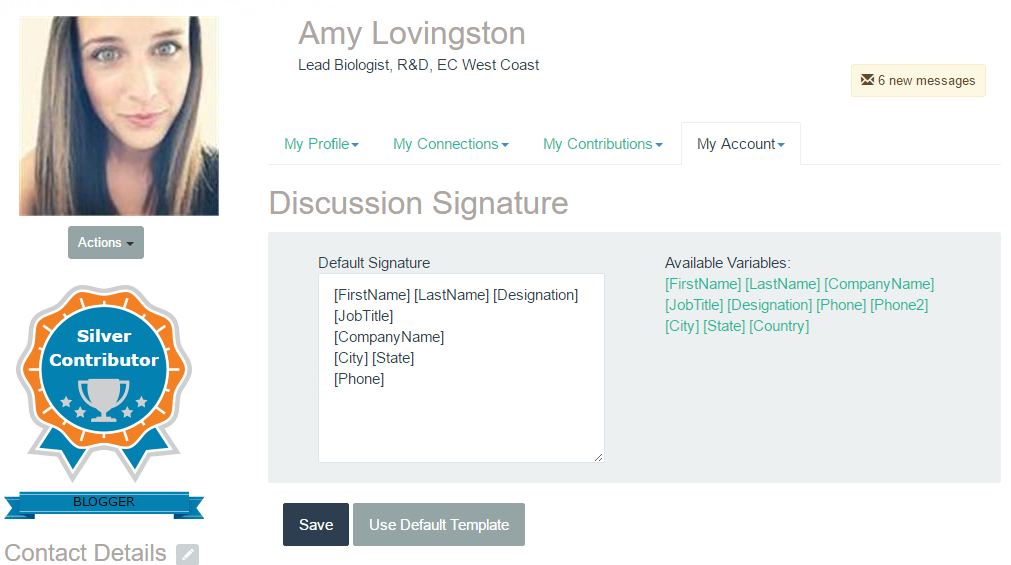 Change Password
This is where you can manually update your account password at any time. The criteria you must adhere to when updating it are listed on the page; once all criterion are met, and you've confirmed the password, click Save.
NOTE: If your membership account is integrated with a third-party database or AMS, you'll likely be taken to its associated password management page.
NOTE: You can update the password policy users must adhere to when updating their account passwords on the Admin > Tools > Set/Configure Login Password Policy page. Refer to the Configure Your Site's Password Policy page for more information.