This article provides an overview of the major changes to the Informz admin experience, including:
Dashboard
Each session begins on the Dashboard, where charts displaying at-a-glance metrics provide an efficient way to gauge output and engagement.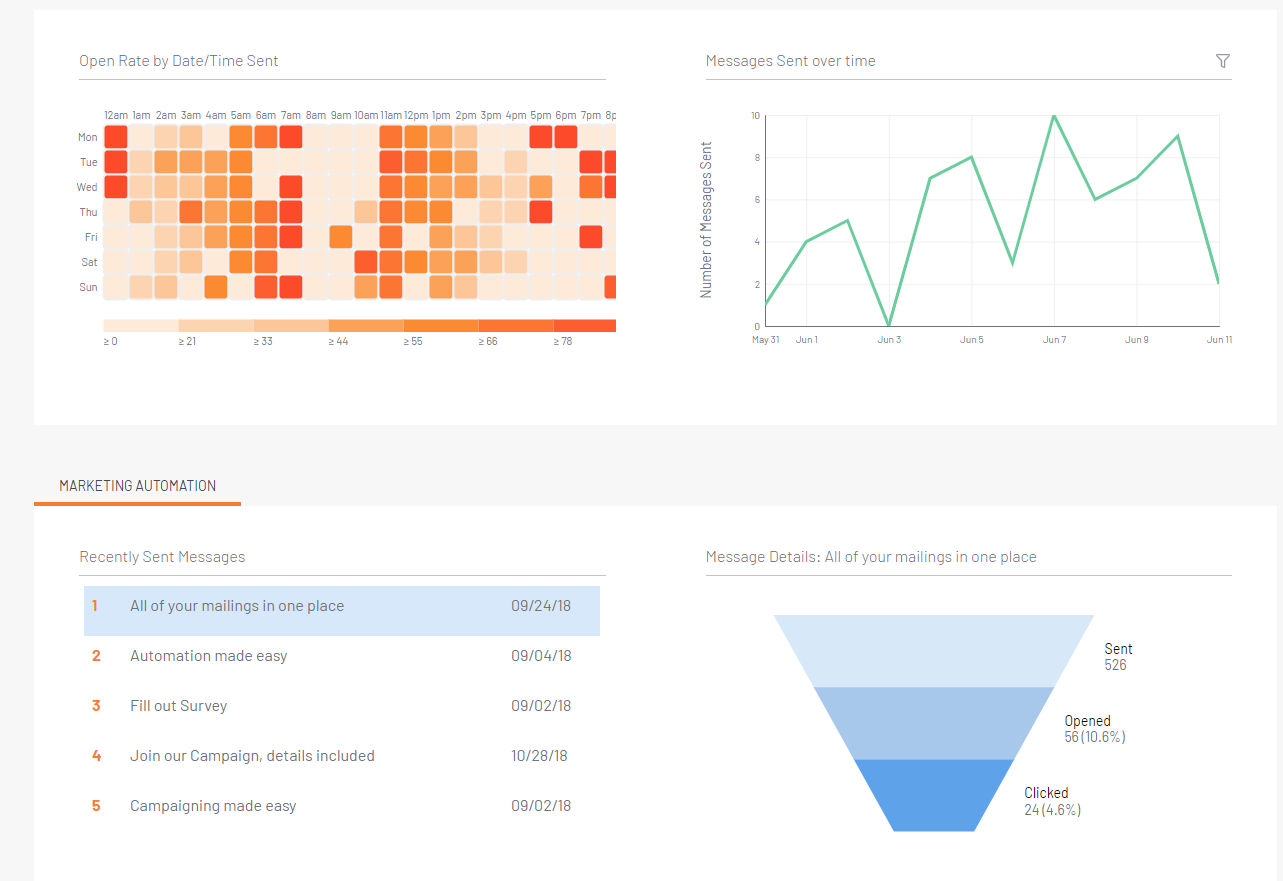 Navigation
Navigating the interface is accomplished via the new vertical Navigation panel. Items have been reordered, relabeled, and reduced to provide a more streamlined and intuitive user experience.
The orientation is vertical, rather than horizontal, for mobile optimization, and can be collapsed to optimize website real estate. In addition, you can search by current (or former) menu terms for quick access to specific pages.
TIP: If your organization has multiple Higher Logic products (e.g., Community and one of the Communications products), each is represented by a tab at the top of the panel.
Terminology
Some terminology changes, mostly affecting menu items, have been introduced in the new version. To help with the transition, you can type the old item name in the navigation search box to find its new equivalent.
| Previous Term | New Term |
| --- | --- |
| Subscribers | Contacts |
| Mailings | Messages |
| Target Groups | Groups |
| Authorized Users | Users |
On-Page Help
Click the (?) icon in the upper-right corner to expand the new Help Panel. Page-specific topics help you understand how to use and understand a given page. Most topics include a Learn more… link you can click to view more in-depth information in our knowledge base. For pages that don't yet have specific help topics, a set of default topics are presented.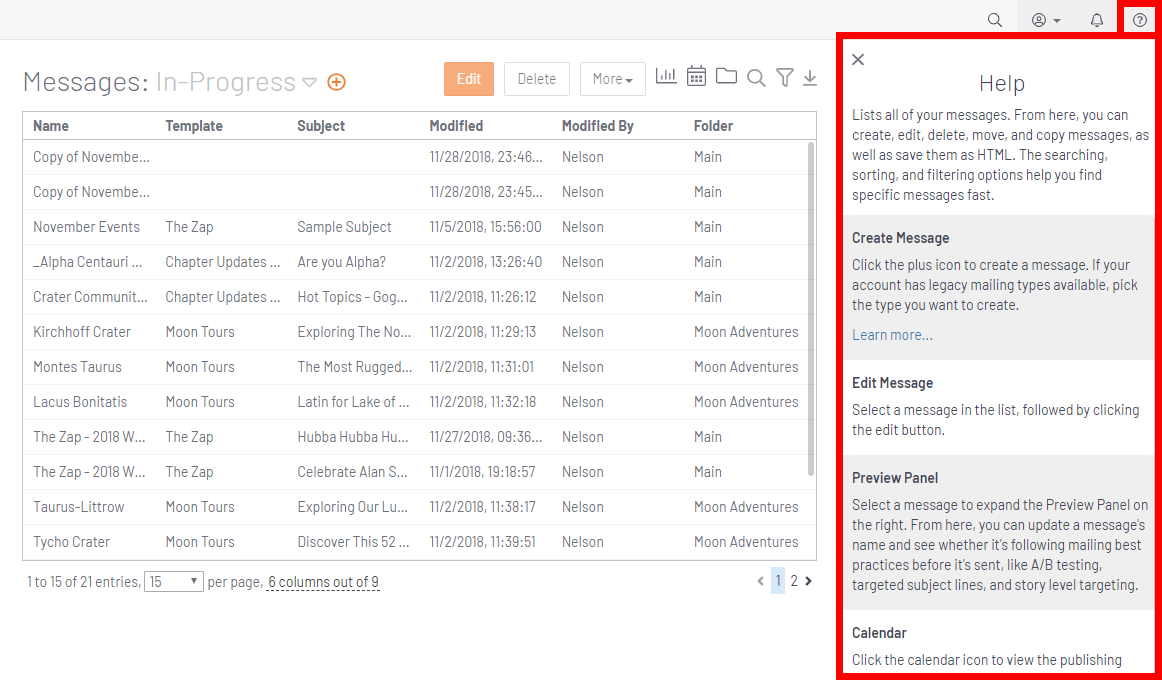 New List pages
Over time, the Informz list pages evolved and moved farther away from their original purpose: simple content management. List pages have been re-designed around a singular purpose: Efficiency. These new list pages make it easy to find, create, and manage your content.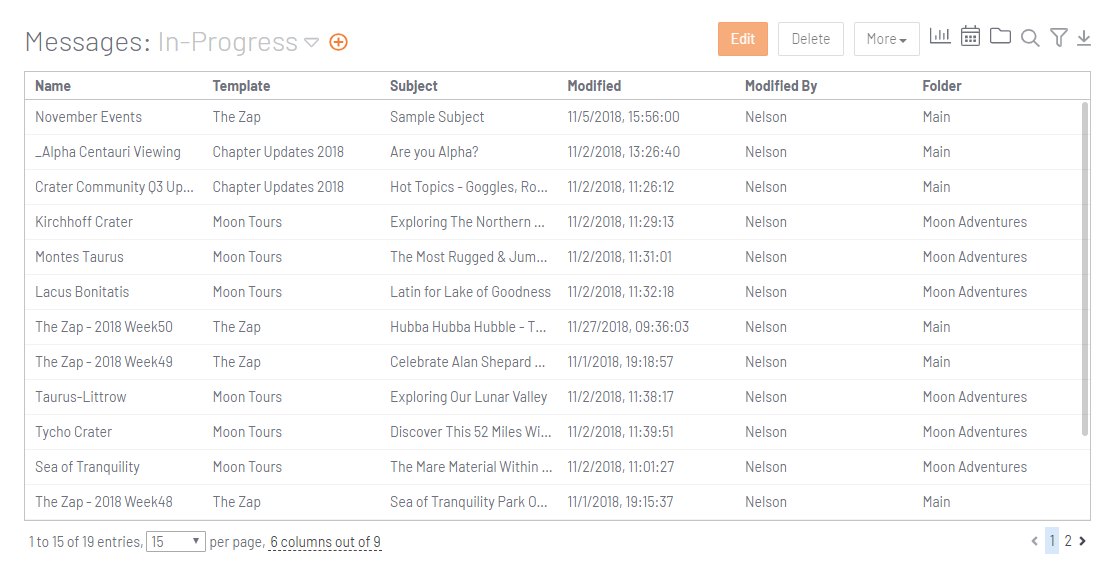 Page Title dropdown
In place of tabs, there is now a dropdown to the right of most list page titles allowing you to view content of a specific type or status. For example, the Messages List allows you to quickly view your In-Progress (default), Review, Sent, Triggered, and Scheduled messages with the click of a button. The Template List page does not have this dropdown because tabs were not previously used to organize templates.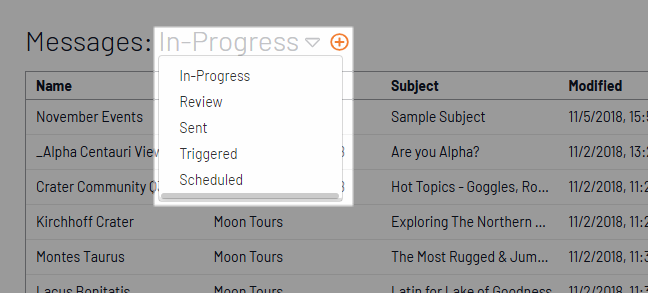 Search
Click the magnifying glass to display the search field. The search feature queries a set of available columns that have been heavily indexed so that results are presented fast. The searchable columns are the text fields within a given list.

Filter
The new filter feature also uses heavily indexed columns that are optimized for searching. Multiple fields can be combined using an "AND" operator for a more focused search.
Columns
List pages include numerous columns that can be shown or hidden, making it easy to locate the content you're looking for. The number of columns per list has been streamlined to improve performance.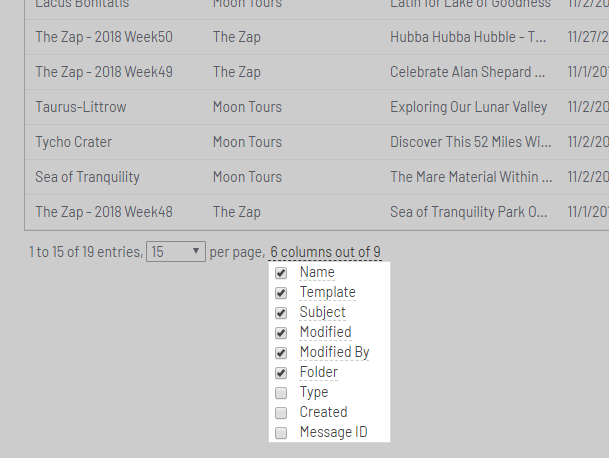 Preview Panel
A new Preview Panel is available on many list pages. Upon clicking an item in the list, the panel opens and provides an at-a-glance view of key data and metrics. Dots under a field value indicate that the data can be edited.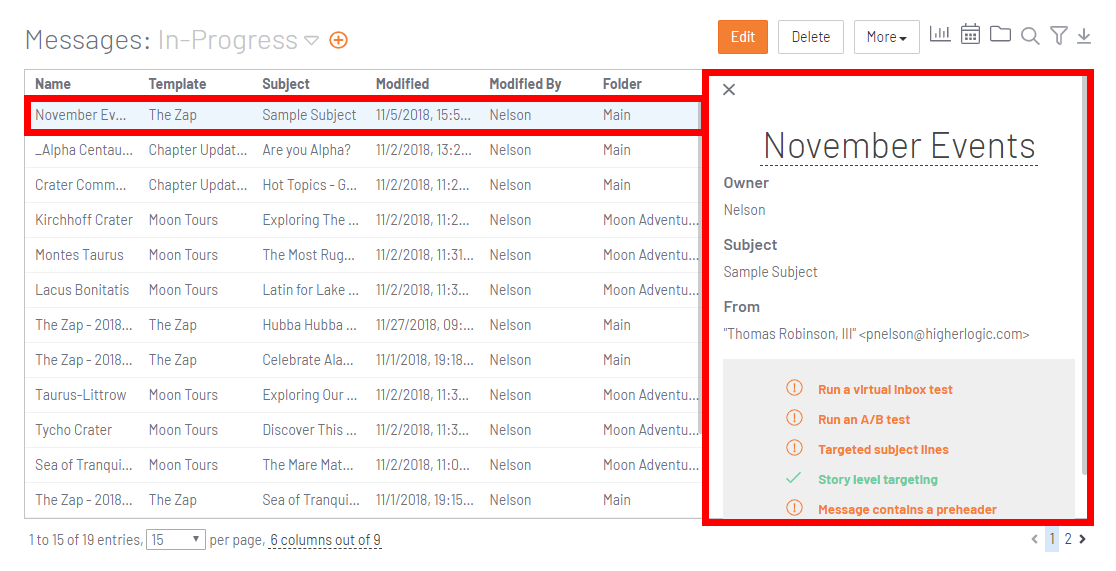 Messages List pages
The new Messages List displays all mailing types. Older accounts that have any of the previous mailing types (Mailing Designer 1, Quick Mail, Snag Mail) will see these messages listed with the current Message Designer messages (previously called MD2) in a single place to manage all communications.
In-Progress List
The message Name, Owner, Subject, Friendly From, and From Email are displayed.
Review List
The message Name, Owner, and Subject are displayed, as well as the number of comments and reviewers.
Sent List
The message Name, Owner, Subject, and Sent on date are displayed. Below, the activity funnel presents sent, delivered, opened, and clicked counts.
Scheduled List
The message Name, Owner, Subject, and Send on date are displayed.
Landing Pages page
In-Progress, Active, and Archived Lists
The Landing Page Name, Description, and Folder are displayed, as well as the number of views and submits (for a form).
Users List page
The Users list displays User Name (login), Email Address, Last Name, First Name, and Time zone, as well as the number of logins and messages created.

Templates List page
The new Templates List displays all template types. Older accounts that have any of the previous template types (Standard and Advanced) will see these templates listed with the current Template Designer (previously called TD2) in a single place to manage all templates.
Subscriber Search
A new Advanced Search feature is being developed that will provide extensive report filtering across different areas of the data. This will ultimately replace the current Subscriber Search in the navigation and the functionality found in the previous Informz lists.
Target Groups
Because creating "On the Fly" target groups was typically employed after searching via user-created fields, it no longer fits on the new list-page design. However, it is still available on the old Subscriber Search page and will be part of the new Advanced Search feature (coming soon).
Mailings Test tab
This was removed due to low usage.
Reports
Subscriber reports
Each subscriber report was reviewed for its usefulness and usage. The following reports were deprecated because most of the data was available in other reports.
Demographics
Demographics Search
Demographic Summary
These reports were found under Subscribers > Reports > Active Subscribers.
Shared reports
The report sharing feature called Insights was architected in such a way that made it difficult to include in the new version. The sharing of mailing activity, mailing summary, and campaigns will be reintroduced in the future, leveraging data from the new data warehouse, and it will be presented in a way that better meshes with the platform's current architecture.
Mailing folders
Triggered Mailing folders
With the introduction of Campaigns, the use of triggered mailing folders has dramatically decreased. Since campaigns are a better way to engage with audiences over time, triggered mailing folders has been deprecated.
Delete a Mailing folder
In order to reduce the risk of accidental deletions, all messages in a folder must be deleted before the folder can be deleted.
Mailing compare
This feature is temporarily offline pending developments from the data warehouse and reporting.
Product support & documentation
To log an issue with the Customer Support Team, use this new link to create a case.
Visit the Support Resources page of our new Knowledge Base to see support-specific articles.
Navigate through our redesigned Knowledge Base to find product documentation.
Profile Field search
The ability to search profile info fields by their name has been added.
Hover menus
The old Informz list pages used a hover menu to present dynamic menus on each record. The new list pages have moved away from this approach due to the challenges of creating consistent interactions. Previous hover menu options have been removed or moved to a new location.
Community integration
If your account did not already have it, the community integration is being enabled so that it's available when you decide to use it.
iMIS integration
iMIS Remote Interests
This option was moved from the Profile Fields area to its own navigation.
iMIS Activities tab
This was removed from the Subscriber pop-up due to low usage. It only provided a narrow view of activity data that is fully viewable within iMIS.