In this article, you'll learn how you and other Super Admins can manage compliance within your Higher Logic Thrive Community (Thrive Community) and Workspace.
In addition, links to managing compliance in Higher Logic Thrive Marketing Enterprise (Thrive Marketing Enterprise) and Higher Logic Thrive Marketing Professional (Thrive Marketing Professional) are provided in their associated sections below.
Data deletion process overview
Higher Logic users cannot delete their own Personally Identifiable Information (PII); instead, they need to put in a request to have a Super Admin do it for them. Depending on whether the request is related to the Community or marketing-automation products, the admin will use the associated tools to search for the individual and complete the deletion request.
While much of a user's personal data can be deleted with the click of a button, there may also be a list of content items the system can't automatically delete or anonymize (i.e., make anonymous). Discussion posts are a good example of this type of content, and depending on the user's request, the admin will either need to (a) manually delete the post altogether or (b) remove that user's personal information from it.
Higher Logic facilitates an individual's data-deletion request via a combination of anonymization and deletion of personal information and activity within the Community and marketing-automation products. This includes deletion of PII and nulling out fields (but maintaining a unique identifier for that specific record). In some cases, Higher Logic may even anonymize specific PII or activity data.
Manage Thrive Community compliance
The Manage Compliance page is where you download your community members' data reports. It is also the gateway to the:
To manage compliance in your community:
Access the Admin interface.
Navigate to Settings > Security > Compliance.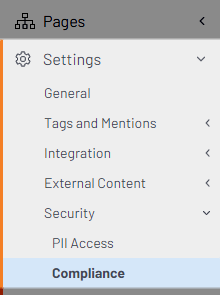 TIP: You can also access this page from the Users > List page. Select a user and click More > Delete.
Use the search field to locate member records.

Search for members
Use this page to search for members by email address, first name, or last name. You can search on as few as one character.
Type letters or numbers in the search field and then press Enter or click Go.
The matching records will appear below the search field; each record has a dropdown with several options. Refer to Dropdown options, below.

TIP: Type more letters to further refine large lists.
Click Reset / Clear to refresh to a blank page.
Click View Request History to access the Request History page, where you can see a list of recent member-history requests. Refer to the Request a member's activity history section below for more information.
Dropdown options
Each member record in the list has a dropdown with the following options.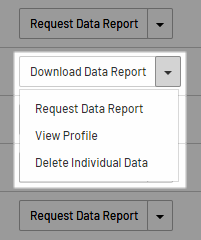 Option
Click to...
Download Data Report
Save an .xml file of the member's complete activity history.


NOTE: There's no limit to the number of times that a member's data report can be downloaded.

Request Data Report
Request an individual's data report. An acknowledgment message informs you that you'll receive an email when it's available on the Request History page. After requesting a data report, you'll:

i) lose the Delete Individual Data option because a member's data cannot be deleted while the report is being compiled, and

ii) get a new option, Data Report Status which, when clicked, presents an "in-progress" message with request details and confirms that you'll be notified when the report is ready. When the report is available, this option returns to Request Data Report.
View Profile
Open the member's Profile page in a new tab.
Delete Individual Data
Go to the Delete Individual Data page to delete the member's data. Refer to the Delete Community Member Data from Contributions section in this article for more information.
Request a member's activity history
This page lists all members for whom data reports (activity histories) have been requested.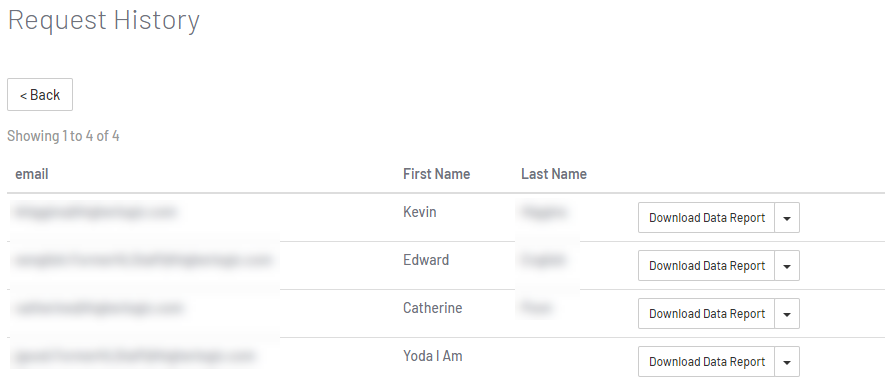 NOTE: These history requests will be available on this page for seven days.
Click Back to return to the Manage Compliance page.
Each request record has a dropdown with the same options tat are described in the table above.
Delete member data from contributions
This page lists the selected member's contributions as links.

Click Delete Individual Data and, in the dialog, click Delete to permanently delete the member's personal data from their contributions.
NOTE: This action does not impact the content of the member's contributions.
To cancel, click Back to Compliance to return to the Manage Compliance page.
Thrive Marketing Professional compliance
If your account is also using Thrive Marketing Professional, see Manage Compliance (Thrive Marketing Professional) to learn how to manage compliance in that product.
Thrive Marketing Enterprise compliance
If your account is also using Thrive Marketing Enterprise, see Manage Compliance (Thrive Marketing Enterprise) to learn how to manage compliance in that product.
Workspace compliance
If your community is licensed for Workspace, you must manage your data audit report and data deletion requests in Thrive Community and Workspace. To do so, initiate your request in Thrive Community and then navigate to Workspace > Compliance to complete it.
Related articles