If you're new to the Higher Logic platform, you may be wondering how to search for and find other users. If so, the answer is simple: The Directory.
The Directory is similar to your site search, but instead of searching for content you're searching for people. This is accomplished via simple criteria like first name, last name, and email address or more advanced criteria like location, community, and Demographics. The ultimate goal of using the Directory is accessing user profiles, and it can most simply be explained as the interface through which users' profiles are searched for and displayed.
A user's profile pages include general information about them, like their name, bio, contact details, education, and potentially other custom Demographics unique to your site, and this is the content queried when searching via the Directory.
Notes
NOTE: While site staff set the default privacy settings for your profile information, you can update them at any time, giving you complete freedom over what personal information you want visible to other users viewing your profile—you can even opt out of the Directory altogether, if you'd prefer to be hidden and not found by other members. Refer to the Privacy Settings section of the Manage Your Account Preferences page for more information.
NOTE: Refer to the Manage Your Profile section to learn more about each of your available profiles, and how to manage your account.
NOTE: This page discusses the Directory based on the default Higher Logic site configuration, but because Directory nomenclature is customizable, the terminology used on your site may differ from what's used here. For example, on our HUG site, the Directory is called "Network," and the Speaker Directory is the "Expert Directory."
Access the Directory
Most default Higher Logic site configurations include access to the Directory from your site's main Navigation Bar.
NOTE: If your organization licenses the optional modules, Expert Directory and/or Mentor Match, you'll likely see additional directory searches available, as shown below. The Speaker Directory searches across all user Speaker profiles, the Mentor Directory searches across all user Mentor profiles, etc. For the purposes of this article, though, we're going to focus on the Member Directory, as it's the most commonly used.
Watch the video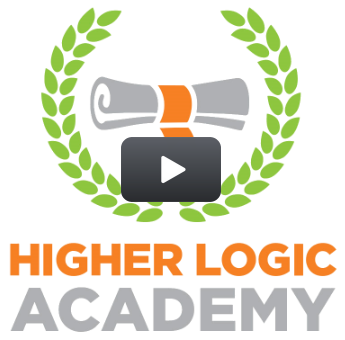 Available Member Directory Searches
The Member Directory provides two main ways to search, with a third available only to Super Admins:
1 - Basic Search
This is a simple search allowing you to find users by first name, last name, email address, and even by company affiliation. The more criteria you provide, the more focused the search; the less you provide, the more broad the search.
After searching, results are presented as shown below. On the results page, you'll be able to (refer to the image below):
Click a user's details to access their profile.
If a user provided their address information, a map icon will be available you can click to open Google Maps in a new window centered on the address or area listed. This feature respects privacy and display settings. For example, a user may choose to hide their street address from everyone but allow Higher Logic members to see their city and state. A user with these privacy settings will NOT expose their street address through the maps generated: In this scenario, the map will only center on the city, and will give no indication of their street address.
Send them a message or add them as a Contact (they'll have to approve your request before being added to your Contact List).
Use these two menus to filter your results, as desired.
And for Super Admins and those given the ability, export search results. Refer to the Export Search Results page to learn more about exporting search results.

Notes
NOTE: You can enter partial searches in these fields to return partial matches, which is ideal when you may not have exact information or simply want to find everyone whose first or last name begins with specific letters or has an email address belonging to a certain domain (e.g., a Last Name search for "Jo" will find everyone whose name begins with "Jo."
NOTE: You have the freedom to opt-out of appearing in Directory search results altogether, keep specific details about yourself hidden, or even make all aspects of your profile available to all visitors or just your Contacts. Search results will include or omit your information based on your established privacy settings.
2 - Advanced Search
IMPORTANT: The information in this section is NOT applicable to the Community Essentials model.
The Advanced Search includes the same criteria as the Basic Search but with the added ability to search via any of the profile Demographics enabled on your site, allowing you to find other users with the same choices and interests as you or who have specific demographic information. Refer to the Profile Demographics page to learn more about Demographics and how to create and make them searchable.
In addition, Advanced searches can include Directory Radius Search functionality (refer to the highlighted area in the image below), which limits search results to only those users whose location is within X number of miles from the entered address or zipcode. Refer to the Directory Radius Search & Higher Logic Interactive Map page to learn more.
Notes
NOTE: You must create a case to have the Directory Radius Search feature enabled on your site.
NOTE: Directory searches and map visibility respect a user's profile privacy settings. For example, if a user set their address information (e.g., 1600 Wilson Blvd, which is Higher Logic's main office in Arlington, VA) to Only Me, they will be shown on the map, but instead of pinpointing their exact location, their pin will simply be in the "center" of Arlington to protect their privacy.
3 - Find Anyone
This is a more powerful user search, available only to Super Administrators. What sets this apart from the Basic Search is it returns both members AND non-members (the Basic Search only returns members), making it the best way for admins to find any user in the system.