Expanding your reach is all about using new, cutting edge technology to move your marketing strategies into the future. Communications Professional offers many different ways to work with you along this journey.
In this section, you will learn about the following topics:
Designing campaigns
Using Communications Professional's GoToWebinar integration to host web conferences and sessions
The Higher Logic Community
Web Tracking
Campaigns are a great way to map out a sequence of mailings for your subscribers. In a way, you're the ultimate email "air traffic controller" for your organization's messaging. In addition to the benefits you get in the planning process, you also create a more interactive experience for your subscriber.
Campaigns are built using steps, which direct the flow of emails and keep your subscribers moving seamlessly through the campaign.
How it works
On the Marketing Automation > Campaigns > Create page, you can begin the campaign-creation process. The grid-lined area is called the Canvas, while the left-hand side displays the available steps you can add. To build a campaign, simply drag-and-drop the desired steps onto the canvas.

Leverage the Wait and Decision steps to create a dynamic and responsive campaign that meets your needs, and provides your subscribers a good experience.
NOTE: See Campaign Steps to learn more about each available campaign step.
Campaign Designer Overview
Sometimes, the design of a campaign requires a large number of steps to create the flow and routing needed, but this can make it challenging to see the entire campaign on the Canvas. The following tools help you to navigate the canvas and view your campaign more efficiently.
Navigator
The Navigator provides a bird's eye view of the campaign. Click the dark blue Navigator tab on the right-hand side of the screen to expand that panel. You can then slide the selector box around to jump to that view in the main campaign display.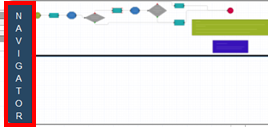 Additional Designer Tools

Zoom - This slider increases and decreases the size of the campaign on the Canvas.
Print - Print the Canvas view of your campaign.
Take a Tour - Provides a step-by-step on-screen tour of the Campaign Designer interface. This is particularly helpful for new users of Campaign Designer.
Align - Reorganizes the steps on the canvas. The steps remain in the same left-to-right order that they were placed on the canvas, but the spacing is adjusted to be as equal as possible and the connecting lines are straightened as mush as possible. Keep in mind that any comments on the canvas will be grouped together and placed in the lower-right corner of the canvas. See the two images below for an example of Align being used.
Before clicking Align
After clicking Align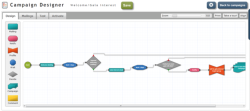 How are campaigns different from mailings?
Most clients come to Campaign Designer after having sent numerous "one-off" mailings from Communications Professional or other email marketing programs. There are a few key differences in the campaign mindset:
There is a little more planning to create a campaign - but that's a good thing!
Once a campaign is activated, it does not require any direct support by a staff member
The need to have a send date is greatly diminished. Recipients in the campaign receive the next mailing based on the flow of the campaign. It's intentionally variable in order to best respond to the subscriber's interaction patterns.
While opens, clicks, and forwards are still important metrics, the most important metric is the conversion a campaign is aiming for. Whether it's registering, volunteering, purchasing, or participating - THAT'S what you ultimately want to measure and that's what will determine your overall effectiveness.
The combination of making your team more efficient and providing a more subscriber-centric experience make Campaign Designer an extremely powerful marketing tool for you and your organization.
GoToWebinar Integration Basics
The GoToWebinar integration allows you to connect Communications Professional with GoToWebinar web conferences. Let's take a look at the core features and functionality associated with this integration.
How Does It Work?
For a particular webinar found in Communications Professional, Communications Professional can:
Retrieve all webinar participants (the GoToWebinar general term for a registrant or attendee) from GoToWebinar and determine attendance status for each.
Insert all webinar participants into the webinar_participant table, with the appropriate participant status (attended/not attended).
Registered participants are all subscribers in the webinar_participant table, regardless of participant status.
Participant attendance information is recorded in the webinar_participant_status_id column.
Key Features
Through webinar integrations, users can:
Import and synchronize webinars, both periodically and on-demand.
Sync webinar participants through the Communications Professional UI or automatically when a mailing is sent.
Automatically create target groups for each webinar.
Associate one or more webinar organizer account with an Communications Professional account. Target groups are created and synced for all webinars created by all organizers (organizers must be marked as active in Communications Professional; see below).
Accessing Webinar Integration
Navigate to Admin > Setup > Webinar Integrations.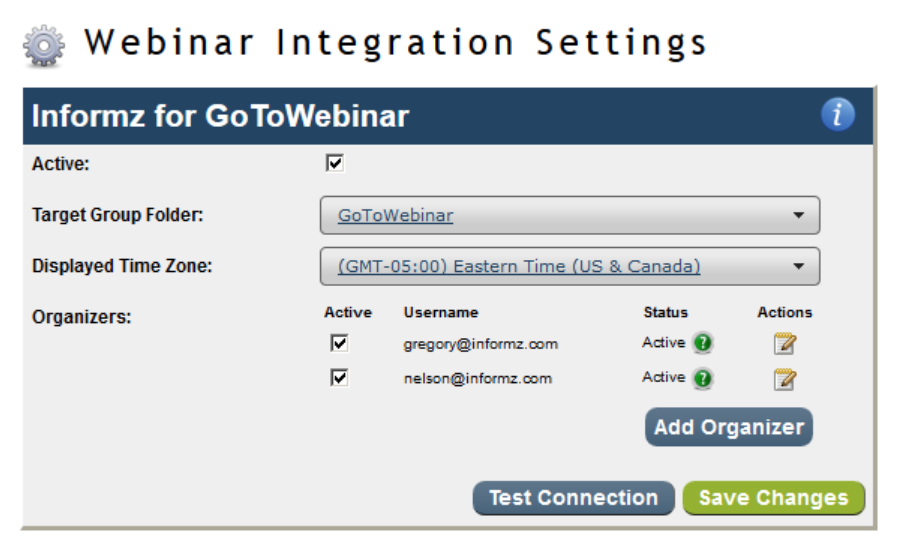 There are several available for Webinar Integration Settings.
Active - Click to ensure that the connection is active.
Target Group Folder - Click the drop-down list to select a folder for any target groups generated with the webinar.
Displayed Time Zone - Click to select the session time zone.
Test Connection - Click to validate that each organizer account exists.
Organizers - Lists all organizers. Click Active to ensure that the organizer is considered an active user (this is important for syncing target groups). Click Actions to open a pop-up where you can modify the organizer credentials.
Time Zones
The time zone specified in the setup screen is used for the date/time shown in target group names. The time zone setting does not alter mailing times or any other time based functions in Communications Professional. Changing the webinar time zone setting does not alter the names of existing webinar target groups, but it will affect the new target groups after the change. only new ones created after the change. The default time zone is Eastern Standard.
Adding Organizers
Click Add Organizer to add a new organizer.
You cannot delete an organizer; rather, you must deactivate the organizer to prevent further account syncing. Target groups for deactivated organizers will not be deleted. If the organizer is reactivated, syncing will resume.
You can change an organizer's email address and password. If doing this directly through GoToWebinar (where the user email was changed in GoToWebinar), and is in turn changed in Communications Professional, the organizer will remain active.
Integration-Specific Settings
Any credentials that link GoToWebinar with Communications Professional are associated with a GoToWebinar account. In fact, the integration supports multiple organizer accounts, each identified by a username and password.
Saving credentials for an organizer initiates a complete sync of the webinars by that organizer. The initial sync is queued, and it will be processed with any other webinar syncs that may be running. This could potentially create a delay in the initial synchronization. The sync will include the webinars (to one year before the sync) and will create the standard webinar target groups.
Testing Connections
For each active organizer, the Test Connection button will validate that the organizer account exists in GoToWebinar. If this check fails for a unique organizer, that organizer is deactivated.
Web Tracking Overview
Web Tracking will enable your organization to better understand how your visitors are using your website and will also enable you to target emails to your subscribers based on their website activity.
Communications Professional Web Tracking allows you to track three types of activities that occur on your website:
Pageviews - Visits to individual pages.
Page Interactions - Interactions on your site such as filling out forms, playing videos, downloading white papers, or anything that you can control with JavaScript.
Online Purchases - eCommerce transactions such as membership renewals, certification fees, or merchandise purchases.
NOTE: All of your web visitors will be tracked. Some of your users will be Anonymous and others will be Known. A Known User is someone whose web activity you can connect to a subscriber record in Communications Professional. Communications Professional allows you to target emails to Known Users based on the pages they visit or their online interactions.
How to set up Web Tracking
Navigate to Admin > Set Up > Web Tracking.
Click Add New Domain to enter the details (domain name, IP addresses to ignore, and parameters to retain) of the website that you would like to track.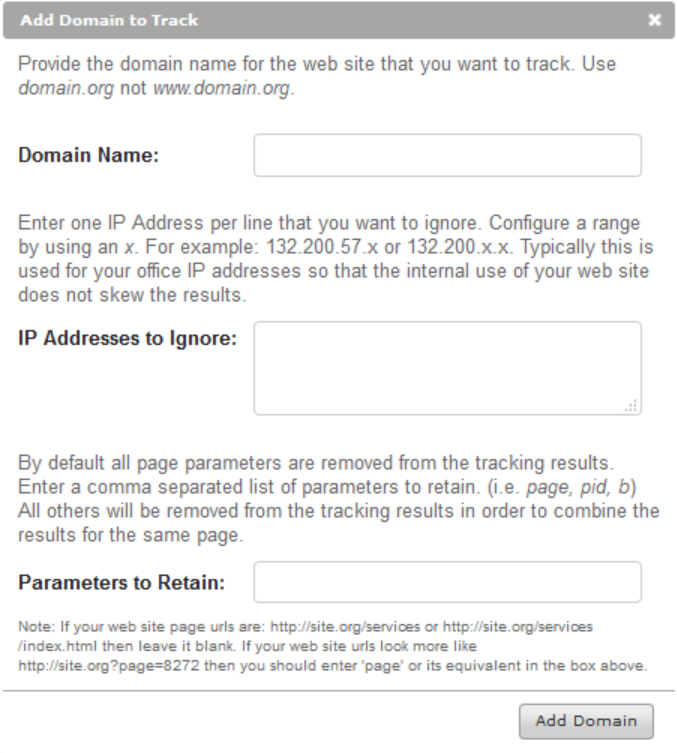 Click Add Domain.
NOTE: If a domain has been set up, and information has been collected, that information persists in Communications Professional, even if the domain is later removed. Communications Professional does not delete the already-collected data.
Click View Instructions to view a custom page that provides all of the information that you need to submit to your web developers.

Once your web developers have successfully added the Web Tracking code to the web site, you can navigate to Marketing Automation > Web Tracking to view the details for all of the sessions on your website.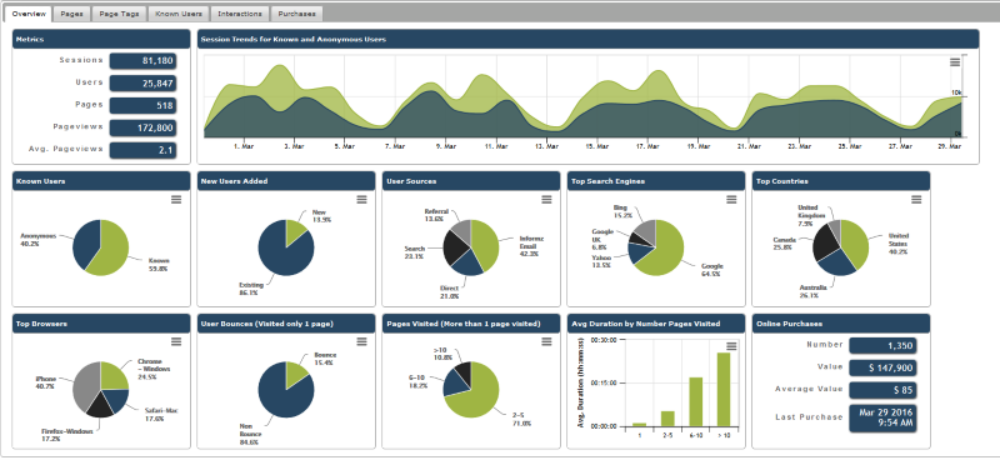 Communications Professional Web Tracking is very similar to Google Analytics. If you're already using Google Analytics, the Communications Professional Web Tracking code will not conflict with it. Now, you will have the power of all of that data available to build target groups and to feed campaigns based on how your subscribers interact with your website.